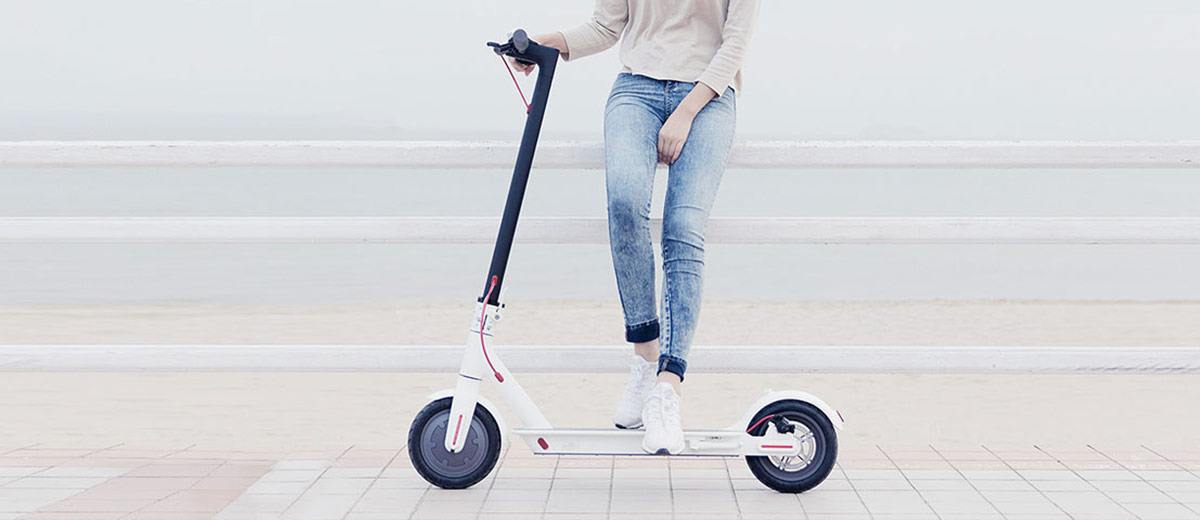 The Xiaomi Team Have Made A Folding Electric Scooter And It's Awesome!
We take a first look at the Xiaomi MiJia M365 Award Winning Foldable Electric Scooter. But first, a bit more about those crazy-inventive manufacturers… Xiaomi…
In the west, we best know Xiaomi for their range of well-built smartphones but Xiaomi do so much more! Using Samsung's strategy of making everything and doing it well, Xiaomi have expanded their product range to include Notebooks, TVs, Smartwatches, Robot Vacuums, Drones, Headphones, Air Purifiers, TVs', Suitcases, Fashion & now Electronic Scooters, Electronic Bikes & Futuristic Balance Boards.
What the heck is a futuristic balance board traveller thing? Check out the Xiaomi Ninebot Plus
In little old England, the scooter is best known as a childhood toy that any self-respecting child would drop in an instant for a brightly coloured push bike. But, if you've lived in Europe recently you'll notice that there are fully grown adults zooming around on these everywhere.
I think scooters are becoming hipster and since my beard growing skills are worse than my Grannies, maybe I can finally become cool again!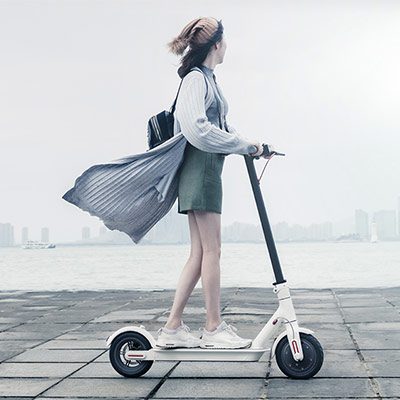 Check out the latest prices below before we dive in-depth looking at the Pros & Cons.
The Good

Award Winning Design
30KM Eco Range
E-ABS anti-lock brakes
Aluminium Alloy Frame
Built-in headlight + tail-light
Companion App
The Bad

You'll need to import it
Low clearance, plastic battery cover.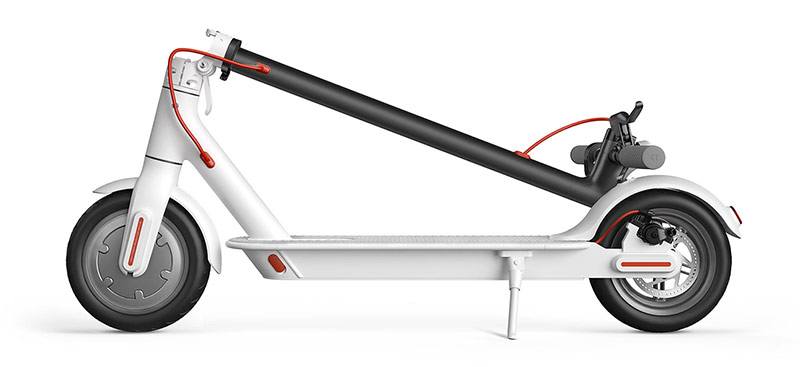 So let's get onto the Xiaomi M365 Scooter Design
This scooter looks awesome! So awesome in fact that it won the prestigious Red Dot Design Award – Best of the Best. In fairness, Xiaomi are no strangers to excellent design and have won multiple awards for their modern minimalist products. They even won a Red Dot award for their Mi Band 2 last year.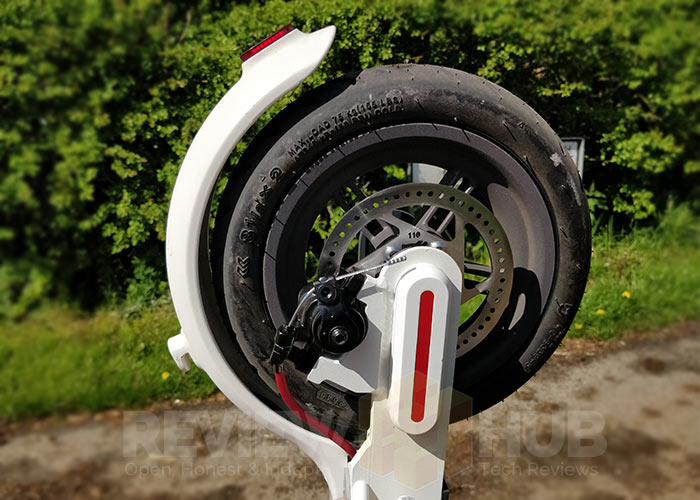 So what makes the Xiaomi M365 Scooter so special?
For starters, the attention to details and finish of the scooter is excellent. It looks simple, stylish and modern making other brands scooters look like they came from the 90s. Imagine it on a futurist movie set where girls with blue skin are scooting through a bright white plastic world… well, maybe I'm going a bit far now…
It's a grown-up design that will appeal to scooter enthusiasts as well as commuters. It's a scooter that I'd be proud to show off, rather try to hide on the London underground.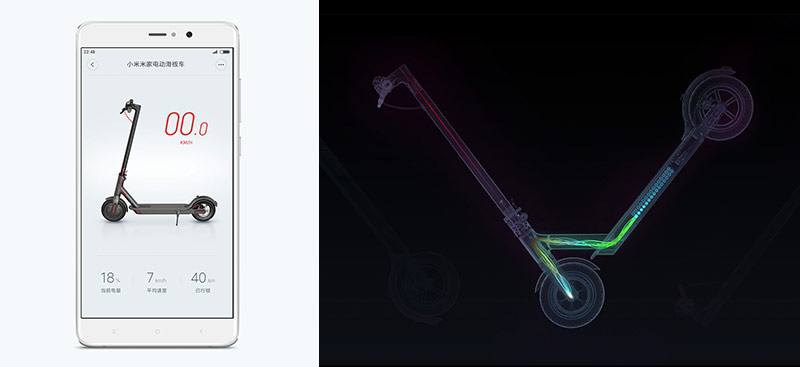 Xiaomi M365 Scooter Features & Performance
In terms of raw performance, the M365 has a max range of 30km on eco-mode although reaching this will depend on your weight and the terrain you are driving on. 20km is a realistic expectation. It comes with a small charging brick that plugs in on the side of the scooter bass. The charging port is covered by a weather sealed cap.
Underneath you'll also find a kickstand so you don't need to rest the scooter against something when not in use. Turning the scooter on is quick & easy as is the foldaway mechanism which brings the height of the scooter below just below 50cm.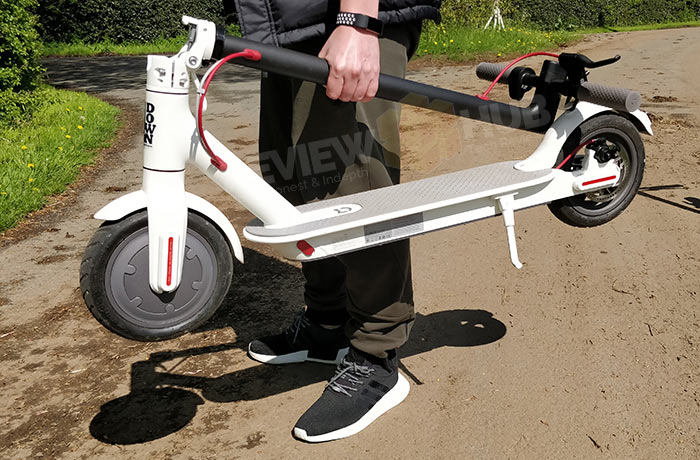 There a single power button that turns the scooter on, off, switched to eco-mode and toggles the lights depending on how long you press the button for. Just above this is 4 LED lights which indicate how much power is left in the battery.
For more accurate battery stats, distance & speed you can use the Xiaomi M365 companion app that's free to download for both Android & iOS.
Now you're probably asking why I listed Air Tyres as a con at the start of this article. You might disagree here but I think that a company like Xiaomi should have come up a solution to this. Getting a flat tyre is a major pain in the butt and I know there are all types of gels inserts and puncture proof tyre tech floating around. So I wish that Xiaomi had incorporated this into the M365.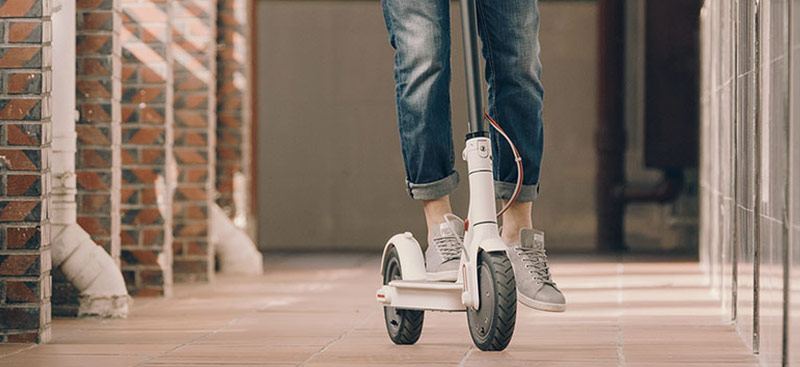 I'm in love with the Xiaomi M365 Scooter!!!
Whilst there are a few cons, I still love the Xiaomi M356 folding electric scooter. I was even dreaming about this scooter last night before writing this article today!
I'm big on design so one of the main selling points for me is how minimal and clean the M365 scooter looks. This might not be as high up on your agenda and coupled with the relatively high price tag I can see why you'd choose another electric scooter option.
If you're looking for an award winning electric scooter that comes with all the mod cons then the Xiaomi M365 is definitely for you. If you're just looking for an eco-friendly way to get from A-to-B then there are much cheaper options out there.
Has the Xiaomi M365 tickled your tech buds? It has mine!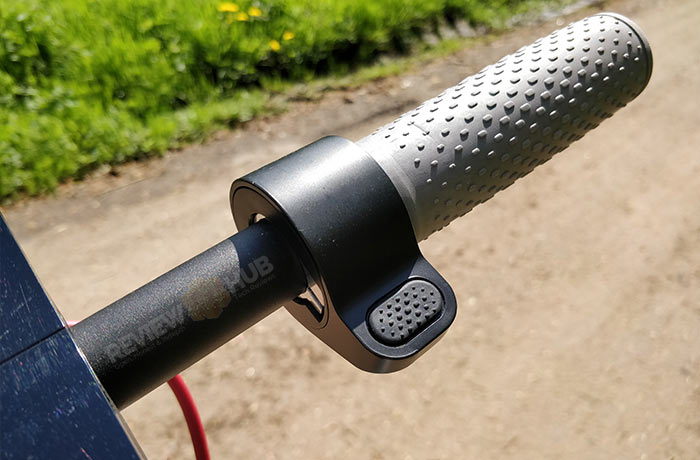 Xiaomi M365 Electric Scooter – Tech Specs
| | |
| --- | --- |
| Model | Xiaomi M365 Scooter |
| Dimensions | Unfolded: 108 (L) x 43 (W)  x 114cm (H)Folded:  108 (L) x 43 (W) x 49cm (H) |
| Wheel Size | 8.5 Inch inflatable Tyre |
| Weight | 12.5KG |
| Max User Weight | 100KG |
| Range | Max 30KM |
| Battery | 280Wh |
| Features | Cruise Control, ABS Braking System |
| Display | No |
| Remote Control | No |
| Max Speed | 25KM/H |
| Material | Aluminum Alloy |
| Colours Available | Black, Green, White & Yellow |