The Vernee Mix 2 offers solid mid-level performance with a beautiful curved edge HD+ display!
When it comes to reviewing smartphones, one of the key factors for me is how the 'Features & Performance' compare against the overall 'Cost'. And… without sounding too mathsy… the Vernee Mix 2 excels at this equation.
You most probably haven't heard of Vernee before as they only started releasing smartphones into the wild in early 2016. As with all new technology brands, it's wise to be a little cautious…
To put your mind at ease… we've created full in-depth reviews of the Vernee Apollo X, Vernee Mars, the Vernee Mix 2 and a first look at the Vernee X. What did we find? That Vernee are a bunch of capable smartphone manufacturers who know what they're doing!
You don't need to spend upwards of £350/$450 to be the proud owner of a beautiful looking smartphone anymore…
The Vernee Mix 2 is offering 4GB's of RAM, 64GB's of storage, capable performance and a beautiful full HD+ curved edge display for less than half this!
It's not all high-praise though, as there are some cons to the Vernee Mix 2 that you'll want to consider, but when we get back to the maths… it's a no-brainer!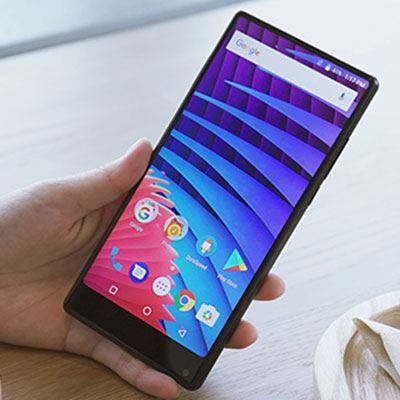 If you've been doing a bit of Vernee Mix 2 research, you might find a little discrepancy between different Vernee Mix 2 pictures. Well… that's because Doctor Vernee (PHD Photoshop) has been tinkering away.
In real life… it's not edge-to-edge and the bottom section is slightly longer… BUT… in my humble opinion, it still looks awesome! Quit yo jibber jabber Dr Vernee!
You can check out my quick Vernee Mix Pro's & Cons below before we deep dive into how the Mix 2 performs in Screen Quality, Performance, Vernee OS Software, Battery Life, Cameras Quality (with samples), Gaming Performance & finally… Connectivity.
Check out this week's best Vernee Mix 2 deals below…

The Good

Beautiful Curved Edge Display
The Price-tag!
Bloatware-Free
Lots of included freebies (see below)
Good mid-level performance
Feels great in your hand
The Bad

Missing Double-tap-to-wake
Missing USB Type-C
Monolithic Slab (208g)
Fingerprint Magnet
Fake Advertising Photos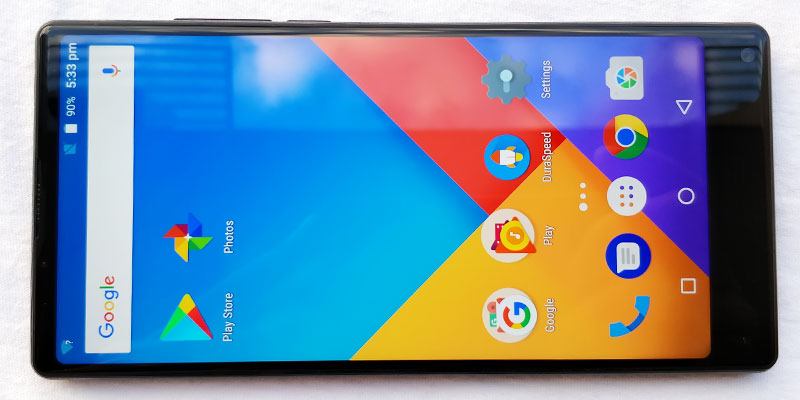 Display
The moment you turn on the Vernee Mix 2 you're eyes will light up and you'll have a big smile on your face… why?  because of its impressive display.
It uses a full HD+ panel at 2160×1920 resolution to give a crisp PPI of 401. But… it's the bright vibrant colours and how closely the panel feels to the surface of the phone that'll impress you. To make this close-to-the-surface display effect, Vernee have placed the black screen border underneath the front glass panel.
Keeping up with the 2017/2018 flagship trend, the Vernee Mix 2's display has curved corners giving a softer modern look to the phone. These curves also match nicely with the overall curves of the smartphone giving a cohesive design finish.
It's not specified whether the display uses Gorilla Glass for protection, but you do get a pre-applied screen protector as well as a spare for the front and back glass panel.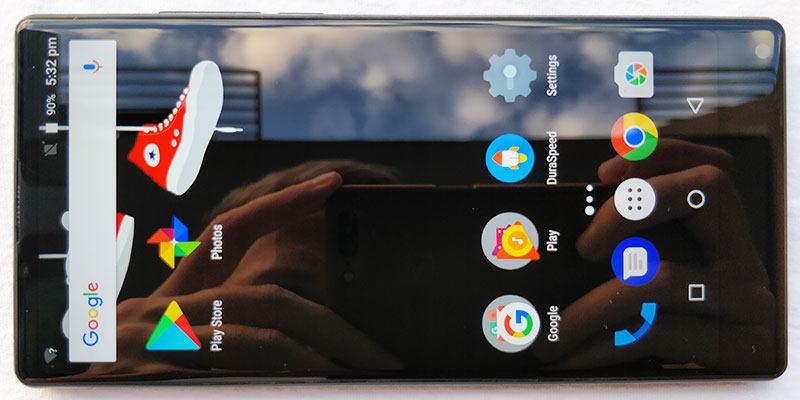 Turning and rotating the Vernee Mix 2, shows that it has excellent viewing angles with very minimal dimming and no distortion of colour. Finally, while still distinguishable from the surrounding border, the black levels are also very good for an IPS panel.
It's a good job Vernee have done such a good job with the Mix 2 display as they've actually removed all of the calibration options from the settings menu… (e.g. MediaTek's MiraVision)
The display on the Vernee Mix 2 will not disappoint you!
Screen Tech Specs: 6 inch Display, 2160×1080 resolution, 401 PPI, 10-point multi-touch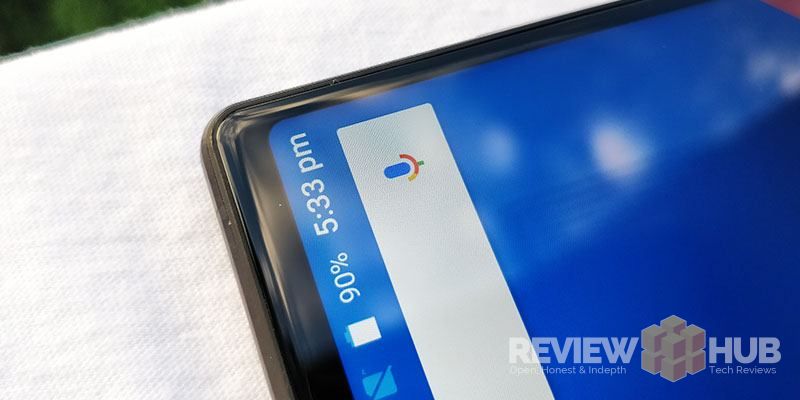 Design & Build Quality
Picking up the Vernee Mix 2 you'll straight away notice two things… The first is how heavy it is at 208 grams… (a little more than advertised) and the second is how great it feels in your hand!
It's a monolithic slab that uses a glass sandwich design but is thick enough to grip very easily. It reminds me of the old Sony Xperia smartphones but with a more modern display panel.
Unlike Dr Vernee's dodgy marketing pictures… there are in-fact bezels around the Vernee Mix 2… but they aren't offensive. The top bezel is also around twice as thick as the side bezels which allows it house the pulse notification LED, microphone and proximity sensor.
… a beautiful monolithic slab of techy goodness …
When we take a look at the build quality, the Vernee Mix 2 doesn't reach the excellent quality levels of the Vernee Mars. The Vernee Mix 2 passed my squeeze and twist test without any audible creaks or noises coming from the phone… but… the glass back doesn't achieve a perfect seam with the metal frame.
I can't say whether this will become a problem, but I can see small bits of dirt and/or dust getting into this seam over time. Good news is that the 1.5mm headphone jack and USB ports are both lined with a protective layer and you get a clear silicone case included.
My only other build quality issue is that the power button has a little movement creating small rattle when you shake the phone. Not a big issue and the volume rocker sits perfectly… so it could just be my review sample only.
Even though the Vernee Mix 2 needs to be sent off fat camp… I still like it. The dual-glass design feels premium in your hand and the thickness coupled with 18:9 ratio makes one-handed use a breeze.
Colours Available: Black & Blue
Performance & Gaming
To find out how the Vernee Mix 2 performs, I ditched the Xiaomi Mi Mix 2 putting my SIM into the Vernee Mix 2… confusing I know…  After a week of having the 'Vernee' Mix 2 in my pocket, I can honestly say that it's a reliable mid-range performer.
The Mix 2 comes in two flavours… a 6GB & 4GB model. For me, the 4GB RAM version is the sweet deal… the jump up to 6GB seems more like a marketing ploy than a performance booster and the extra money saved on the final cost more welcome.
The brains inside the Vernee Mix 2 come in the form of the Helio P25 from MediaTek which boasts power efficiency and an 8-core setup. This is coupled with 64GB's of onboard storage which hit 111MB's read & 130MB's write during our tests.
… The Vernee Mix 2 is Gaming-ready …
Need more storage? You can use the second SIM slot to add a Micro-SD card up to 128GB's in size.
To test out the gaming performance I loaded up some popular Android titles while looking out for any frame-rate drops, stutters and overheating. The ARM Mali T880 handled these with ease, making light work of Mortal Kombat X & Modern Combat 5.
CPU: MediaTek Helio P25 (8-Cores)
GPU: ARM Mali-T880 MP2 900MHz
RAM: 4GB (6GB option)
Storage: 64GB's (56GB usable) (read speed: 111MB/s, write speed: 130MB/s)
Expandable: Yes (2nd SIM slot up to 128GB)
Pokemon Go Test: Full Support (AR Works) (GPS Locked on quickly)
AnTuTu Benchmark 6

3D – 10407
UX – 26473
CPU – 17957
RAM – 3773
Overall Score: 58610
Geekbench Score:
Single Core Performance: 822
Multi-Core Performance: 2892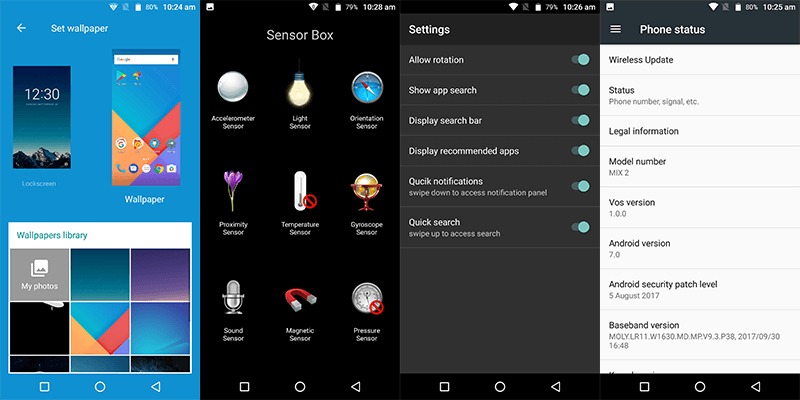 Vernee Software Experience
Vernee have gone down the route of… we can make a better Android Experience than Google creating their own Android overlay / launcher called Vernee VOS 1.0.
So what does this mean for you?
Firstly, you'll notice a really annoying keyboard called TouchPal which you'll want to disable straight away. But apart from this and the odd customisation (like wallpapers) the Vernee Mix 2 feels like regular old stock Android.
The launcher isn't locked, so you can customise to your heart's content. The Vernee VOS only takes up 10GB's of the 64GB storage which is fairly slimline. To give you a comparison… the Xiaomi Mi A1 which runs Google Android One Software had 58GB's of storage taking up 6GB's.
There are a few notable software additions missing from the Vernee Mix 2, like double-tap-to-wake, Android Nougat 7.1 updates and the latest security updates from Google. The last update is for August 2017.
Finally, you can switch the on-screen button layout and the smartphone is encrypted by default.
Software features include: Not Rooted, DuraSpeed, 5 Fingerprint recognition, Smart Lock, SIM Management, LED Pulse Notification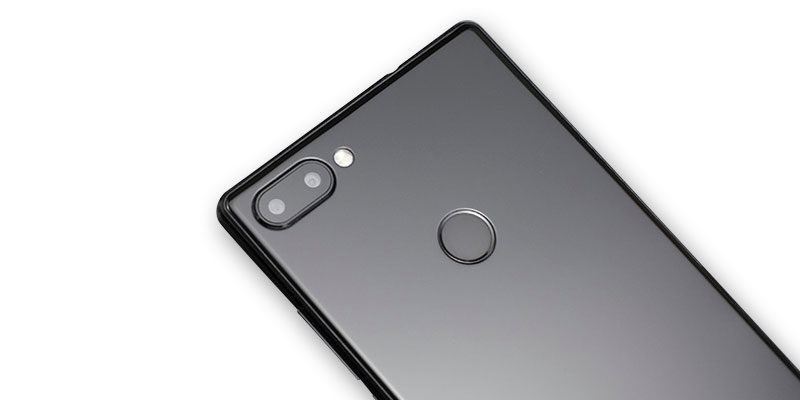 Fingerprint Reader Speed & Accuracy
The fingerprint ready is accurate unlocking first time at around the 95% mark. While accurate, it's not the fastest with the Vernee Mix 2 taking its time before turning the screen on. From locked to screen on, you're looking at over 0.5 seconds…
When you're playing with new smartphones every week, it seems on the slow side… but in reality, you'll get used to it in a few days… heck… I put up with the dodgy fingerprint reader on my Galaxy S7 for over a year :D
Camera Quality
Vernee isn't giving much away when it comes to camera specs inside the Mix 2. They've only gone as far as listing the megapixels and aperture with no mention of who manufactured the dual lens setup?
So… I took the Vernee Mix 2 out with me for the day snapping away to see what it is capable of. I'm not even close to being a professional photographer… so the following album of photos is by no means the best that the Vernee Mix 2 is capable of.
You can see the full samples album here: Vernee Mix 2 – Photo/ Camera Samples
Rear Camera:
13MP + 5MP
f/2.0
1080P Video @ 30fps
Front Camera (Selfie time):
Battery Life
Battery life on the Vernee Mix 2 is above average. The non-removable 4200mAh battery comes quick-charge ready using the PE+ standard but still take just under 2 hours for a full charge.
It comes with a fairly chunky 2-pin charger that pushes out 2 amps. With a battery this size 3 amps would have been a better fit and speeded up the charging time.
In terms of screen-on time, the Vernee Mix 2 achieved around 5-6 hours. This is mainly using WiFi with a mix of 4G. I played light games most days but the bulk of my use is for web browsing, photography and social media.
What's in the box?
The Vernee Mix 2 comes in a white square box made of a textured paper which looks good. Once inside, it's budget origins reveal themselves as the phone is placed on top of a cheap plastic insert.
In terms of freebies, Vernee does a good job. As well as the Micro-USB cable, SIM Pin and Wall Charger, you also get a transparent soft case (with drop protection corners) and a self-apply screen protector for both the front and back of the Vernee Mix 2.
Unfortunately, the pre-applied screen protector had bubbles in it… but at least there's a spare if you're unlucky like me.
Vernee Mix 2 – The Verdict
While writing this review I keep having to remind myself how much this phone costs… I really feel like it belongs in the £200+ / $250+ bracket… but… it's available online right now for as little as £125 / $165.
The big drawback with the Vernee Mix 2 has to be its weight! This smartphone feels heavy… because it is! But… if you can look past this then you're on to a real winner!
It's a capable smartphone that offers low-mid level performance inside premium all-glass exterior that houses one of the best budget (non-OLED) displays I've seen in a while!
Do I recommend the Vernee Mix 2? Hell Yeah! Just be aware you are buying a beast!
Has the Vernee Mix 2 tickled your tech buds? See the latest deals below… and share this article!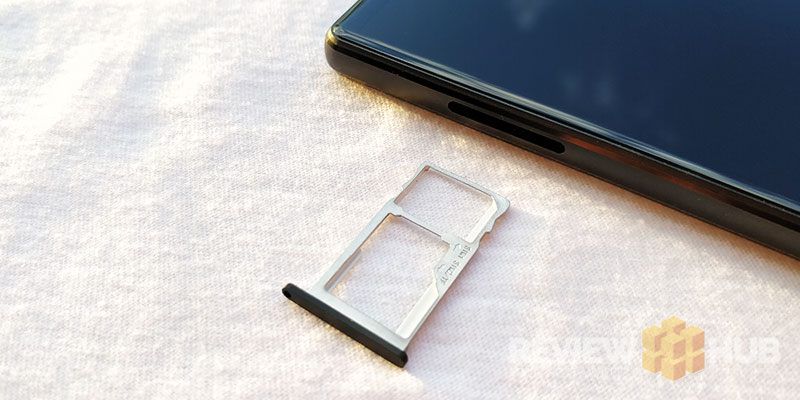 Tech Specs & Connectivity
I've listed the full Vernee Mix 2 tech specs below, but I'll mention a few important points here as well.
The Vernee Mix 2 does have 5GHz WiFi, I tested this with a 5GHz only hotspot and it connected fine. The online listings state that it only 2.4GHz compatible. All the sensors are fully working.
UK Network Coverage? Yes, the Vernee Mix 2 comes with full UK Support for all carriers.
Smartphone
Vernee Mix 2
Screen Size
6 inch
Pixel Density
402
Screen Resolution
1080×2160
Screen To Body Ratio
High (around 80-85%)
Screen technology
IPS, Curved Corners, 18:9 Aspect Ratio
Thickness
8.2mm
Weight
195g
Material
Glass Sandwich with Aluminium Frame
Colours Available
Black & Blue
Storage
64GB
Processor (CPU)
MediaTek Helio P25 Octa-Core @2GHz
Graphics (GPU)
Mali-T880 MP2
RAM
4GB / 6GB
Android Version
7 Nougat + Vos 1.0
IP Rating (Water, dust)
NO
Micro-SD Card Tray
Yes – Uses 2nd SIM Slot (128GB)
Notification LED
YES (Pulse Option)
Finger Print Sensor
YES (Rear Facing)
Infrared
NO
USB Type
Micro-USB
4G Bands
FDD: B1 (2100MHz) / B3 (1800MHz) / B7 (2600MHz) / B20 (800MHz) / B8 (900MHz)
3G Bands
WCDMA: 900, 2100MHz
2G Bands
GSM: 850, 900, 1800, 1900MHz
SIM Support
Dual SIM – Nano x 2
WiFi
2.5GHz + 5GHz (a, b / g / n)
GPS Tech
GPS + A-GPS + Glonass
Bluetooth Version
4.2
NFC
NO
Sensors
Gyroscope, Light, Accelerometer, Orientation
Compass, Magnetic
OTG
YES
Battery Size
4200 mAh
Fast Charging
YES – PE+