Grab yourself a battery-life bargain with the 'old' best battery life list.
Page 1 – Best Battery Life Smartphones
Page 3 – Learn More About Smartphone Battery Life – FAQ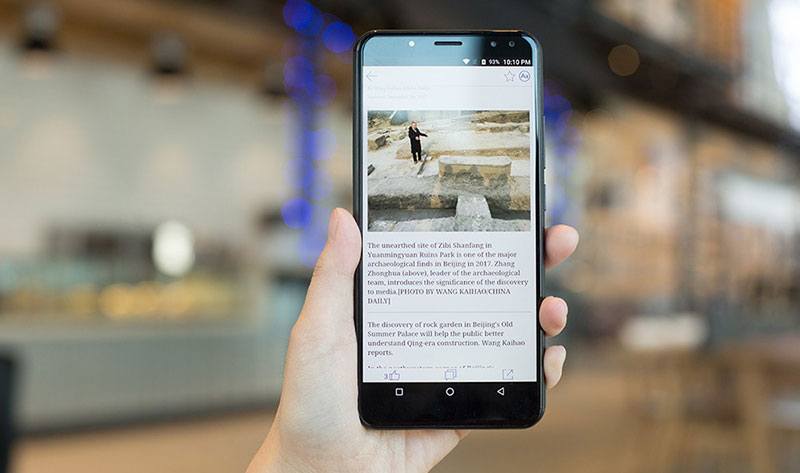 Vernee X1 – 6200mAh
The Vernee X1 doesn't compromise. It's available in two variants offering up to 6GB of RAM's and 128GB's of storage coupled with MediaTek's next generation Helio P23 CPU. While not a powerhouse, it offers extreme mid-range efficiency.
This is then combined with a massive 6200mAh battery making it one of the best long lasting smartphones available.
You're also getting a full HD+ 18:9 display that comes with curved corners, a metal unibody design and a quad camera setup. Thanks to the high-resolution 13MP selfie camera, we're also treated to Vernee's face unlock feature.
Overall, the Vernee X1 is a great all rounder that's packing some serious battery without weighing you down.
Quick Specs: Android 7.1 Nougat (upgrade to Android 8), MediaTek Helio P23 CPU, Mali-G71 GPU, 4/6GB RAM, 64/128GB Storage, 5.99″ 2160×1080 IPS Display
Battery Life: 2-3 Days
Battery Capacity: 6200 mAh (non-removable)
Quick Charge: Yes (USB Type-C | 9V/2amps)
Weight: 198 grams
This week's Vernee X1 deals…
HomTom S99 – 6200mAh
The HomTom S99 is a big battery bargain! Featuring a Full HD+ Display, Octa-Core CPU, 4GB of RAM and 64GB storage as standard, all for a little over the £100 mark.
These smartphone specs sound more like they belong to a £200 smartphone!
The honeycomb rear design helps it to stand out from the competition, and it's one of the lightest big battery smartphones currently available, weighing in at only 200 grams.
We're yet to see a truly bezel-less big battery smartphone, but the S99 comes close with minimal side bezels attached to that 18:9 slimline display.
As well as that big battery, you're also getting a 21MP + 2MP dual rear camera setup. The dual aspect it a bit of a gimmick, but the 21MP lens will do all the hard-work.
Quick Specs: Android 8 Oreo, MediaTek MTK6750 (8-Core) CPU, 4GB RAM, 64GB Storage, 5.5″ 720×1440 Display
Battery Life: 2-3 Days
Battery Capacity: 6200 mAh
Quick Charge: Yes (2amps)
Weight: 200 grams
Doogee BL9000 – 9000mAh
While the Doogee BL9000 isn't to everyone's taste, with those angular corners and that faux leather texture, we can't deny that it's packing some serious tech credentials!
It uses a 5.99″ Full HD+ display made by LG for excellent viewing angles and rich vibrant colours. The dual rear camera setup uses the new 12MP Sony IMX486 for the main lens with a respectable 5MP backup which will add depth of field (bokeh).
Related: What's the best Doogee Smartphone?
Other premium features we see on the BL9000 are Wireless Charging and NFC which are traditionally reserved for flagship devices.
Now onto the battery. Yes that's right, under the hood is a 9000mAh battery that will easily last 2 days of power usage and 3-4 of light usage. For a massive battery like this, you need some serious charging power and it comes in the form of PumpExpress 4.0 (5V/5amps).
The downside to such an outrageous smartphone is that it's a beast, at 13.8mm thick and weighing in at a hefty 275 grams.
If you don't mind large smartphones, then the BL9000 is a worthy upgrade!
Quick Specs: Android 8.1 Oreo, MediaTek Helio P23 CPU, 6GB RAM, 64GB Storage, 5.99″ LG Display, 1080×2160 resolution.
Battery Life: 3-4 Days
Battery Capacity: 9000 mAh
Quick Charge: Yes (5V/5Amps) + (10w Wireless Charging)
Weight: 275 grams
Ulefone Power 5 – 13000mAh – Battery Life Winner
Ulefone have won back their biggest smartphone battery-ever award from the Doogee BL12000, with the incredible & ludicrous Ulefone Power 5.
The thorough-bred Ulefone Power 5 comes from a long line of epic battery life smartphones. The Power 5 ups the game though by adding Qi Wireless charging coupled with 5V/5Amps fast charging.
It's doesn't let anything slip in the camera department either coming with the impressive Sony IMX230 21MP snapper.
All this power does come with some drawbacks though, the main one being the hefty 330 grams that the Ulefone Power 5 weights.
Is it worth reinforcing your jeans pocket with kevlar to behold such a powerful beast? Let me know in the comments.
Quick Specs: Android 8.1 Oreo, MediaTek MT6763 Octa Core CPU, ARM Mali-G71 GPU, 6GB RAM, 64GB Storage, 6″ 2160 x 1080
Battery Life: 5+ days
Battery Capacity: 13000 mAh
Quick Charge: Yes + Wireless Qi
Weight: 330 grams
Bluboo S3 – 8500mAh
The Bluboo S3 offers it all in a very attractively priced package!
Out of the box, the S3 comes installed with Android 8.1, has a 6″ SHARP manufactured 18:9 full HD+ display, dual Samsung rear cameras and let's not forget a whopping 8500mAh battery.
This is enough battery to easily see you into your third day off-grid! All this power comes with great responsibility… if you count responsibility as a beast of a smartphone weighing down your pocket.
At 280 grams, the Bluboo S3 isn't for the faint of heart, but if your grip is solid then the S3's price-tag is extremely tempting!
Quick Specs: Android 8.1 Oreo, MediaTek MT6750T Octa-core CPU, ARM Mali-T860 GPU, 4GB RAM, 64GB Storage, 6″ 1080 x 2160
Battery Life: 3-4 Days
Battery Capacity: 8500 mAh
Quick Charge: Yes
Weight: 280 grams
Motorola Moto E5 Plus – 5000mAh
Compared to some of the big-battery competition, you might feel a little short-changed with the Moto E5 Plus. That's not to say it doesn't have its pros, it just has adopted the latest mobile trends.
Since its missing NFC, still using the old Micro-USB port and features a rather underwhelming resolution for the large 6″ display… it's all going to come down to the price.
Onto the Pros and we're getting a 5000mAh battery with Motorola's TurboPower 15w charging which promises 6 hours of battery life with only a 15 minute charge.
Motorola have also used a water repellent coating to help protect the Moto E5 Plus from spills and rain. Be aware though, it's not an official waterproof rating but will probably protect itself from your coffee spills.
Taking a look at performance and it's again on the low-end with Qualcomm's most basic chip the, Snapdragon 425. It's backed up by a healthy 3GB of RAM and the 32GB of storage is expandable up to 128GB's.
One area the Moto E5 Plus does have going for it, is in the design department. The curved edge of the back and lack of any antenna wires makes it one good looking phone.
Quick Specs: Android 8 Oreo, Snapdragon 425 CPU, 3GB RAM, 32GB Storage, 6″ Display, 720×1440
Battery Life: 2 Days
Battery Capacity: 5000 mAh
Quick Charge: Yes (TurboPower 15watt)
Weight: 200 grams
Has the Moto E5 Plus tickled your tech buds…
Doogee BL5500 Lite – 5500mAh
The super-budget Doogee BL5500 still offers a 6.19″ HD notch-wielding display combined with a 5500mAh battery.
While the performance of the BL5500 is aimed at entry-level buyers thanks to a budget quad-core CPU and only 2GB of RAM. The good news is that the 16GB of storage can be expanded using the Micro-SD card slot.
It comes with Android 8 out of the box and full UK 4G support. It's currently a pre-order smartphone, but we'll update with more details soon.
Quick Specs: Android 8.1 Oreo, MediaTek 6739 CPU (4-cores), 2GB RAM, 16GB Storage, 6.19″, 720×1500
Battery Life: 2 Days
Battery Capacity: 5500 mAh
Quick Charge: N/A
Weight: 180 grams
Page 1 – Best Battery Life Smartphones