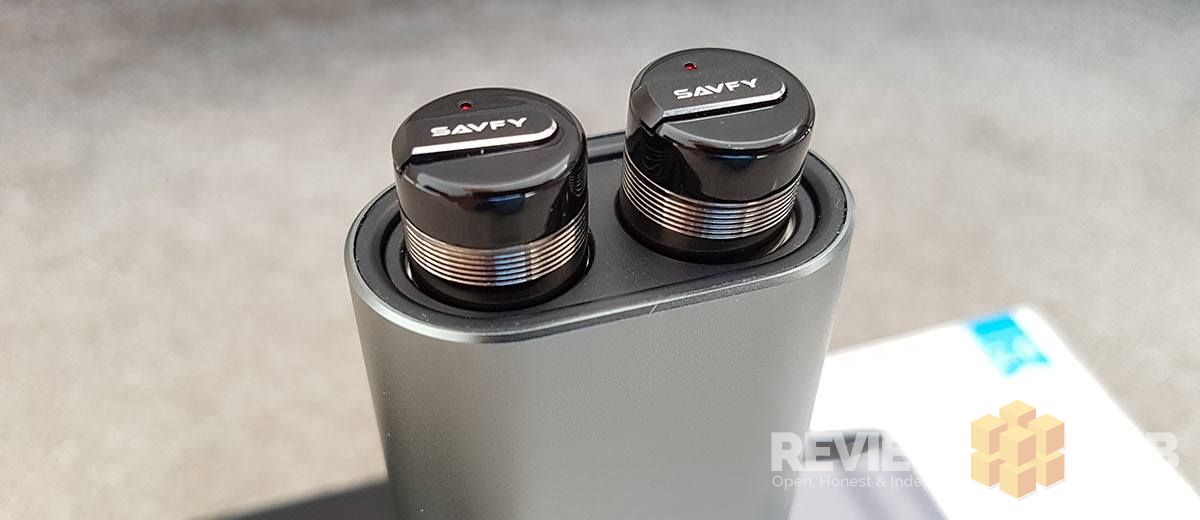 Finally SAVFY have created a pair of wireless earbuds that I absolutely love!
I don't usually start my reviews off this way, but go grab yourself a pair of SAVFY True Wireless Mini Bluetooth Headphones from Amazon now as they're awesome!
[column size=one_half position=first]
Having been through a few pairs wireless headphones in my time, generally; they've had me looking like a Star Trek extra, wouldn't stay in my ears or have had connectivity issues.
The SAVFY wireless earbuds fit in my ears, stay in my ears, don't sound half bad and have a non-obtrusive minimal design! I get really excited when I come across a new product that seems to get everything right from using premium design materials to creating a product that functions well.
[/column]
[column size=one_half position=last ] [/column]
If you haven't already got yourself a pair from my glowing testimony above, I'm going to explore in-depth the Design & Build Quality, Sound Quality, Connectivity & Battery life below. But first let's check out the Pro's & Cons.
Make your friends jealous with these futuristic minimal wireless earbuds!

[column size=one_half position=first ]
The Good
Truly Wireless
Premium Design & Materials
Charging / Docking Charger
Discrete Design
[/column]
[column size=one_half position=last ]
The Could be better

Add a running inner ear grip to the package
Slight rough edge on tip one earbud (QC)
[/column]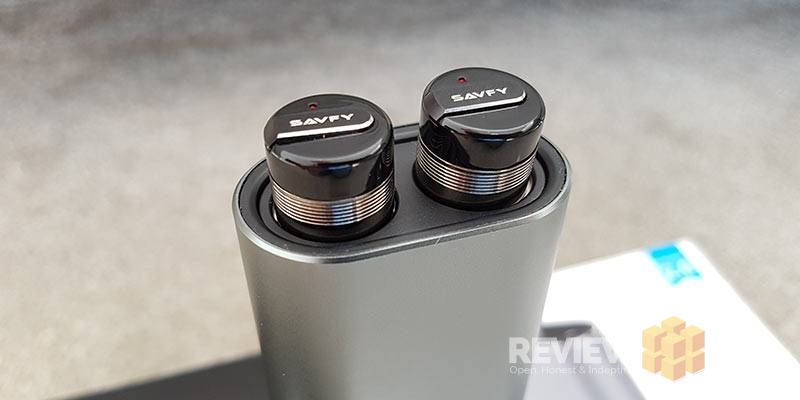 Design & Build-Quality
I'm a big fan of the portable charging dock that comes with the SAVFY Wireless earbuds. It's constructed from a single piece of  curved metal with only the discrete SAVFY logo on one side for embellishment.
It then gets really exciting as when you push on the inside of the dock the whole inner mechanism slides out revealing the two metal earbuds held in place by magnets. The whole setup works flawlessly with the headphones feeling like they belong on the set of the new Jason Bourne film.
The actual earbuds themselves are made from two pieces a metal, one silver and one black that conjoin in the middle. On the non-earbud end is the singular control button that features a polished chamfered edge that catches the light nicely.
Overall, the all-metal lightweight construction of the earphones gives them a premium edge. My only small qualm is the the seconds earbud I reviewed has a slightly rough edge.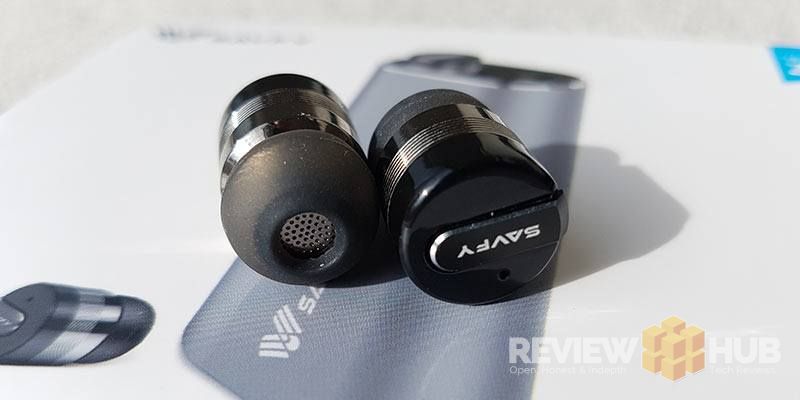 Sound Quality
When listening to music with the SAVFY true wireless earphones I think they sit on the middle of the fence. They don't match the quality of a £70 dedicated pair of in-ear buds but a big part of the costs has gone into the material, charging dock and unique truly wireless setup.
To test the earbuds I listened to a variety of music from all genres through my Spotify premium account and found the earbuds are pretty good all-rounders. There's a decent amount of bass with mids & highs sounding clear. I'm not an audiophile myself, but for me the headphones met my expectation with a pleasing sound profile.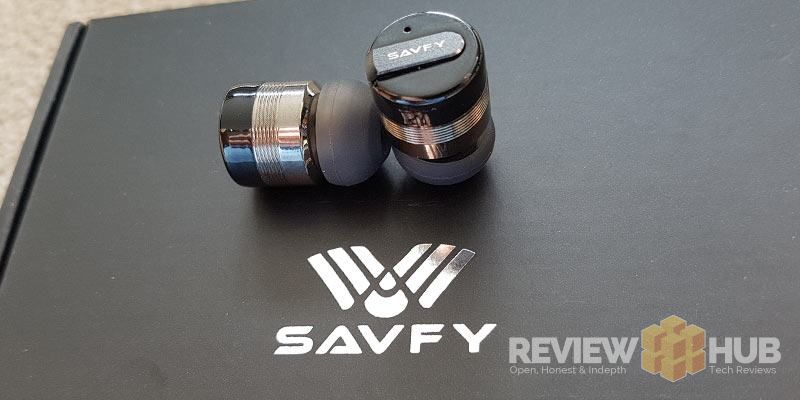 Comfort
The SAVFY wireless headphones comes with 6 different ear moulds so that you can find the right fit for your big ears. Whilst they aren't ergonomically designed to fit down your ear canals, they still felt secure and stayed in place during most of my three weeks testing.
SAVFY advertises them as being good for the gym and sports but I'm going to have to disagree on this one. The headphones could easily fall out with enough moving and shaking and don't come with any kind of sports silicone attachment. For general use, they're great, but for sports I'd recommend the Peashooters.
This is an easy and I hope that SAVFY do include a silicone sports bud in there version 3.0. A sports earbud attachment that includes a suspension grip ear bar. Hint Hint.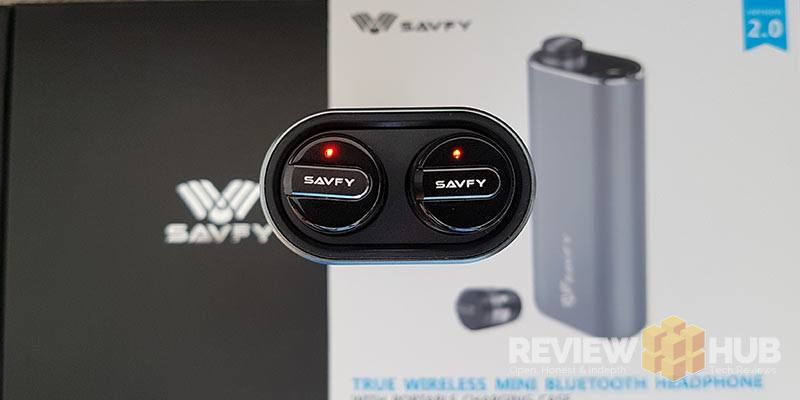 Connectivity
The headphones use Bluetooth 4.1 and can be connected to any Bluetooth device such as your smartphone, laptop or TV.
I found that on a couple of occasions one of the headphones dropped out for half a second but quickly re-connected but this seemed to a teething problem as after using the headphones for a couple of days the issue didn't re-occur.
To first use the headphones you have to turn both earbuds on at the same time and you'll hear the headphones say 'Power on' hold for a couple more seconds until you hear the beep. Both headphones will start flashing red & blue. The headphones will now pair to each other automatically then the left ear (Master headphone) will flash red. You can now connect them to any Bluetooth device.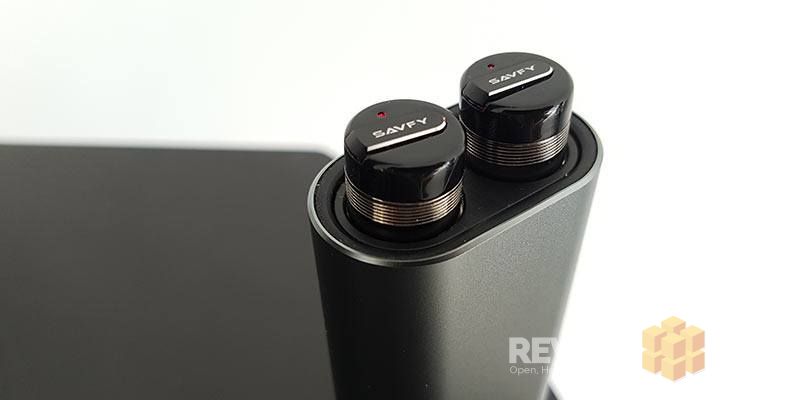 Battery Life
Battery life was pretty much as advertised with the headphones lasting just under 2 and a half hours. Charging the headphones is so simple and intuitive that putting the headphones away into their case will keep them charged.
You just have to remember to charge the dock every few days. Another great feature that SAVFY have included is that the headphone dock doubles as a portable power bank meaning you can always charge your phone in an emergency or sacrifice your phone battery to carry on listening to your favourite music.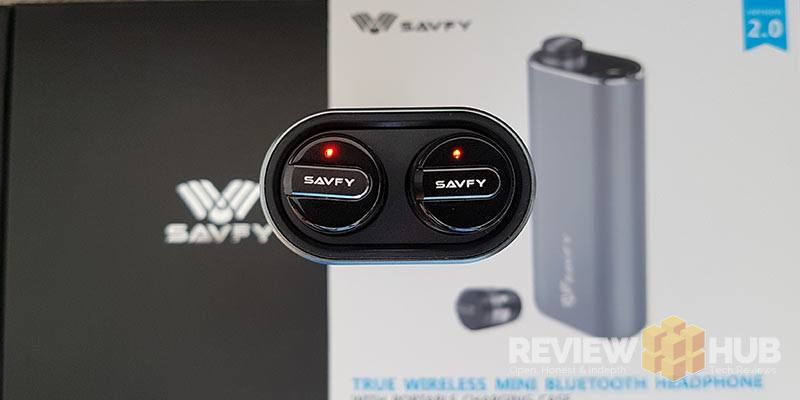 Final thoughts on the SAVFY True Wireless Headphones
The SAVFY wireless headphones are awesome! They're not the best sounding headphone you can get in this price range but they sure are the coolest! If want headphones that'll WOW your mates in the office but also work as uber discrete set of wireless buds then you need look no further!
Grab yourself a pair of SAVFY True Wireless Headphones prices!