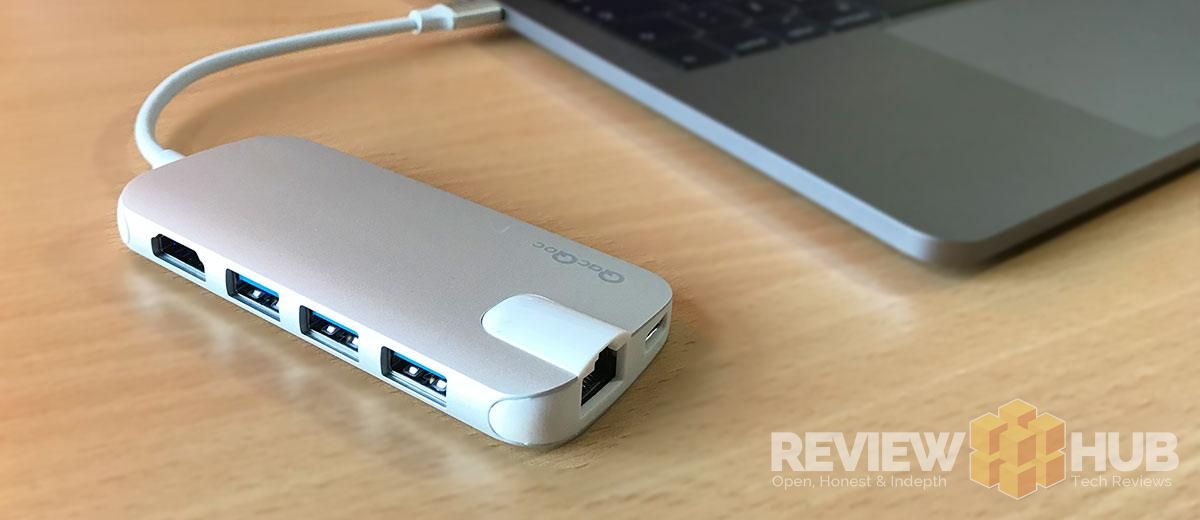 Where the heck have all the Laptop Ports Gone??? QacQoc has the answer…
You might have noticed recently that a certain famous Scottish designer has been secretly doing away with all our ports… and replacing them just a few USB Type-C ports instead…
Well Jony… I've got news for you! We want our fricking ports back!
[column size=one_half position=first ]
Fear not though… my quietly seething friends… for when there's a common problem, no one gets a product to market quicker than our friends in China. As such, Amazon has been flooded with USB Type-C Hubs offering you every port combination possible.
Best of all… they even make them in Aluminium so as to match your brand new MacBook!
The latest Type-C Hub we've managed to get our hands on is from QacQoc… don't ask me how to pronounce it… just know that they are experts in creating the aluminium USB Type-C Hubs of your dreams!
[/column]
[column size=one_half position=last ]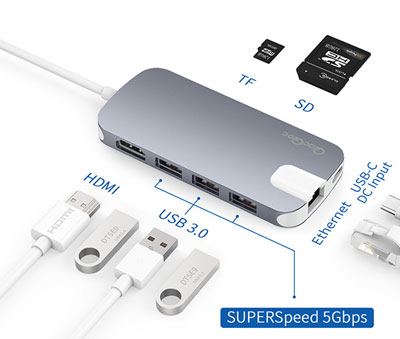 [/column]
So follow me on my journey as I review the QacQoc USB Type-C MacBook Pro Compatible Hub to see if it can live up to its premium price tag?
Bring back the old days of multiple-port-heaven… with a QacQoc what now?
[column size=one_half position=first ]
The Good
Premium Aluminium Design
Gigabit Ethernet
Three USB 3.0 Ports
Passthrough Charging
Lightweight (59 grams)
[/column]
[column size=one_half position=last ]
The Bad
4K HMDI Output only 30Hz
Premium Price-tag
[/column]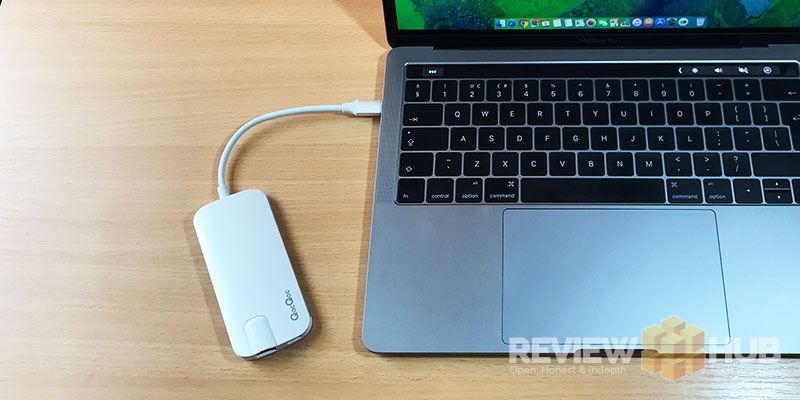 Design & Build Quality
The QacQoc Type-C Hub is clean, contemporary and luxuriously cold to touch thanks to its aluminium exterior. First impressions are very good with the hub being lightweight, the cable being reassuringly thick and the whole unit feeling very solid.
Weighing in at only 59 grams means that it also travels very well, and can be thrown into your pocket or bag without it weighing you down.
When it comes to colour options, the QacQoc (GN30H) is available in Silver, Grey, Rose Gold & Gold meaning you also have the option to match it your Mac for that seamless desktop look. Or if you're an odd socks sort of guy… mix it up a little.
At this price-point, I expect a high level of craftsmanship from QacQoc and the finish on the GN30H Type-C hub doesn't disappoint. Inspecting the unit closely I couldn't find any rough edges or loose seams and the USB Type-C port fits snugly up against the side of my MacBook Pro 2017.
In terms of Design & Build Quality, the QacQoc GN30H has impressed me… so far living up to its apple-esque premium price-tag.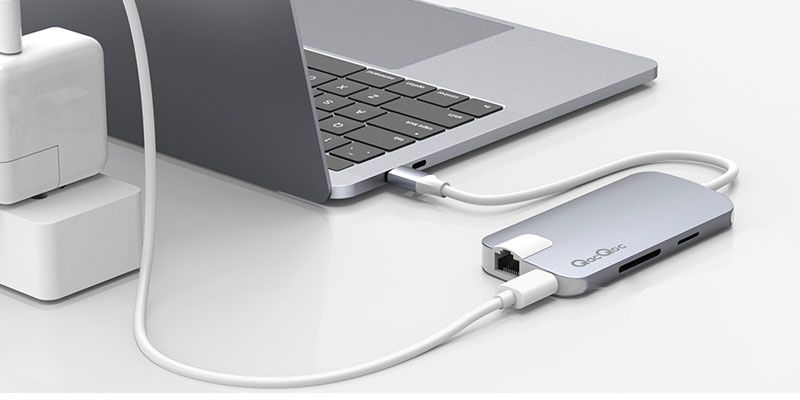 Features
No that we know the QacQoc looks the part, let's see if it can also impress us with its features. If you're going to invest in a USB Type-C Hub for your laptop, you're going to want to go one of two ways.
The first is a discrete low profile hub that aligns against your Macbook or laptop and the second is a slightly larger all-in-one feature rich hub that dangles nearby. The QacQoc GN30H is definitely in the second camp.
You'll find 3x USB 3.0 A Ports and 1x full size HDMI Output (1080P 60Hz / 4K 30Hz) on the one side. While opposite, you get a full size SDHC port and a Micro-SD card slot. And finally, at the end is a 1000Mbps (1 Gigabit) Ethernet port for when you can't get the bloody hotel WiFi to work…
The QacQoc Type-C hub needs no setup and is truly plug and play. You'll know the QacQoc is working as it has a blue LED that lights up once connected to your laptop.
Testing all the ports out, everything worked as expected. The Hub does become a little warm when charging and transferring large files but this is normal for aluminium devices and means that the heat is dissipating quickly.
It is worth mentioning that the QacQoc GN30H only comes with a 30Hz 4K HDMI output and doesn't offer a mini display port. This 30Hz is fine for basic desktop work, but you're going to notice the slow refresh times if you're watching movies or, especially, if you're gaming.
The 30Hz rate is actually common across the bulk of Type-C hubs available today. During my research, I only found a couple that offered 4K throughput and this was via a mini-display port, not HDMI.
The final port on the QacQoc hub is the Type-C pass-through port which lets you charge your device while simultaneously using all the other ports.
What's in the box?
The QacQoc Hub comes in a simple box with a short instructions leaflet included, not that you need them. A nice addition is a faux velvet carry case that lets you throw the QacQoc hub into your bag without the worry of getting dirt in the ports or scratches on the body.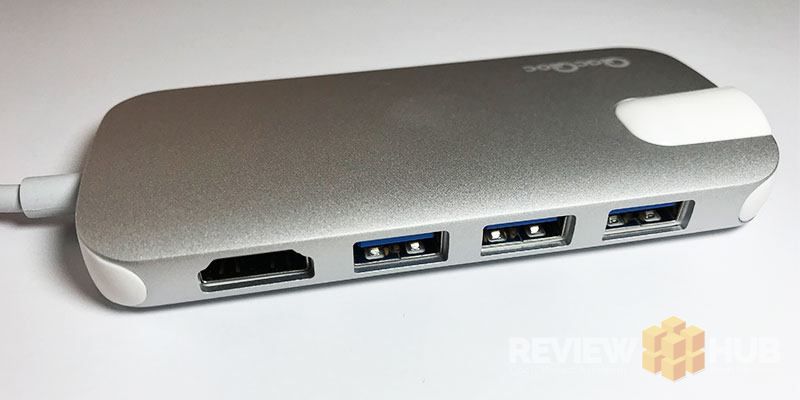 QacQoc Type-C Hub (GN30H) – The Verdict
The QacQoc GN30H performs excellently as a Type-C USB Hub and looks the part with the aluminium design. It's not just an Apple-fans-only hub either being a good fit for any port-light laptop that supports the Type-C Standard.
The big question is whether the GN30H is worth that premium price tag?
In terms of build quality and connectivity it excels, and it's certainly aimed as a one-fits-all solution. There are cheaper alternatives online if you only need the USB expansion side but the QacQoc Hub warrants its higher price tag by also offering HDMI Output, Power Throughput and the Gigabit Ethernet port.
The only downside for me is that the 4K HDMI throughput is limited to 30Hz rather than 60Hz. It'd be nice to see the addition of a display port output for 60Hz+ 4K, but then again… you still have three spare USB-C Thunderbolt ports left on your MacBook Pro 2017 for this.
Do I recommend the QacQoc GN30H USB Type-C Hub? Absolutely, just make sure you need the HDMI & Gigabit ports, or you can save yourself some money.