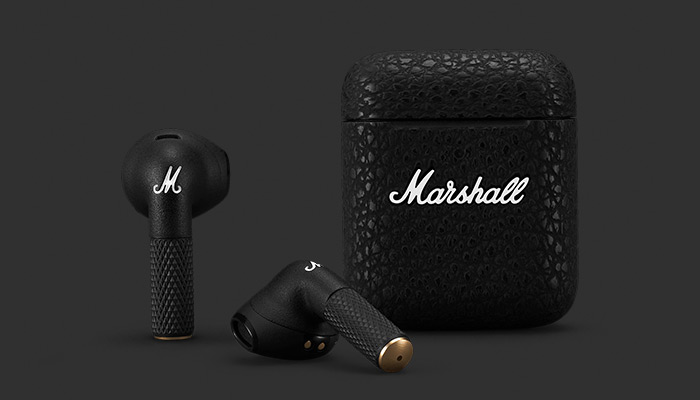 Can the 3rd iteration of Marshall's wireless earbuds have enough umphhh to compete against the Apple AirPods or the Sony XM4's? Let's find out.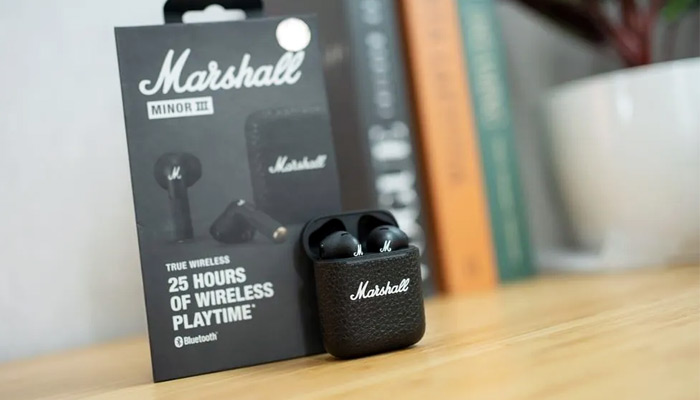 Quick Overview
The Marshall Minor III is the 3rd generation (Amazon), now wireless, earbuds from the 'Minor' series.  This time around they've completely changed from originally a wired Bluetooth headset to now being a wireless AirPods competitor.
With a design that very much mimics the style of AirPods (Amazon), at first glance, it's a very attractive option. Especially when compared to the somewhat clunky offerings we have from most major competitors such as Sony, Jabra and Bose.
Each earbud carries a 12mm driver that connects to your phone via Bluetooth 5.2. They are now waterproof and dustproof to IPX4 standards which is more than enough cover for those sweaty gym workouts.
You can listen at medium volume for 5 hours in one session which jumps up to 25 hours with the charging case. Overall it's a big improvement over the Marshall Minor II. Finally, you can charge the case with both USB-C and Wireless Charging.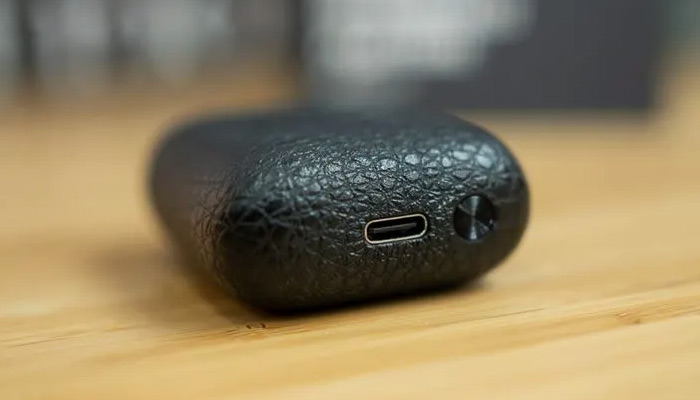 Marshall Minor III – Wireless Earbuds
The Marshall Minor III case is slightly larger than the AirPods 2 case, with an oval-shaped box that opens at the top. The base material of the case is Marshall's signature faux-leather embossed rubber which offers a comfortable grip and will match most other Marshall speakers perfectly.
The back of the case supports Wireless Charging showing with the Marshall logo shown off on the front. Underneath, you'll find the main type-c charging port next to a Bluetooth pair button.
The Earbuds sit in your ear easily without any messy spongy rubber inserts that we find on most wireless alternatives. You'll either love this or hate it, as it does reduce the sound quality (no audio seal) but, for me anyway, massively improves the comfort.
The faux leather case uses a matte black finish which is followed again in the earbuds themselves. The only embellishment is the gold flair that contrasts nicely at the bottom of each earbud. The earbuds also use a textured pattern which separates them from the 1000's of cheap generic plain plastic earbuds you'll see on Amazon.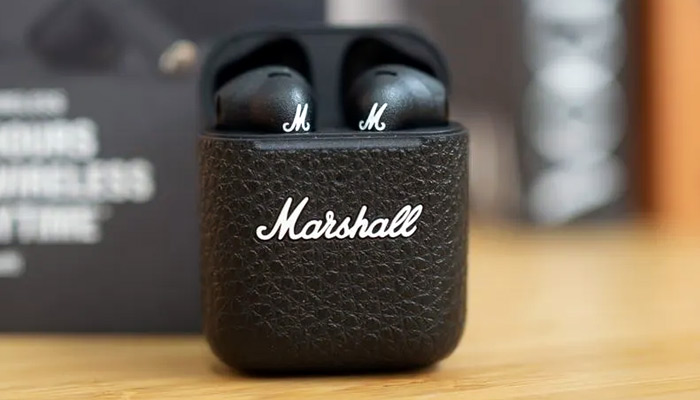 Comfort
With AirPods style earbuds, it's fast and easy getting them in and out of your ears. Especially suitable for those who do not like in-ear air-sealed headphones.
With a size that is slightly thicker and larger than an AirPod, when I wear them for a long time, I do start to get a little pressure ache in my ears. This is more noticeable if you're going to wear them while exercising than statically in office or at home.
As with all earbuds, some will fit your perfectly while others will be either too big or too small. I like to think that I have medium-sized ears.
Compared to rubber inserts, you have a little more leeway with the Minor 3s in terms of fit. But the downside is that you only get 1 size. If you can get yourself to a shop that has these on display, it's well worth checking the size out before investing.
Functionality
The main function of these earbuds is a touch button hidden on the side behind the 'M' logo. One tap will play, pause the song, tap twice, it will play the next or previous song.
It's not the most sensitive of tap buttons, but it does the job. The headphones have a sensor to detect if they have been disconnected and automatically stop the music. They'll then automatically play again when re-connected.
Sound Quality
The sound stage that we get from these earbuds is full and wide. The balance is quite even, with mids and high not being drowned out by an overly powerful base. That's not to say we don't get the signature Marhsall base, it's just that these don't sound like a minified amp. They're a little more refined.
When compared to the Sony XM4's (Amazon), the sound can be a little lacklustre and lack details. Compared to AirPods, it's a more even game with I'd have to say the AirPods still win out.
If you're looking for the best sound quality, or Noise Cancelling then there are better options out there.
If you're looking for an albeit slightly expensive pair of good (not excellent) wireless earbuds, then the Marshall Minor III's have you covered.
Mic Quality
The mic in these little earbuds surprised me. Voices in conversation are clear and I managed to have many conversations while wearing these. Ambient noise is picked up a lot though so they aren't the best for taking calls in noisy environments.
Battery Life
Battery life is great, your ears will be sore before they run out of juice. You can get about 4 hours of listening at medium volume (50%) in my testing. You can then top the earbuds up inside the case. No issues with battery life at all, mainly thanks to not having any advanced feature drain such as noise-cancelling or ambient sound removal.
Final Thoughts – Marshall Minor III
If you're not a fan of the in-ear rubber sealed earbuds, and have an Android phone then these should definitely be on your shortlist.
The other big plus these earbuds have is their design. They just look cool. The rock aesthetic with textured faux leather and gold highlight make even AirPods looks cheap in comparison.
Add to this, they are sweatproof, dustproof, suitable for exercising and support fast charging with a wireless charging case as standard… and that price-tag isn't looking as high as I first thought.