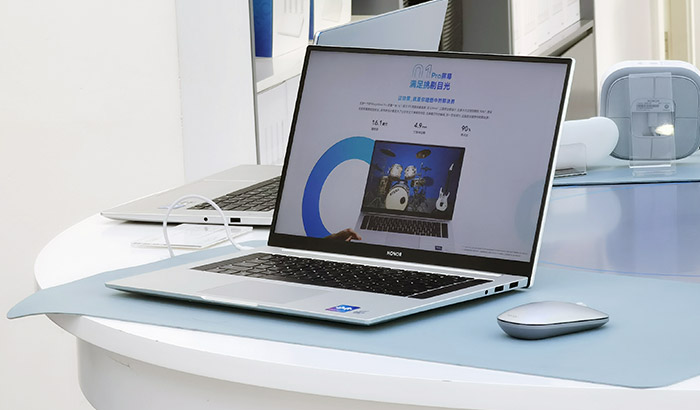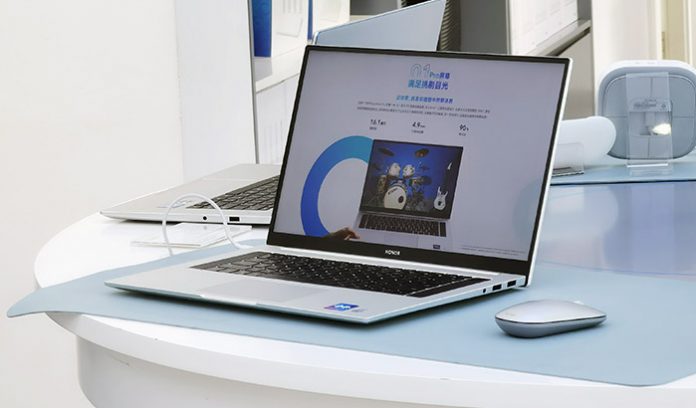 The Magicbook laptops from Honor have been on the market for a couple of years now,  available in 14″, 15″ & 16″ models.
Honor, a child company of Huawei, has built up a reputation of delivering excellent performance-ready laptops at affordable prices. And with the 2020 Magicbook Pro 16.1″ (amazon), they just took it to the next level.
Does the idea of a large laptop 17″ laptop that weighs less than a 14″ model sound exciting? If so, then be sure to check out our full review of the super-lightweight LG Gram 17″.
Back to the Magicbook Pro 16″, and as soon as you unbox it, you'll appreciate the cold aluminium body that oozes durability. The design is sleek and the build quality is on-par with ultrabook's I've tested from Lenovo, HP & Dell.
In terms of performance, it'll blaze through your regular day-to-day activities, power-through any power-hungry video editing or creative programs and even let you play some AAA titles – albeit from a few years back.
So how does such a slim and light perform so excellently? Well, it's packing one of AMD's ultra-performance 4000 chips that destroyed Intel at the start of the year for both raw performance and power efficiency.
I've absolutely loved my last two weeks testing the Honor Magicbook Pro with it getting a solid thumbs up from me. However, if you want to know why I love it so much, then keep reading this in-depth review of the Honor Magicbook Pro.
But first, here is a quick look at the pros and cons, to give you the basic cliff notes.
Pros:
Great build with a compact aluminium design
Excellent performance thanks to the next-gen Ryzen CPU
Fast NVMe Storage
Large 16.1" IPS screen
Good Quality Stereo Speakers
Long Battery life with fast charging
Dedicated Fingerprint Scanner
Cons:
Strange popup webcam location
No upgradable RAM (although 16GB is plenty)
Using older wireless technology. Would have liked to see WiFi 6 and Bluetooth 5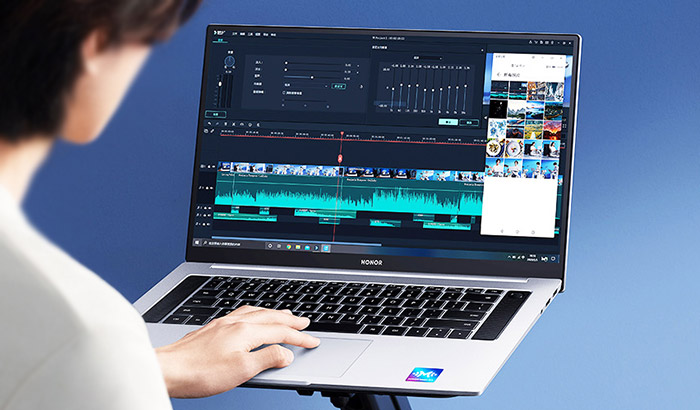 Display
The Magicbook Pro ships with a massive 16.1″ IPS display. But thankfully Honor decided to fence it in with a super narrow 4.3mm bezel giving it a smaller footprint than a traditional 15″ laptop. Not only does this reduce the overall size, but it also makes the viewing experience much more immersive & modern.
Coming to the picture quality, the 1920 x 1080p FHD panel looks fantastic. At 16″ it would have been nice to see a bump up to 1440P (2560×1440) resolution, but the 137PPI is still plenty crisp.
Testing the backlight distribution and there is only a very faint light leak in the top left and right corner which isn't noticeable in day-to-day usage. Honor has chosen a quality panel from Innolux this time around which is a pleasure to use and perfect for designers with very accurate colours covering over 100% of the sRGB space.
In terms of brightness, the screen is rated for 310nits. Now this isn't the brightest panel I have seen, but I could comfortably do my work with the slider kept at 70%, so it's nothing to complain about. I do have to thank the matte anti-glare coating which minimised any reflection coming off the screen. Although it does add a slight grain to the panel when compared to glossy displays.
Also worth pointing – the Magicbook Pro is TUV Rheinland Flicker-Free Certified, which is excellent news for your eyes. During our testing, we didn't detect any PWM flickering above 20% brightness.
Overall, you're getting a quality laptop display with good contrast ratio, even light distribution, above 300nit brightness and a mild anti-reflective coating.
Well done Honor!
Screen Tech Specs: 16.1″ IPS LCD, 1920 x 1080p resolution, 90% screen-to-body ratio, 310nits average brightness, 16:9 aspect ratio, Anti-reflective coating, 1700:1 contrast ratio, 99.5% sRGB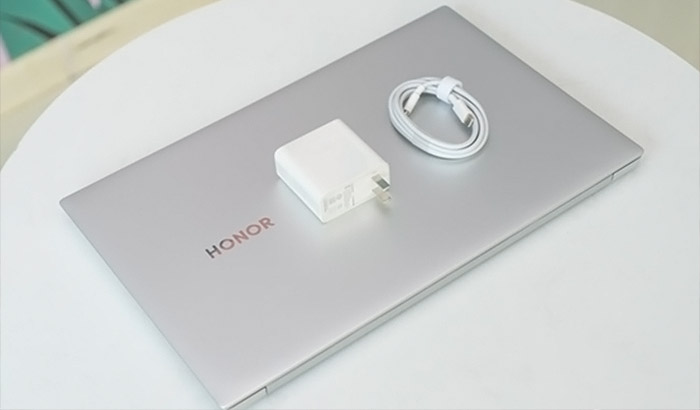 Design & Build Quality
The sleek Honor Magicbook Pro is an absolute stunner! With which you'll be sure to turn some heads thanks to its polished aluminium body and slim minimalistic design. It takes what's good about Apple laptops but gives it a Windows spin, and thankfully, a few extra ports.
Taking a lot of its design cues from the award-winning Matebook X (amazon), you can be sure it's of top-tier quality. At only 1.7KG and 16.9mm thickness, it's also as easy on your back as it is on the eyes.
The quality of the hinge is also very premium and doesn't feel too loose. You'll notice a gradual decrease in tightness as you lift up the display and open your laptop – I really liked that! You can also bend the display about 150-160 degrees, which is more than enough to get the perfect viewing angle.
Not quite the 180-degrees of the Magicbook 14″, but enough to sit back in bed and use this laptop comfortably.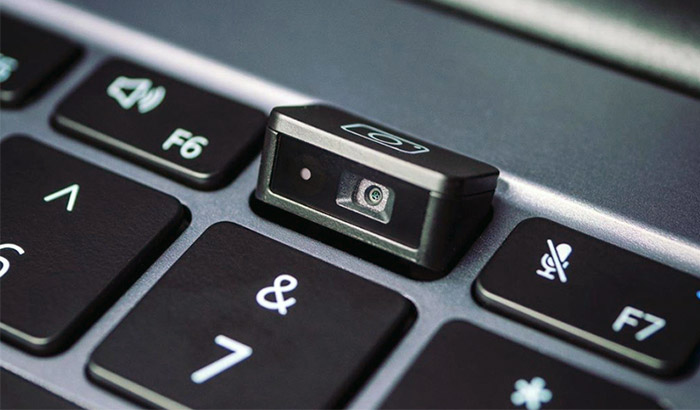 Pop-up Webcam
Now, since the Magicbook Pro has such narrow bezels, Honor chose not to place the webcam in its traditional position.
Instead, they chose to use a hidden pop-up webcam. Sounds cool, doesn't it? But is it practical? Well, that sort of depends on your needs.
For users who are always concerned about privacy, having a webcam that's tucked away – unless called for – is a pretty great feature.
However, the lower positioning of the camera means that while on video calls, the camera is going to point right up your nose. Leave a comment at the end if you think this is 'genius' or 'madness' from Honor.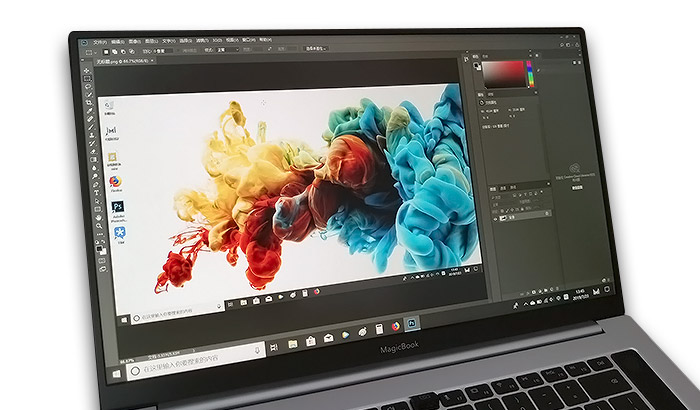 Gaming & Productivity Performance
The Honor Magicbook Pro is among the first laptops to feature the latest AMD Ryzen 5 4600H processor.
Now, if you have been following the latest tech news, you'll know that AMD's mobile Ryzen series has the best price-to-performance on the market, and it doesn't disappoint in the Honorbook Pro.
Backed up by 16GB of RAM and 512GB of storage, the Honor Magicbook Pro offers unparalleled performance for its price. Whether you an avid office and productivity task wiz, a programmer, or want to edit videos? This laptop can do it all thanks to it's 6 4GHz boosted cores with 12 threads.
Working on a 4K video and scrolling smoothly back and forth across the timeline shows just how capable this chip is. However, video editors should also consider AMD's 4800H which offers 8 cores & 16 threads.
In terms of gaming, I tested GTA 5 and The Witcher 3. Not the most modern games, but a good test for integrated on-chip graphics.

The Witcher 3:
Graphics: Low
Resolution: 1080P
FPS: Average 35-40fps
GTA 5:
Graphics: High
Resolution: 1080P
FPS: Average 30fps
Awesome stuff for a such a thin and light laptop.
Performance Specs:
CPU: AMD Ryzen 5 4600H with Integrated Radeon Graphics
RAM: 16GB
Storage: 512 NVMe SSD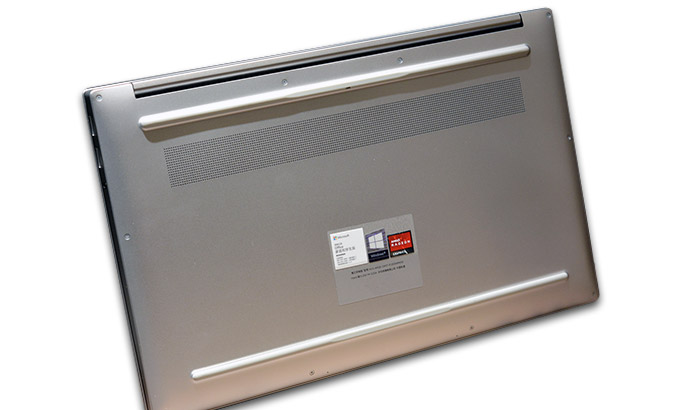 Cooling System
Now we know the Honor Magicbook Pro boasts powerful hardware to handle even the most demanding workloads, but as with all electronics, when you start pushing it, things can get hot fast!
Thankfully, Honor has implemented a dual-fan cooling system exhausting hot air out of the left & right rear vents. On top of this, or should I say underneath, are two large soft-touch grips that raise the laptop slightly allowing for more airflow.
I rarely found the Magicbook Pro reaching temps above 60°C during my testing. However, while playing the Witcher 3, it pumped up to around 80°C at which point I did notice minor lag and frame drops, due to thermal throttling.
Overall though, it's a solid cooling system that's more than enough for the AMD Ryzen 4600H.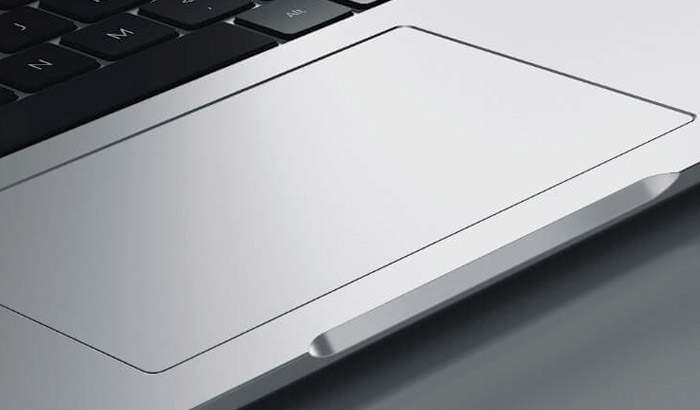 Touchpad, Typing & Keyboard
The touchpad is spacious, smooth to the touch, and extremely precise. No complaints whatsoever.
Coming to the keyboard, and I'm super happy they opted to NOT add a dedicated right-side Numpad which you see on 90% of large display laptops. This means the keys are spacious and centred nicely for an overall better typing experience. The keys are clicky, but not loud, with a short travel distance of around 1.2 mm.
Overall, both the touchpad and keyboard are excellent. They don't match up to MacBook or Dells XPS, but are still above average. Finally, we get a 2-stage backlight which works well in dark conditions, but is a little dim in the day.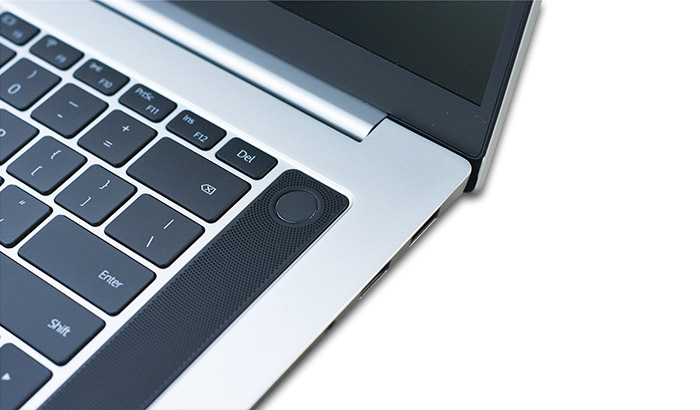 Audio Quality
The Magicbook Pro uses upwards firing stereo speakers either side of the keyboard. Having the speakers fire upwards means you lose a little bass, but the clarity is fantastic with music feeling much more immersive.
You might find max volume a bit lacking compared to the competition though. We rate these speakers a 7/10, they certainly look impressive, but won't be replacing your Bluetooth speaker anytime soon.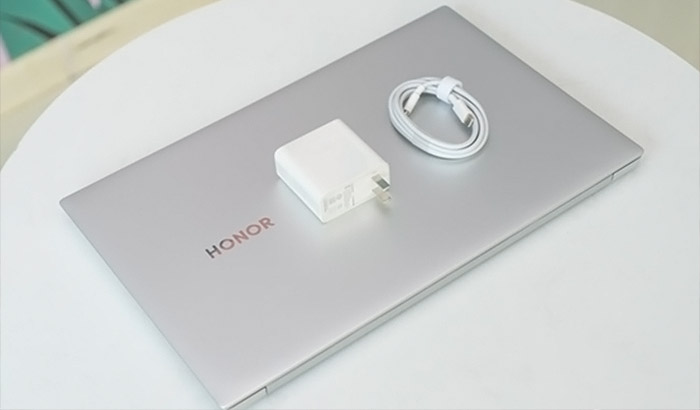 Battery Life
The Honor Magicbook Pro packs in a decent 56Wh battery. It gives you enough juice to last through an entire workday. On mixed usage, which includes some web browsing, streaming YouTube, and handling some productivity workloads, the laptop gave me around 7 hours of screen on time.
I also tested how long the battery lasts on constant video playback, and it gave out at around 10 hours.
As for charging, Honor packs in a super impressive 65W fast charger. It can get the battery back up to 50% within half an hour, and charged back to 100% in a little over an hour and ten mins. That's really awesome!
Battery Specs: 56Wh battery, 7 hours screen-on-time on mixed usage, 65W fast charging, 30mins to recharge to 50%.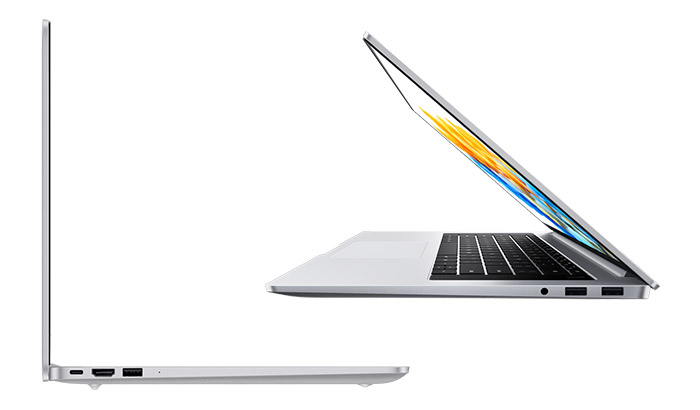 Connectivity
Lastly, let's go over the various connectivity options provided on the laptop, starting out with the ports.
To the right of the Honor Magicbook Pro, you have two USB 3.2 ports along with a 3.5mm headphone jack. Another USB 3.2 port is provided to the left side paired with an HDMI 2.0A and a USB Type-C.
The Type-C has power delivery support for charging the laptop, and can also help you with video output at 4K @60fps.
In terms of wireless connectivity, the laptop gives you support for the older dual-band (2.4G|5G) WiFi. But, I would have loved to see WiFi 6 support.
Similarly, it also sticks with the older Bluetooth v.4.2, which makes no sense since Bluetooth 5 has been out for a long time. The WiFi card is upgradeable, but there's no word from Honor if a WiFi6 card would be supported yet.
Other than this, it is also worth noting that the power button on the device doubles as a fingerprint scanner with perfect integration with Windows Hello. All you need to do is place the pre-assigned fingerprint on the scanner, and it will securely unlock the laptop instantly.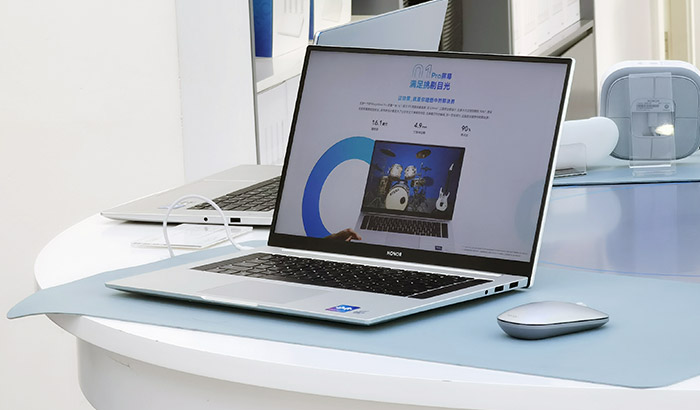 Honor Magicbook Pro – The Verdict
To sum up all the points we just covered – you can't go wrong with the Honor Magicbook Pro. In every area where it matters, the laptop is either good or great!
For the price, you get an exceptional 16.1″ quality screen and top-tier latest-gen AMD Ryzen 5 performance. And if that's not all, the entire thing is packaged inside this ultra-premium aluminium chassis that looks sleek, modern, and extremely stylish.
Do we recommend the Honor Magicbook Pro? Regularly on sale for under £850, this is a windows laptop steal!