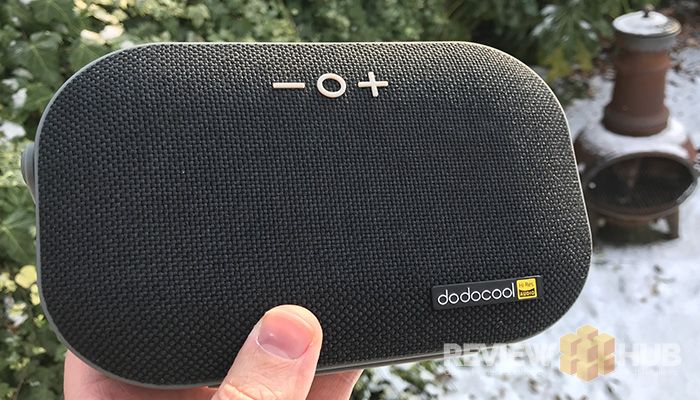 The Dodo lives on… In the Dodocool DA150 High-Resolution Bluetooth Speaker!
The Dodo's not dead at all… it's alive and rockin'!
If you've been disappointed with mid-range Bluetooth speakers that promise the world and end up sounding like tin cans, then you've definitely come to the right place!
It's hard to believe when you listen to this woven wonder's rich sounds, that it only cost £25… that's the same as that gym membership you panic bought after Christmas!
Put on your dancing shoes, cancel that gym membership and do yourself a favour by rocking out to workouts from the comfort of your own home… winner winner… dodo dinner?
Here's my Dodocool DA150 Bluetooth Speaker Pro's & Cons before I dive deeper reviewing the Sound Quality, Design & Build Quality, Battery Life & Connectivity…
Grab one of the best value small speakers available today…
[column size=one_half position=first ]
The Pro's
High Max Volume with little distortion
Overall Rich Sound Quality
Hi-Res Sound Ready
Low Price-tag
Great Connectivity
[/column]
[column size=one_half position=last ]
The Cons

Blue flashing LED
Hair Magnet
[/column]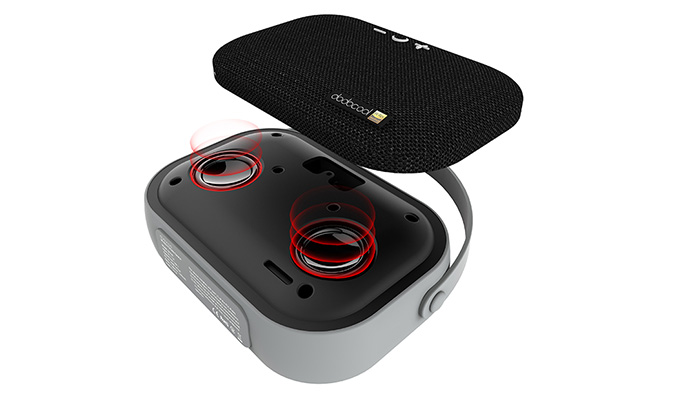 Sound Quality
The Dodocool DA150 may be small, but oof is it mighty! When it comes to the volume you won't be disappointed as this textile trooper has a really loud max volume.
Whilst it does lose a small amount of sound quality at max volume, it's negligible as the Dodocool speaker is more than loud enough set to 80% volume and below.
One thing to note is that this speaker changes its overall sound depending on what surface you use it on. On solid wood furniture, it generates a rich overall sound with the added benefit of deeper bass.
Pick it up and this bass boost fades away… Put it on a chest of drawers and sound produced becomes a little echoey.
The Dodocool DA150 is capable of Hi-Res sound quality however you'll need to play high quality tracks to hear it. Search for FLAC on YouTube and you can really notice the clarity difference to that of standard mp3 tracks from your smartphone.
Overall, I've was really impressed with the sound quality on the little Dodocool speaker. It's not going to replace your Bose system… but for £25 it's a steal.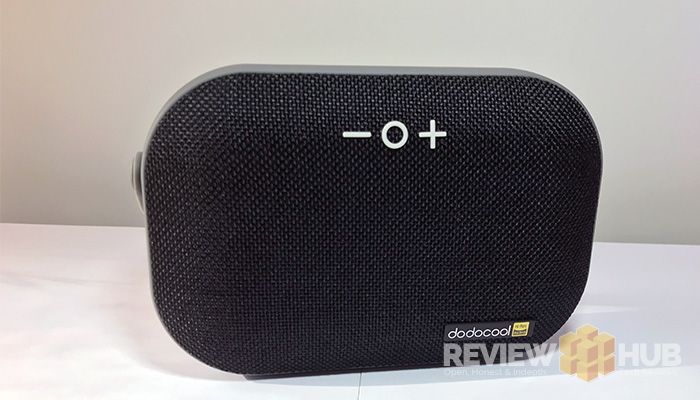 Design & Build Quality
Let's just take a minute to appreciate the minimalist and innovative design of this speaker.  If you've been looking for an Instagramable speaker then look no further!
The front and back of the speaker are covered by a synthetic woven material giving it a chic and modern design. In your hand it feels solid and sturdy, doesn't creak under pressure and looks like it could survive a drop or two.
The finish on the speaker is also very good. I didn't find any defects or build quality issues when putting the DA150 under close inspection, aka my beady eyes!
With only 3 simple buttons on the front for play, pause, volume up and down, previous and next track, the Dodocool DA150 is one super easy speaker to get to grips with.
The small form factor also makes it super portable and handy for all those impromptu parties and outdoor picnics. While it's not pocket-friendly at 620g and 18cm width, it's definitely portable enough to use around the home and throw in your bag when needed.
It's have been nice to have port covers on the back, but Dodocool in no way claims this is a rugged speaker so keep it out of the rain.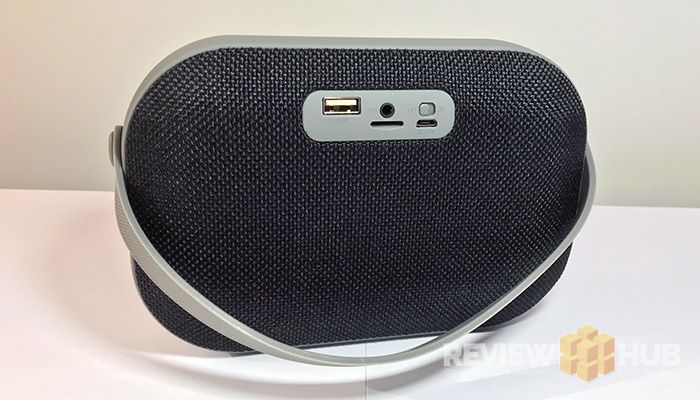 Features, Connectivity & Battery Life
You have plenty of options for connecting to the Dodocool DA150 Bluetooth speaker. The speaker includes Bluetooth 4.1 for wireless connections and on the rear of the speaker, you'll find a full-size USB slot, an Aux in and also a micro SD card slot.
So whether you want to plug in an old USB stick or dig out that unused SD card, you can now have a fully stand-alone speaker anywhere, anytime.
Connecting to the Dodocool DA150 speaker is hassle-free and during my 3 weeks testing, I haven't had any connectivity issues.
To test the connectivity more thoroughly I tried the DA150 in a variety of situations. I've posted the details below:
3-meter distance: PASS
6-meter distance: PASS
10-meter distance: PASS
2 walls away (3m): PASS
Testing out the built-in hands-free functionality was straightforward as the music automatically stops when there is an incoming call.
The Dodocool DA150 comes with a non-removable 1200mAh battery that'll give you around 6 hours at medium volume. There's no fast charge included but 0-100% will take just under 4 hours. Luckily, you do have the option to charge the speaker whilst playing music.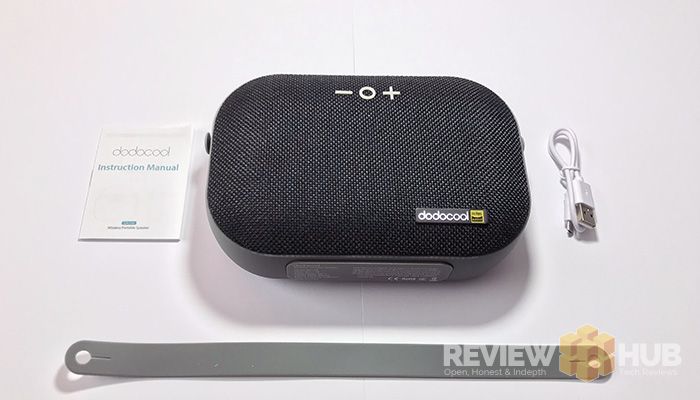 What's in the Box
With your Dodocool DA150 Bluetooth Speaker, you'll also get a micro USB cable, an instruction guide and a grey soft plastic handle.
Dodocool Speaker – The Verdict
Overall, I am super impressed by the sound quality of this Dodocool Bluetooth speaker.
It's not since the Xiaomi Mi Square Box that I've been this excited by the quality and sheer volume of a budget speaker.
The Dodocool DA150 could give even give the MPOW bass queen a run for her money whilst weighing in almost half the weight!
Do I recommend the Dodocool Speaker? Absolutely, it's rare that we get in such budget gems!
See this week's best Dodocool High-Resolution Speaker deals…
Dodocool Bluetooth Speaker – Tech Specs
| |   |
| --- | --- |
| Model | Dodocool DA150 Bluetooth Speaker |
| Colours Available | Grey |
| Material | Aluminum Alloy |
| Interface | Micro-USB |
| Bluetooth Version | 4.1 |
| Headphone Jack | YES |
| SD Card Slot | YES |
| Wattage | 3 watts x2 |
| Dimensions | 180 x 120 x 50 mm |
| Weight | 620 grams |
| Play Time | 6 Hours |
| Battery Size | 1200mAh / 5 volts |