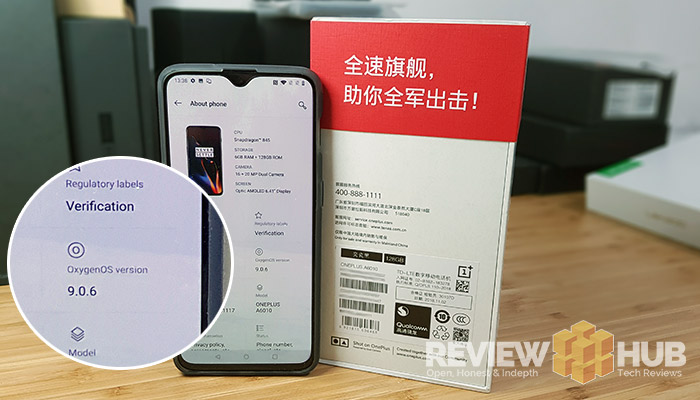 We recently received our OnePlus 6T here at Review Hub only to find that it's running the Chinese Hydrogen OS. There are pros and cons to importing yourself the OnePlus 6T, the main pro being some big savings!
Related: OnePlus 7 Pro Hydrogen to OnePlus 7 Pro Oxygen Guide.
The downside? If you choose a mainland China OP6T, then your warranty will only cover you in mainland China.
But if you do find yourself with a OnePlus 6T and are thinking "what the heck is this Hydrogen OS that's pre-installed? Why are there lots of Chinese apps? And how do you get the PlayStore?" Then you're in the right place!
You can easily turn your OnePlus Hydrogen OS phone into a OnePlus Oxygen OS phone in around 5 minutes. It's hassle-free and done via the official OnePlus website.
Step-by-step Guide: OnePlus Hydrogen OS to OnePlus Oxygen OS

Note: This will delete all your data, so be sure to backup first.
Download the Official OnePlus 6T Oxygen ROM from OnePlus.com
Move the downloaded Zip file to the root directory.

Downloads > Select File > Options Move > Options Show Internal Storage > Top Left 'One Plus' root > Move

Next, we need to enable developer mode & turn on advanced reboot.

Settings > About Phone > Tap Built Number 6 Times
Settings > System > Developer Options > Turn 'on' advanced reboot

Now we'll install the OnePlus Oxygen Download.

System Updates > Top Right Cog > Local Upgrade > Select Package > Install

Hold down the power button & select 'Recovery'.

Choose to wipe data and cache and reboot.
That's it! Your phone is a brand new OnePlus Oxygen OS phone!
Related: The best OnePlus 6T Competition!
We tested this ourselves with a mainland China OnePlus 6T and it worked a dream! You'll now have access to the Google Play, Chrome, Duo, Drive, Maps, Gmail, Google Pay, Notes and YouTube already. All pre-installed and ready to use! Enjoy!
Let us know in the comments how it went! : )