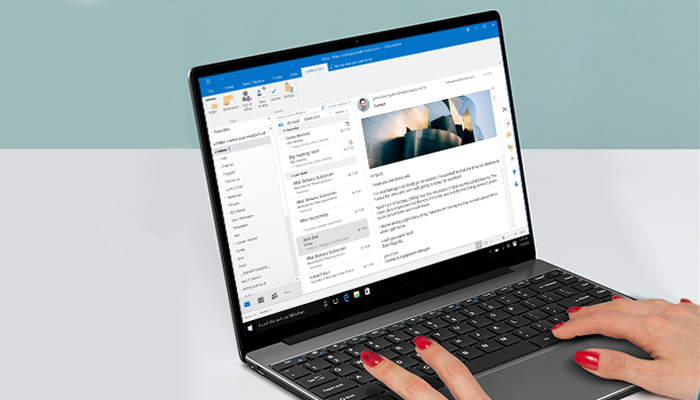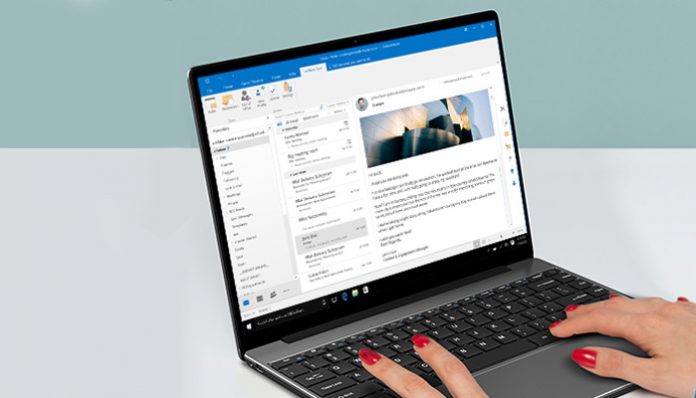 You can look at the Chuwi Corebook X (Amazon) as a more beefed-up version of the Chuwi Corebook Pro that will cost you around $100 extra. But is it worth it over the already "Pro" model? Let's find out!
The Chuwi Corebook Pro has received significantly more attention from tech reviewers compared to the Corebook X. In part, this is because the "Pro" model manages to hit that affordable $400 price point, and still delivers one of the best displays in this segment.
But with that being said, almost every review unanimously agreed that the internals were underwhelming, especially when you consider that it aims to run full-fledged Windows 10.
Related: Best Smartphone for under £150/$150
This is where the Chuwi Corebook X comes into the picture.
With more RAM and a better processor, the Corebook X offers a much smoother experience. But at the same time, with its $500 price tag, it has entered a whole new ballpark competing with other, equally spec-ed out systems.
So does getting the Corebook X make more sense over the standard "Pro" model? Well, this is what we will answer in our full in-depth review of the Chuwi Corebook X.
But first, here is a quick look at the pros and cons of the device to give you an idea of what's in store.
Pros:
Premium design boasting an aluminium chassis
2K Screen Resolution
3:2 aspect ratio – excellent for office workloads
Tactile keyboard
65W Charger
Affordable
Cons:
Averagely sized 46.2Wh battery
Relatively thick at 20mm
Limited ports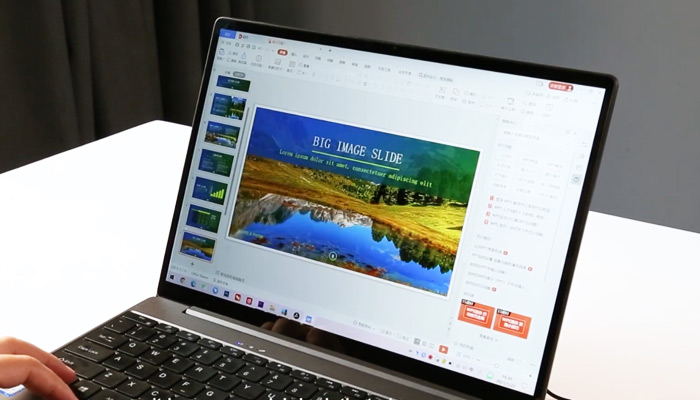 Display
Inarguably, the main selling point for both the Corebook X and Pro models is their awesome 2K display. With the 2160 x 1440p resolution spread across the 13" screen, you get a pixel density of around 200 PPI (Pixels Per Inch). That's unheard of at this price segment where most manufacturers cheap out with low-end displays.
Furthermore, the Chuwi goes with a taller 3:2 aspect ratio which makes it perfect for productivity-based workloads. You get more vertical real estate, allowing you to see more of your documents as you create/edit them.
However, I wouldn't recommend the device for editing images and videos. The contrasts aren't high enough, and the colours feel a bit bland and fail to pop.
That being said, the viewing angles are pretty good with minimal to no colour distortion. Also, the screen can get reasonably bright and is even legible for outdoor use. However, I would advise against using it under direct sunlight, since it has a fully laminated display that's extremely reflective.
Overall, with its taller design and high pixel count, the Corebook offers one of the best displays for office work, web browsing, and casual media consumption.
Screen Tech Specs: 13", 2160 x 1440 screen resolution, ~200 PPI, Fully Laminated screen, 270 nits brightness , 3:2 aspect ratio.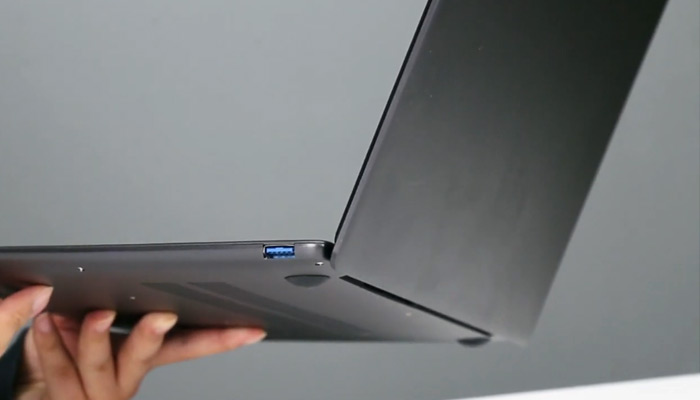 Design & Build Quality
Chuwi has rarely disappointed me when it comes to delivering premium quality designs at budget price points. The Corebook X looks every bit as premium as high-end $1000 ultrabooks.
The full-metal aluminium chassis with its polished matte finish looks absolutely stunning. Furthermore, there is minimal branding with the Chuwi logo off to one of the corners giving you a clean and elegant design.
However, I would highly advise against showing off the Corebook X around campus or while walking down the street. You see, the display doesn't sit flush with the body of the laptop and leaves a little gap. Not only does this up the thickness to 20mm but also serves as a welcome gate to all the world's dust which can damage the keyboard.
As such, always remember to tuck away the Corebook X inside your backpack while outdoors. And don't worry as the 1.49Kg weight will barely feel like a load in your daily commutes.
Next up, the hinges on the laptop are pretty sturdy and will hold up for a long time. I could barely lift up the screen with one hand and needed the other to hold down the body.
Furthermore, the hinge allows you to completely unfold the screen to a full 180 degrees. Now, I don't know why you might want to lay it flat, but having the option to position it to any angle in-between means you can achieve any viewing angle to fit your needs.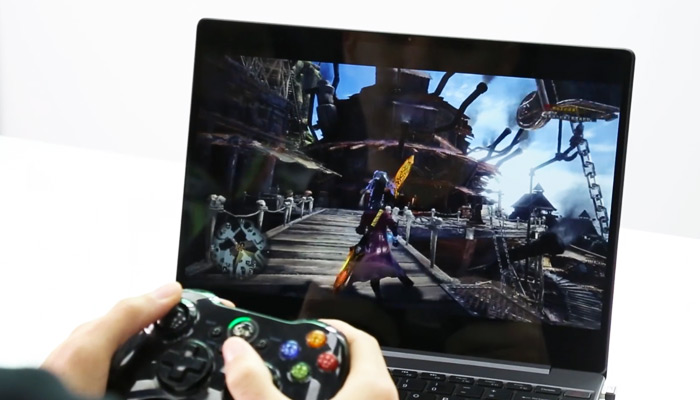 Gaming & Productivity Performance
This is the main area where the Corebook X differs from the Corebook Pro.
The Pro shipped with a four-year-old i3 processor which just wasn't cutting it in 2020. It also had a measly 8GB of RAM which isn't enough for these days to give you a smooth experience on Windows 10.
Now, the Corebook X rectifies this by going with the Intel Core i5-8259U. While not the latest and greatest, it's at least a quadcore CPU and miles ahead of the low-end Intel Atom CPU's Chuwi traditionally chooses.
The CPU is paired off with the in-built Iris Plus 655 Graphics. It isn't as strong as a dedicated graphics card, and won't be able to run the latest AAA games. However, I was able to play some of the games you can find on the Windows Store without any issues.
For example, Asphalt 9 ran pretty smooth without any lag or frame drops on medium to high settings.
The X model also gives you double the RAM at 16GBs, which makes the multitasking experience much smoother. You don't need to worry about the system lagging after opening too many Chrome browser tabs.
The only thing you need to note is that the RAM is soldered on, so you can't upgrade it. Luckily, if you find the in-built 512GB SSD limiting, you can open a hatch on the back of the laptop and pop-in an M.2 SATA SSD, up to 1TB.
Overall, you are not getting the latest of tech inside the Corebook X. But by going with a few year old internals, the company has been able to deliver a smoother performance.
You shouldn't have any complaints while using the device for word processing, creating presentations, browsing the web, playing some casual games, and yes – even with mild image and video editing.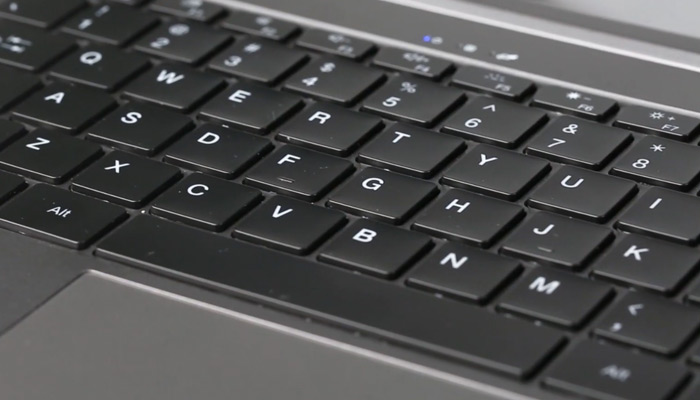 Typing & Keyboard
The Corebook X carries forward the same Corebook Pro keyboard which received a lot of praise. It's a 10-KeyLess Chiclet Keyboard that ditches the Numpad and thereby improves the spacing between the keys. Furthermore, there is a decent amount of travel to the keys, which makes the typing experience that much better.
Other than this, the keyboard comes with 2 stage backlighting. It's not too bright, but good enough to help you see what you are typing in the dark.
And speaking of looking at the keys, the power key has a red bordering. Chuwi most probably had good intentions with the design choice by placing a visual warning to prevent accidental presses.
But I felt it took away from the overall clean and minimal aesthetics of the keyboard. Furthermore, since I'm a touch typist and don't look at the keys to begin with, it really wasn't that helpful.
Finally, you get a standard trackpad, typical of what you would expect at this pricing. It is smooth to the touch, and responsive. However, it did accidentally register some clicks while scrolling, so there might be some issues with the precision drivers. That being said, it does support multi-finger gestures, so no complaints there.
Performance Specs:
RAM: 16GB RAM
Storage: 512GB SSD, expandable upto 1TB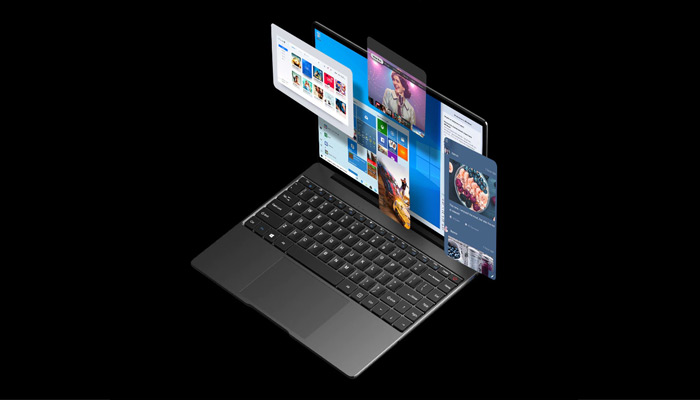 Battery Life
The 46.2Wh battery in the Corebook X does feel small, but it is okay. It doesn't give you a full-day's screen-on-time, but it does manage to get you through the evening.
On mixed usage, which includes a few hours of web browsing, streaming on YouTube, and doing some productivity work on Microsoft Office, I found the battery to give me around 6-7 hours of screen-on-time.
But luckily, even if the battery does run out, you will find the included 65W charger to fill up the tank within one and a half hours.
Battery Specs:
2Wh
6 Hours of Screen-on-Time
19V/3.42A Charger

Connectivity
Despite the 20mm thickness, the Corebook X has super limited I/O support.
On the left, you have just one USB Type-C port which is only good for data transfer and doesn't support power delivery. For that, you have a dedicated barrel charging port right above it.
Whereas on the right, you have one USB 3.0 port, along with a 3.5mm headphone jack, and a TF card slot – which I am sure was super necessary to include over another USB 3.0 port!
Anyways, since connecting to wired accessories is limited, you will have to make do with wireless options using Bluetooth 4.2. Whereas to help you connect to the internet, there is support for dual-band (2.4G|5G) WiFi.
Speakers and Webcam
The Speakers on the Corebook X is awkwardly placed in the bottom, which remains mildly elevated from whatever surface you put it on using four rubber bumps located on four corners.
As such, I found the speaker quality to lack in loudness and also sounding a bit muffled. The problem was resolved when flipping the laptop upside down, but only spiderman will be able to use a laptop like that.
For us regular users, – living without radioactive spider blood – we will have to make use of the 3.5mm headphone jack or connect a pair of wireless headsets.
Coming to the webcam, it's terrible. Don't use it. That's all I have to say! I looked terrible in it, and I won't be turning it on ever again.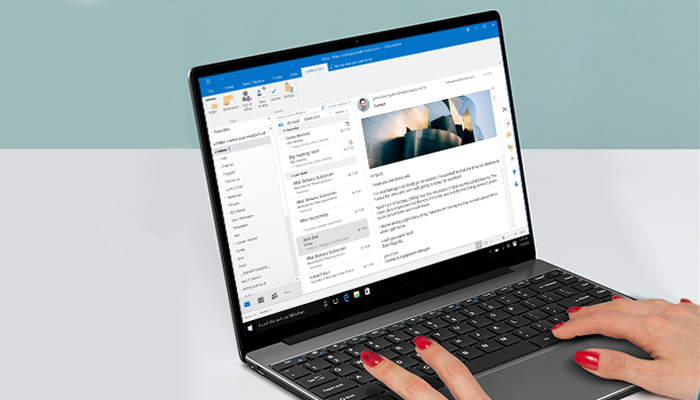 Chuwi Corebook X – The Verdict
Now coming back to our initial question – is the Chuwi Corebook X a worthy upgrade over the Corebook Pro?
At just $400 the Pro model only competes with the likes of Chromebooks and a few Windows notebooks with sub-par configuration making it one of the best laptops at the price point.
But when you raise the price to $500, soon you have a lot more competition. So does the improved CPU and extra RAM make the Corebook X equipped enough to give a good fight?
Well, first of all, you are still getting one of the higher quality displays on the market.
The performance is on-par if not better than what other manufacturers have to offer – including both Chinese and distinguished international brands.
And coming to the design, you will be stumped to find something better at a lower price – that is, other than the Corebook Pro.
So, in a nutshell, the Corebook X is an excellent buy at $500, that is either on par with the competition or better than it in certain aspects like the display and typing experience.
Do we recommend the Chuwi Corebook X?
Because of the 3:2 screen aspect ratio, the Chuwi Corebook X is perfect for office goers and students alike. And when you pair that with the tactile keyboard, you get the ideal device for all your word processing needs.
As such, if you're in the market with just $500 and want a decent laptop for office productivity and mostly casual media-consumption, then go for the Chuwi Corebook X.