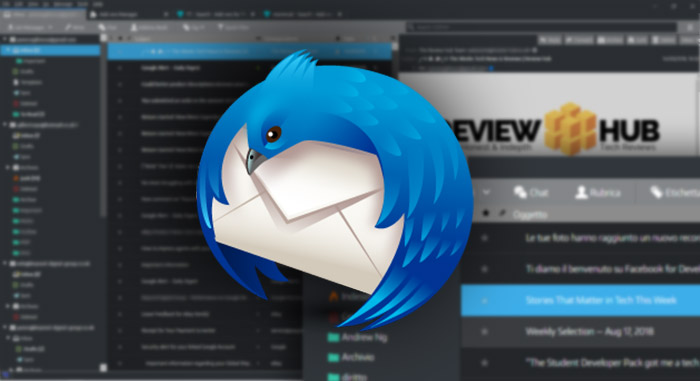 With the official release of Thunderbird 65+, we check out the best themes on offer
While theming your applications may feel a little bit Windows XP, I don't care and quite honestly the default Thunderbird theme just isn't my cup of tea. I'm a dark theme kind of guy!
Further Reading: How to scale Thunderbird independently of Windows Scaling.
Whether it's increased productivity, less eye strain from a dark theme, or, you just want to get that 'shiny new feeling' back, I'm totally with you!
I've been a big fan of the TT DeepDark Theme for years, but try and install it on the latest Thuderbird 60 and you'll be hit with this message: 'This add-on is not compatible with your version of Thunderbird'.
Kind sucks right?
Well maybe not. While the Mozilla Theme Market mainly consists of lame background images, there are still a couple of fully featured themes to that work on the new Thunderbird Version 65+.
And here they are.
Monterail Dark & FullDark (Conema)
The best dark theme replacements for TT DeepDark are the Monterail Dark & Full Dark Thunderbird theme addons. They're not perfect but they do bring a modern look and feel to somewhat plain default themes.
The biggest turn off has to be the grey colour (#838689) used on the message box and the mail toolbar. If the developer tweaks this then it'd be a full five stars from me!
All hope is not lost though, you can install this theme manually by downloading it from Github with the link below. The benefit to this is that is that you can tweak the themes colours in a text editor.
But when I tried this DIY version of the theme, there were some UI errors and it didn't feel as complete.

Let me know if this grey colour bugs you as much as it does me in the comments below!
Compatible with Thunderbird: 52-60
Thunderbird Theme Install Link: Monterail Dark & Monterail FullDark
Customisable Version: Monterail Github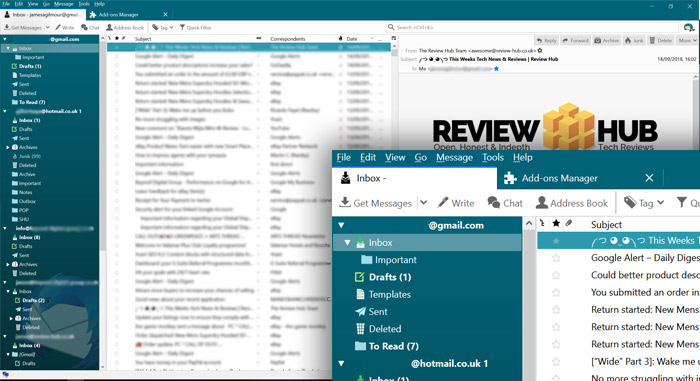 Monterail (Original)
With over 1600 daily users, the Monterail Thunderbird theme is popular and for good reason. It upgrades the icons and uses a neat blue gradient behind your folder pane for a more modern minimalist look.
It also customises the design of the message box, making all the fields white. While the default Thunderbird theme's grey and white is a little more user-friendly, I can't deny it's minimalist and clean approach works well.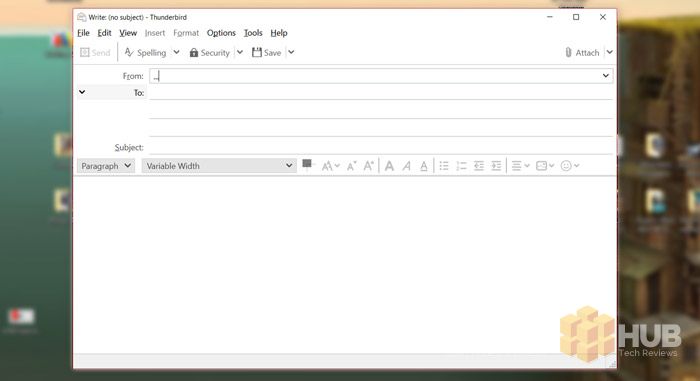 Compatible with Thunderbird: 52-60
Thunderbird Theme Install Link: Monterail
Customisable Version: Monterail Github
The next best themes for Thunderbird are the new Default, Light & Dark Themes made by Mozilla.
The default theme is nicely designed and an improvement over the previous Thunderbird 52. But I found the Mozilla Dark theme to be a bit of a let down as it only darkens the top bar and UI elements.
I've always found dark themes put less strain on my eyes and are easier to scan. Since the Mozilla Dark theme doesn't change the message list, it's no-go for me.
The light theme is also just the default theme, but replaces the Blue background for a grey one. A bit of a cop out in my books.
Mozilla Dark Theme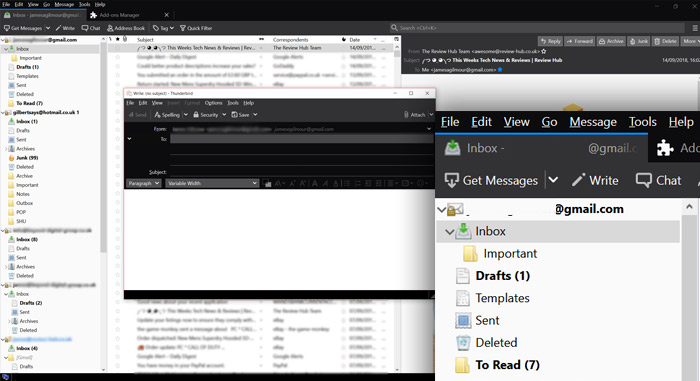 Let's hope that Mozilla can encourage more designers to create Thunderbird themes like Monterail. As it stands, we Thunderbird fans have a very limited choice.
Can't I just stick with Thunderbird 52?
With the next release of Thunderbird (v61), Mozilla will be rolling out an auto-update to users still on 52. Which makes now a great time to upgrade to your new Firefox Theme.
So, you might have to turn off the auto-update option if you want to keep your current theme. You can check whether your theme is compatible with version 60 by visiting the themes download page.
But to be honest, Thunderbird 60 comes with many improvements and with the selection of themes above there's no reason not to upgrade.
Hint Hint, Monterail FullDark is cool!