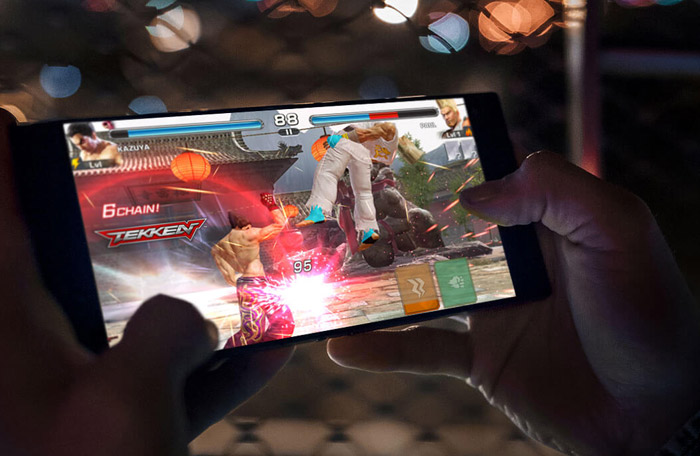 Looking for the best gaming phone you can get your sweaty hands on in 2023? Scroll down now!
When it comes to mobile gaming, gone are the days of janky graphics, hot palms and battery life that drains faster than Bolt's 100m record.
On a trip around Asia in 2018… I saw just how popular mobile gaming had become. In every coffee shop, shopping mall and just about anywhere with high-speed WiFi you'd find packs of serious looking kids… necks bent at 90 degrees… with a look of hyper-focus on their faces…
Fast-forward 4 years to now and the US e-sports market is huge. Set to become the biggest e-sports market in the world by 2025.
Why such a boom in popularity? because mobile gaming got so damn good.
Even your basic mid-range smartphone can handle a 3D FPS online multiplier game in 2023.
But who cares about a phone that can only… 'handle Genshin Impact on medium-to-low settings'?
The latest Snapdragon flagship chips play better than last-gen consoles, while at super high-frame rates and they're only getting better!
Plus the huge increase of MOBA styles games has managed to addict even the most unsuspecting casual gamer and turn them into a bent-necked adrenaline-pumped touchscreen-bashing enthusiast!
But you might be thinking to yourself… "Why don't I just use one of this year's popular flagship phones?"
I'll give you 5 reasons!
CPU throttling! It's huge!
Basic game-enhancing software!
Slow display touch-sampling!
No shoulder buttons!
… and you can save money!
So let's find out… What are the best 'dedicated' gaming phones in 2023?
First off, to be classed as a dedicated gaming smartphone, every phone in this list has:
Flagship Mobile Graphics
Shoulder Buttons / Extra Inputs
120Hz+ Display
Ultra-fast touch-sampling rate
Epic cooling system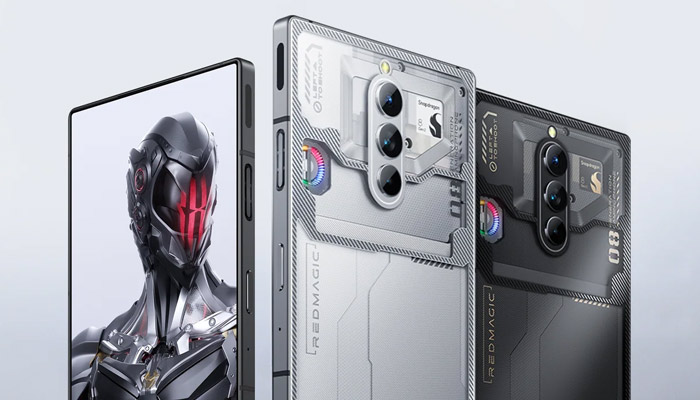 No.1 Nubia Red Magic 8 Pro – The Best Gaming Phone
Knocking the Red Magic 7S Pro off the 'Best Gaming Phone of 2023' pedestal is none other than the Red Magic 8 Pro.
Gone is the curved back panel of the 7 series. With the 8 Pro, we're getting ultra-futurist, ultra-flat design that even has a window letting you see into components and fan.
It's awesome to see a phone that wouldn't look out of place in Joseph Kosinski's Oblivian, actually being available and sold worldwide.
The big upgrades this year are the display (much brighter) and the Qualcomm Snapdragon 8 Gen 2 which runs much cooler, offers better battery life and outperforms the Gen 8+ Gen 1 for sheer gaming grunt!
The battery has also been expanded to 6000mAh (+20%) while managing to drop the weight by 6 grams.
Also worth noting is that Red Magic is now offering a Matte Black (non-transparent, non-RGB) version for those who want a more understated casual look. Personally though, I think the Titanium White model with transparent window and RGB lights is awesome.
Gaming Performance + Frame-rate Stability (Turbo Fan)
When it comes to gaming on your smartphone, everything works well for the first 10 minutes before we run into some serious throttling of CPU performance thanks to too much heat.
Inside the Red Magic 8 Pro, we get the same 20,000RPM RGB fan that offers active cooling for those buttery-smooth sustained high gaming frame rates.
This year though, Red Magic has upgraded their under-display graphene layer and liquid cooling system for -16 degrees overall cooler temps.
The 10-point cooling system combined with the much more energy-efficient Snapdragon 8 Gen 2 chip is a worthwhile upgrade for serious gamers.
Red Core 2 Dedicated Gaming Chip
There's been a small upgrade to Red Magic's Dedicated gaming chip this year.
The Red Core 2 dedicated gaming chip makes sure your audio & haptic feedback has no delay or lag by offloading these functions away from the main Qualcomm Snapdragon 8 Gen 2 chip.
There's no change to the Haptic Shoulder triggers from last year. They still work amazingly though, so no complaints.
It keeps the 520Hz touch sampling speed coupled with haptic vibration feedback for a more immersive gaming experience.
There's been a few small tweaks to Red Magic's Gaming Overlay software but nothing major.
You still have instant access game-enhancing features like:
Fan Speeds
RGB Lights
Clock speeds
Screen Recording
Screenshots
Stopwatch overlays
MOBA respawn countdowns
There are also trigger button control customisation and button combo options.
This year we're getting a big upgrade when it comes to the display brightness with peak now hitting 1300nits compared to the 7S Pro's 600nits.
It's still using a 6.8″ AMOLED panel (with a hidden selfie camera) but with a slightly higher resolution of (2480×1116) and the same 120Hz refresh rate with a 960Hz response.
Touch sampling rate also stays the same at an impressive 960Hz. As does the colour accuracy with a DCI-P3 score of 100%.
Overall, Red Magic has fixed the one concern we had with last years model, the lack of outdoor brightness.
Battery life has also been improved with the dual-cell setup now supporting 6000mAh with, the same as last years, 65w GaN charger also in the box.
It's also impressive to think that Red Magic has lowered the weight of the Red Magic 8 Pro while increasing the battery size by 20%.
A big upgrade has happened in the connectivity department thanks to the inclusion of WiFi 7. A standard you most likely won't be able to use for at least the next year says future-proofing to me.
We're also treated to 5G, Bluetooth 5.3, NFC, Type-C 3.1, 3.5mm port for your headphones and a dual-nano SIM Tray.
There's no storage-card support but with a base story of 256GB's of super-fast UFS4.0 there's no need to worry.
If you needed another reason to leave your Nintendo Switch gathering dust, then Red Magic Studio might just be that.
Similar to Samsung's Dex mode, but focussed entirely on gaming is Red Magic Studio.
Flip the dedicated gaming button on the side of the Red Magic 8 Pro, then connect to any monitor or TV via video-over-type-c.
The phone will auto-detect the monitor or TV and big-screen UI where you can use controllers or mice & keyboard.
The 8 Pro offers the following in TV Mode:
1080P up to 165Hz Refresh Rate
Zero Lag/latency via Type-C
Pretty nifty, and only adds to the phone's already incredible versatility.
Available Now
Display: Epic (6.8″ HDR 2480×1116 AMOLED 120Hz, 1300nits Brightness)
Performance: Epic (Fan Cooled Snapdragon (8 Gen 2) + Max 12/16GB LPDDR5 RAM) + 256GB UFS4.0
Battery: Epic (6000mAh Dual-Cell + 65w Fast Charge)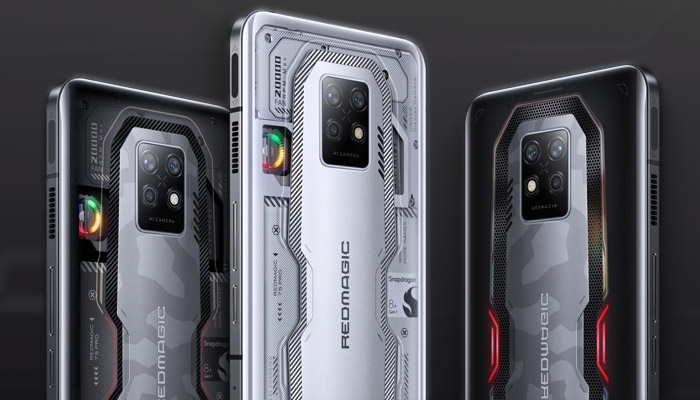 Nubia Red Magic 7S Pro – More affordable than ever!
Nubia has been pumping out its 'Red Magic' line of gaming phones for over 4 years.
Known as the company that isn't afraid to stick an 20,000RPM fan inside a phone… Let's just say they know how to push the boundaries when creating the ultimate gaming phone.
Related: RedMagic 7S Pro Vs RedMagic 8 Pro – Let's Compare!
At the start of 2022, they announced both the Red Magic 7 & Red Magic 7 Pro.
Even though the Red Magic 8 Pro is now available with it's cutting edge gaming performance, the Red Magic 7S Pro is at it's lowest price since release making it a great flagship-yet-budget option in 2023.
That's not taking into account the massively increased sustained performance the Snapdragon 8 gen 1 Plus has over its predecessor.
Let's talk about gaming-specific features that set the Red Magic 7S apart from the competition!
Red Core 1 Dedicated Gaming Chip
Rather than take away resources from the Snapdragon, the Red Magic 7 series has a dedicated 'Red Core 1' gaming chip built-in.
This chip controls the 'Audio & Haptic Feedback' separately letting you get the absolute most of out its CPU. The benefit for you… buttery smooth stutter-free gameplay.
What separates the Red Magic phones from the non-gaming competition is its pair of dedicated shoulder buttons. With a 520Hz response frequency and haptic vibration feedback, they'll give you the edge in any FPS or competitive MOBAs.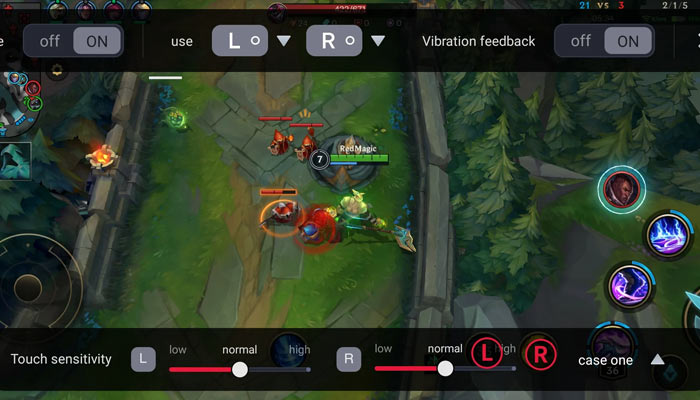 Gaming Performance + Framerate Stability (Turbo Fan)
The biggest issue with high-end phones is overheating, which causes the CPU to throttle & underclock. This means less performance and slower frame rates for you.
To counteract this, the Red Magic 7 series uses a tiny RGB fan with double air intakes to blow cool air over Snapdragon 8+ Gen 1.
Combine this with a vapour chamber, graphite thermal pad and aluminium heat-sink and you won't be dropping any frames thanks to stable max CPU frequencies.
Red Magic's custom game software is called Game Space.
You have instant access to the Fan, RGB Lights, Clock speeds, Screen Recording, Screenshots and can even add things like stopwatch overlays for MOBA respawn countdowns.
In the software, you can also map your trigger button controls and well as set up trigger combo actions.
As you'd expect from a gaming phone, the display on the Red Magic 7S is great.
It uses a 6.8″ AMOLED panel (2400×1080) with a 120Hz refresh rate and a 960Hz multi-touch sampling rate. Colour accuracy is also great with a DCI-P3 score of 100%.
Max brightness reaches a consistent 600nits thanks to the superior cooling.
What's different this year is the hidden under-display selfie camera letting you focus on the gaming without any blind spots.
Battery life is also good with a dual-cell setup of 5000mAh total. You also get a 65w GaN charger in the box.
No WiFi 6E (future proofing), but the WiFi 6 (ax) is fast enough and supports MU-MIMO.
You also get a Dual-SIM setup with 5G, HDMI out, Bluetooth 5.2 and NFC. Making it a great option to play some games on your TV.
Available Now
Display: Excellent (6.8″ HDR 2400×1080 AMOLED 120Hz)
Performance: Epic (Fan Cooled Snapdragon (8/8+ Gen 1) + Max 18GB LPDDR5 RAM)
Battery: Excellent (5000mAh Dual-Cell + 65w Fast Charge)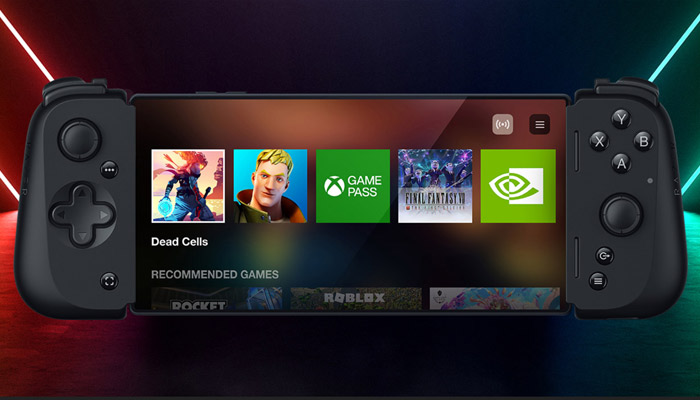 Razer Gaming Phone in 2023?
If you're looking for Razer's latest 2023 gaming phone… then sadly you're out of luck.
The last gaming-centric smartphone that they produced was the Razer Phone 2 way back in 2019. Shortly after, Razer announced it was shutting down its mobile handset department and with it, cancelled the Razer Phone 3.
It's not all bad news though.
After shutting down their mobile design department, they re-focussed their efforts back towards their consumer 3rd party tech peripheral roots.
One success to come from the restructuring is the Razer Kishi. A smartphone wrap-around controller that turns your phone into a dedicated buttons-galore mobile gaming device.
Last summer, Razer released their updated version of the Kishi, the Razer Kishi 2, with improved support for larger type-c phones and a more sturdy design.
Related: Best Android Phone Gamepad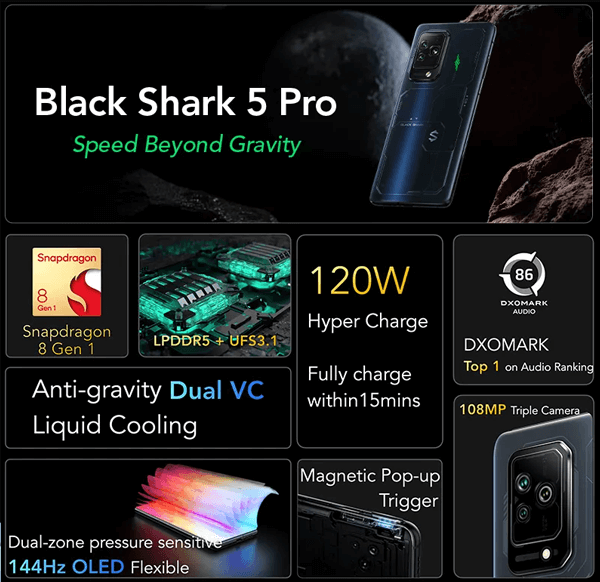 Xiaomi Black Shark 5 Pro – Best Value Gaming Phone
Made by the gaming branch of Xiaomi, the latest Black Shark 5 Pro carries on its tradition of being the most affordable gaming phone, and even one of the most affordable Snapdragon 8 Gen 1 phones full stop.
Thanks to the epic cooling in this gaming beast, it doesn't suffer much from the Snapdragon 8 Gen 1's poor sustained performance issues.
Now is the time to grab yourself a bargain, as the Black Shark 6 is soon to be released with the upgraded Snapdragon 8 Gen 1 Plus.
What makes the Black Shark line of dedicated gaming phones unique is their pop-up magnetic shoulder triggers coupled with one of the best (non-fan) cooling systems ever designed.
Okay, what separated a gaming phone from a regular flagship is those dedicated shoulder buttons.
Black Shark use the same magnetic pop-up design as the Shark 4 Pro from last year.
There are two little slide buttons on the top side of the phone which release two magnetic trigger buttons.
They feel great, they're responsive and use a micro-switch design (on or off).
A nice touch is that you can customise any functions to these physical buttons. So you can be aiming down your scope in COD Mobile, or use it as a shutter button for the camera. The choice is yours.
A nice touch is you can can customise any functions to these buttons. So you can be zooming down your scope in COD Mobile, or use it as a shutter button for the camera. The choice is yours.
Gaming Performance + Framerate Stability (Vapour Chamber)
While it's not going to match the Red Magic 7S Pro's mini RGB fan for cooling, what's impressive is that it's not far behind.
The 'Anti-Gravity' Dual VC Liquid cooling chamber does a damn good job of keeping the Snapdragon 8 Gen 1 cool.
Scoring an incredible 3DMark Stability score of 96% means you're not going to be dropping frames after the first 10 minutes like on the Samsung S22 Ultra.
There are 3 options for the RAM configuration with 8GB getting you the best bang for your buck. 12GB & a whopping 18GB are also available.
The Black Shark brand is also known for its line of gaming accessories.
This year we're treated to an optional magnetic cooling fan which can cool off your long gaming sessions. In our testing in the UK, there's not much need for this, although if you live in a hotter climate, it's worth looking into.
Sharkspace 4.0 Gamecenter
The Black Shark 5 Pro uses JOY UI13 which is very similar to the MIUI13 we see in Xiaomi phones but jazzed up to be a little more gamer-y.
Similar to Game Genie on the ROG Phone 6, Shark Space has a pull-down HUD that lets you access your common gaming functions.
You can also launch the Shark Space app, which works like a game launcher but with all the extra game-specific toggles and hacks. You can also customise the stereo speakers audio profiles for each game.
You can set up specific game profiles, configure the magnetic button's sensitivity & functions, view your FPS, set up macros, clean the RAM and switch to Ludicrous mode when you need to squeeze out those extra frames.
We're getting a 6.7″ OLED 144Hz display that's HDR10+ certified with DC Dimming (Anti-flicker) tech.
What makes this display special though, is its dual-zone pressure sensitive display.
The display is split into two, with each side having 7 levels of pressure sensitivity. You can then use to inbuilt software to add actions to these pressure touches, pretty cool.
Touch-sampling is set at 720Hz, and the phone uses dual ambient light sensors for optimal brightness in all settings.
While we love the bright and innovative display, we're hoping that BlackShark will add in a variable refresh-rate on the Black Shark 6's display.
The Battery (120w Dual-Cell)
Let's talk batteries.
The Black Shark 5 Pro uses a 4650mAh dual-cell (2 separate batteries) design so it can charge up faster while generating less heat.
And this makes more sense when you consider that this gaming phone is capable of 120w fast charging with the included charger.
That's a full charge in 15 minutes!
Making it the fastest charging gaming phone ever built.
If you're worried about battery degradation, then you shouldn't be as it's rated for more than 1200 cycles and uses a bypass power supply when plugged in and gaming.
We get WiFi 6 with 2x MIMO support, Bluetooth 5.0 and aptX support.
The phone uses a Dual-SIM slot for 2x 5G Nano SIMs. It only supports single SIM 5G.
We also get a 3.5mm audio jack, if you want to plug in physical headphones.
Related: What is the Best Value Xiaomi Phone?
Available Now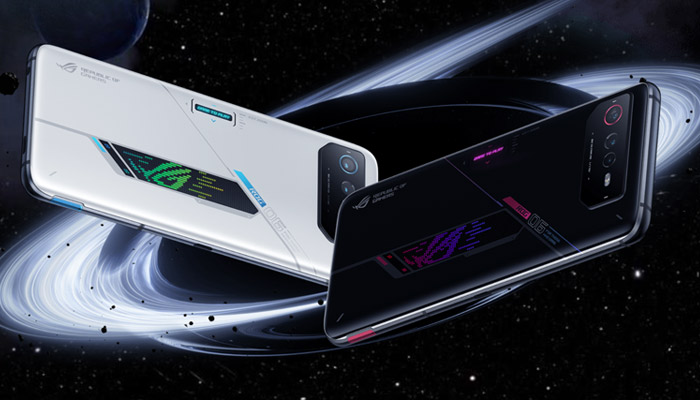 Asus ROG Phone 6 – Skip The Pro
Asus is no stranger to the gaming market, and their ROG Phone lineup smashes expectations this year with the caveat of being more expensive than both the Red Magic & Black Shark.
There's no denying the Storm White colourway is gonna turn heads, but can it justify the extra price?
This year, the Pro model offers an extra 2GB of RAM (18GB total) and features a 2″ OLED display on the back. Compared to the non-Pro ROG Phone 6, which uses RGB LEDs on the back and comes with either 12GB or 16GB of LPDDR5 RAM.
Spending an extra 20% for more RAM you won't use doesn't seem like good value for money. It's up to you whether you want to pay through the roof, for the added functionality of the OLED rear display.
The All-Round Gaming Phone
To sum up, here's three benefits that could justify the extra price tag on the ROG Phone 6 for you.
The Samsung Display is best-in-class for a gaming phone.
The camera system uses a Sony 50MP IMX766 Sensor.
The available accessories are top-notch.
The ROG Phone 6 uses ultrasonic tech for its shoulder button.
Using the ROG Phone software you can customise the buttons with tap, slide, split, swipe and hold actions. Pinning these actions to any on-screen areas of a game.
Through the gaming software, you can also now perform actions using the phone's inbuilt gyroscope.
While you do get used to the finger positioning fast, it's no substitute for physical buttons like on the Black Shark 5 Pro.
Gaming Performance + Framerate Stability (Vapour Chamber + BN Compound)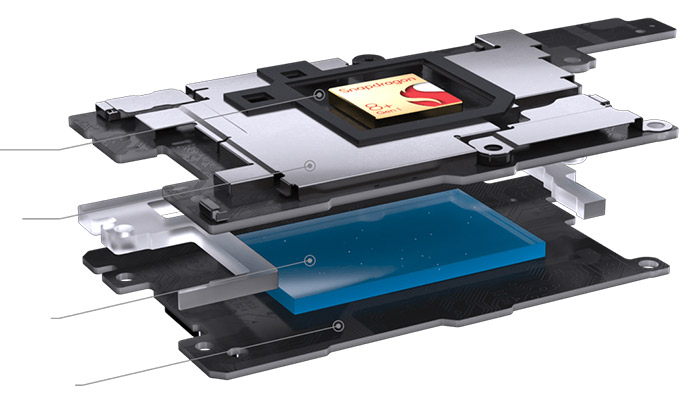 Asus is calling it their 'GameCool 6 Thermal System', so let's see what we've got under the hood.
The ROG Phone 6 uses a Boron Nitride Thermal Compound, coupled with a larger vapour chamber and graphite sheet than last year.
And there's also the optional Aeroactive Cooler 6 which claims a max temp drop of 25°C and adds an extra 4 physical buttons to the phone.
ASUS Armoury Crate & Game Genie Software
Revamped for a more cohesive look and feel this year, the Armoury crate software lets you customise everything from game-specific performance profiles to floating browser windows.
We also get Asus's Game Genie HUD which lets toggle all your game-related settings on the fly. Record videos, turn off notifications, set refresh rate and customise the air triggers are all a swipe away.
The Samsung-made 6.78″ HDR (2448×1080) display is glorious reaching 800nits sustained brightness in our testing.
It's using the same AMOLED tech we see in the Galaxy phones but with the added bonus of a 165Hz variable refresh rate and 720Hz touch sampling rate.
Protecting the huge display is Corning's latest Gorilla Glass Victus.
This is also where you'll find the under-display fingerprint reader.
The Battery (6000mAh Dual-Cell)
Two 3000mAh batteries (6000mAh total) with 65w charging are nothing to be sniffed at, giving you a full charge in 40 minutes.
We also get bypass power to keep the phone cool while plugged in and gaming.
Connectivity is where the ROG phone 6 shines, and adds more justification to its price tag.
It has a dual-slot SIM tray for 2x 5G nano-SIM supported in dual-standby.
It also used the latest WiFi 6E with 2×2 MIMO, Bluetooth 5.2 and also supports low-latency audio with aptX Adaptive & aptX Lossless modes.
Available Now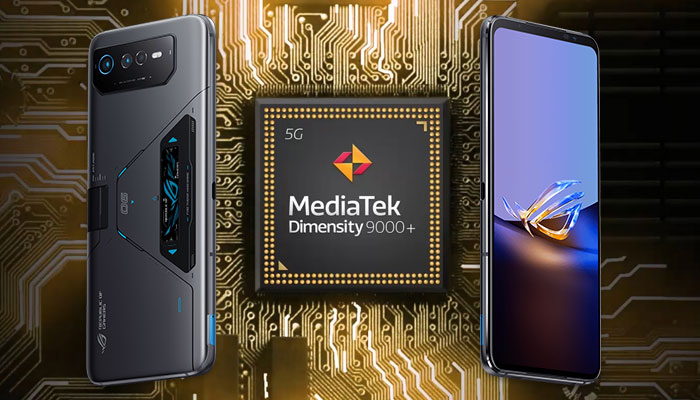 Asus ROG Phone 6D Ultimate – MediaTek Alternative Gaming Phone
It was only a few years ago that MediaTek was a budget option, for budget phones and paled in comparison to Qualcomm's Snapdragon alternative.
So while it might seem ludicrous that Asus has chosen the MediaTek Dimensity 9000+ as an option for their flagship gaming device in 2023. You're about to find out just how far the Taiwanese MediaTek company has progressed its gaming hardware.
In benchmarking software, the Dimensity 9000 Plus beats the Snapdragon Gen 1 Plus for both Geekbench 5 and PCMark.
When it comes to gaming though, the Adreno 730 inside the Snapdragon inches ahead of the ARM Mali-G710 inside the Dimensity.
Sustained performance is also slightly better on the Dimensity chip.
If it's gaming performance you're after. Stick with the regular ASUS ROG Phone and its Snapdragon chip. You also get the benefit of better emulation performance & compatibility, if that's your thing.
Available Now
2021 Gaming Phones – End-of-life Deals
The three phones above are the 'best of the best' gaming beasts available.
If you're willing to let a little performance slide, there are still some great last gen gaming phones currently on sale.
Asus ROG Phone 5
Nubia Red Magic 6
Black Shark 4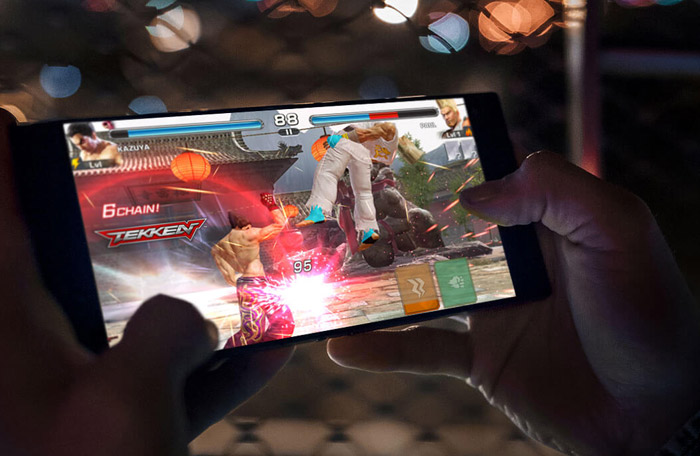 Gaming Phone FAQs
Should you buy a dedicated gaming smartphone?
In 2022 and beyond, it's more important than ever to have a smartphone with great cooling.
Modern games can take full advantage of the latest Flagship CPU's and the bottleneck isn't performance or graphics… it's the heat.
With phones completely replacing traditional consoles for some people, you're going to want to get the best experience you can.
Will Gaming Phones replace consoles?
It's already happening in many parts of the world.
Whether you like it or not, mobile gaming is where the money is at.
As phones become more powerful, we're now seeing the option to connect a Bluetooth controller to your phone and then hook it up to your TV for the big screen experience.
In terms of graphical performance, consoles are still a big leap ahead of mobile chipsets. But for emulating PS3 and below, a dedicated gaming phone connected to your TV is a great option.
Gaming Phone Vs Gaming Controller Grip – What's best?
You might be wondering whether you should opt for a gaming phone with built-in triggers or grab yourself a gaming controller grip? Or do both?
For emulation gaming on Android, a Gaming Controller grip is a way better experience thanks to having the tactile feedback of many buttons. You don't need the extra grunt of a gaming phone for most older console emulation making the controller grip much more cost-effective than a new Gaming Phone.
If you're going to be playing modern Android games, then you'll want to opt for a gaming phone. Why? This will enable you to get the best graphics and you'll also need easy access to the touch display.