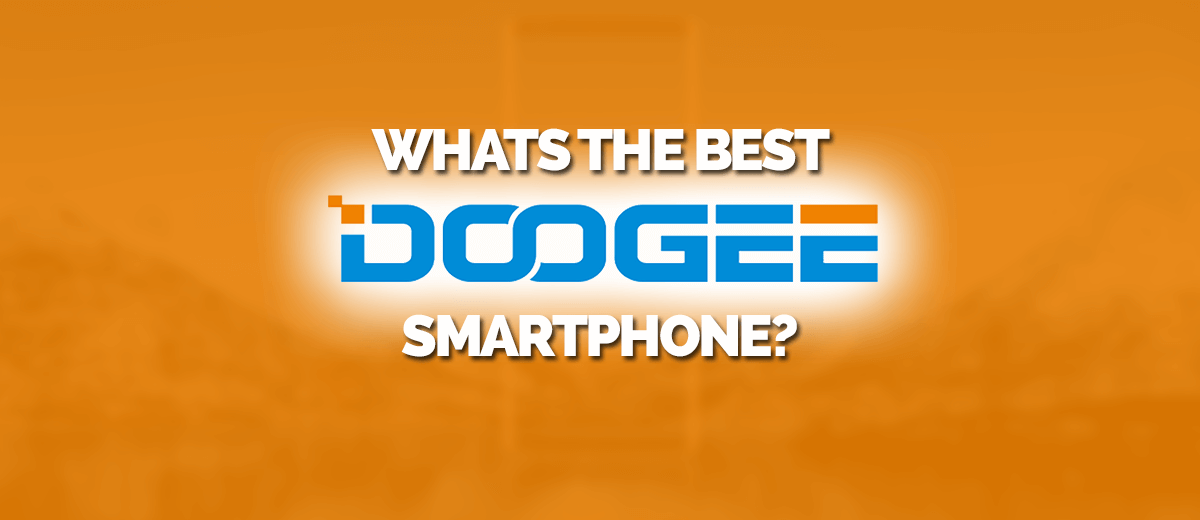 Can Doogee reign supreme as King of the Budget Smartphones?
Update: Doogee changed their strategy in late 2018 / early 2019 by focussing more on their tough & rugged range. Fast-forward to 2020 and there's still some great budget options, but don't forget to check out the latest budget competition from Xiaomi & UMiDigi as well.
If you haven't heard of Doogee before, then you'll be happy to know that while not a mainstream brand yet, they receive high-praise from the budget smartphone community. They started designing & manufacturing smartphones in Spain back in 2013 and after a promising start were then bought out by a Chinese investment firm to boost development of the Doogee brand.
They continue to stick to their Spanish roots and remain popular through a variety of football partnerships, but, also have the benefit of now being based in the world's smartphone manufacturing hub, Shenzhen, China.
Since 2013, they've impressively released over 85, mainly budget, smartphones giving them the expertise and acumen to know makes a great mobile phone. When smaller mobile brands like Doogee last this long, it usually means they're doing something right!
Fast forward to 2020 and let's see what are the most exciting Doogee Smartphones you can get your hands-on.
The Best Doogee Phones 2020 Edition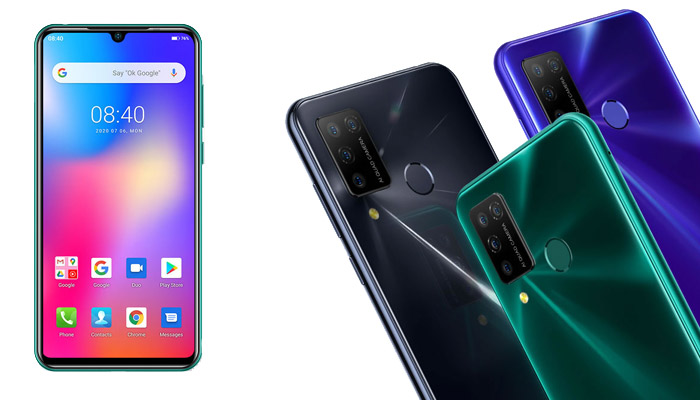 Doogee N20 Pro – A Serious Upgrade

Price from: £139/$159
Often we see the name 'Pro' thrown at budget phones without any real thought, so it's nice to see the N20 Pro earning its title.
The Pro version of the N20 gets a big performance update with the much newer Helio P60 8-core CPU which not only runs much faster but is also built on the more power-efficient 12nm process. As well that this hefty speed bump, you're also now getting Bluetooth 5, 6GB's of RAM and a huge 128GB's of storage.
Gone is the cheap plastic battery cover in favour of a dual-glass design that's managed to stay super-lightweight at only 175grams despite its large 6.3″ Full HD Display. And it's a great display both indoors and out thanks to an average max brightness of 570nits.
All this adds up to one of the best looking budget phones that's running Android 10.
… Bright Display + Solid Performance …
So what's the catch?
While the camera bump closely resembles Apples, the picture quality doesn't. Images can look washed out with plenty of noise unless you have bright lighting. Although it's a nice touch that Doogee added a macro-mode for interesting close ups.
We're also missing a notification LED, it's still using micro-USB and we don't see NFC (not a deal-breaker at this price).
Overall though, the Doogee N20 Pro shines above the competition thanks to it's bright & vivid display coupled with excellent battery life and performance.
It's a thumbs up from us!
Available Now

Colours: Streamer Purple, Fantasy Forest or Space Grey
Display: 6.3″ Full HD+ (2280×1080) | PPI: 428 | CPU: Helio P60 (8-Cores) | RAM: 6GB | Storage: 128GB (expandable 256GB) | OS: Android 10 | Rear Camera: Quad 16MP + 8MP + 2MP + 2MP | Selfie Camera: 16MP Samsung Lens | Full UK Network Support: Yes | WiFi: Dual-band AC | NFC: No | Battery: 4400mAh (10w Fast Charge) | Weight: 175 grams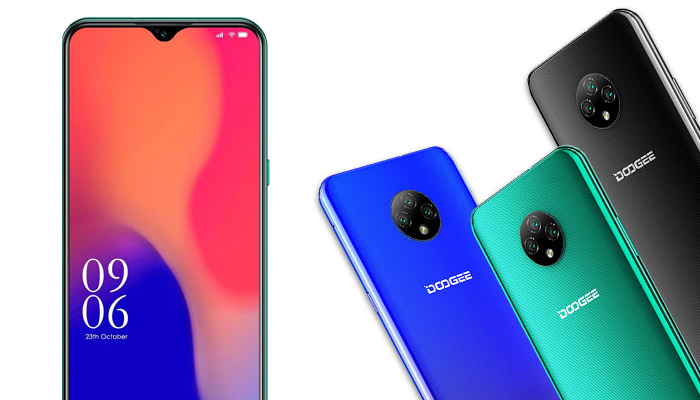 Doogee X95 – Super Budget Phone

Price from: £69/$79
If you're looking for the cheapest phone possible that still has a crisp bright display and long battery? then the Doogee X95 is for you!
Perfect for web browsing, social media, youtube & Netflix, this (Gorilla Glass protected) 6.52″ phone comes with a healthy 4350mAh battery plus 10watt fast charge. Doogee chose to use plain stock Android 10 so you don't have to worry about any bloatware or apps slowing down the processor.
And that's a good thing as its using an older 4-core MediaTek CPU to help save on cost. While the cameras might seem impressive, don't get your hopes up on this one. Photos don't look too bad on the phone but colour accuracy and dynamic range are poor.
… Great Value Budget Device …
Storage is also very lean at 16GB, but, you can add a micro-sd card up to 128GB. The downside to this is that you have to sacrifice the 2nd SIM card slot.
Overall though, the Doogee X95 is well worth the low asking price. It covers the basics, great display, large battery and basic connectivity.
At only £69/$79, it's another thumbs up!
Available Now

Colours: Streamer Purple, Fantasy Forest or Space Grey
Display: 6.52″ Full HD+ (2280×1080) | PPI: 386 | CPU: MediaTek 6737 (4-Cores) | RAM: 2GB | Storage: 16GB (expandable 128GB) | OS: Android 10 | Rear Camera: 13MP + 2MP + 2MP | Selfie Camera: 5MP Lens | Full UK Network Support: Yes | WiFi: Dual-band N | NFC: No | Battery: 4350mAh (10w Fast Charge) | Weight: 189 grams
Editors Note: The Doogee Phones Below Are Archived.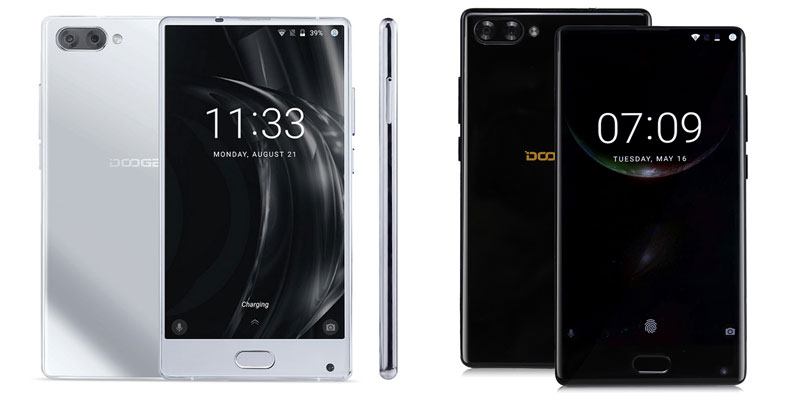 Doogee Mix – The Doogee Flagship Smartphone
While not a true flagship, it's the best smartphone you can get that's made by Doogee right now. If such a thing exists, the Doogee Mix would be classed as a mid-range flagship. What it's lacking is a full HD display and top level mobile processor like the Snapdragon 835.
What you do get though, is a fantastic Super AMOLED display that covers most of the front of the phone, giving it an impressive screen-to-body-ratio. Like the name suggests, its design is a copy of 2016's Xiaomi Mi Mix which was the first smartphone to feature a tri-bezel-less* design (*where the screen expands to three edges).
Even with the screen covering a large portion of the phone, the Doogee Mix has still squeezed in a front-facing fingerprint reader, but, it has moved the selfie cam to the bottom. You could complain about the camera placement, but I say just turn your phone upside down and quit moaning! : )
There are three options to choose from with the Doogee Mix. Available in either 4GB of RAM / 64GB Storage, 6GB RAM / 64GB Storage or a 6GB / 128GB option. Go for the 4GB RAM / 64GB version and save yourself some money as any performance gains from the extra 2GB of RAM will be negligible. If needed, you can then expand the storage using a memory card.
And, finally onto the best feature of the Doogee Mix, the price. You can have a super AMOLED display with mid-range performance all squashed into a glass sandwich design that manages to stay under 200 grams for around the £150 mark.
This week's best Doogee Mix offers…

Doogee Mix 2 – Full HD 18:9 Display
The Doogee Mix 2, while successor in name the Mix above, strays from the tri-bezel-less design and instead comes with thinner bezels and a small top and bottom border. They've moved the fingerprint reader to the back and, thanks to the extra room, keep the dual selfie cameras up top.
It uses the newer 18:9 aspect ratio for its 5.99″ full HD+ (2160×1080) display making it just as easy to hold as a traditional 5.5 inch phone. While its put some weight on at 210 grams, this comes with the benefit of a 4060mAh battery,  20% bigger than the original Doogee Mix.
It's also one of the first Doogee phones to use USB Type-C meaning no more fiddling around at night to make sure the charging cable is in the right way. With the advent of USB Type-C, Doogee has completely removed the headphone AUX port.
There is a USB Type-C to AUX adapter included in the box, but, if your headphones aren't wireless (Bluetooth) it's just another annoying adapter you'll have to carry around with you.
In terms of performance, it uses the same MediaTek Helio P25 mobile processor as the Doogee Mix above, and comes with 6GB RAM as standard, plus 64GB's of onboard storage with an SD Card expansion space.
Has the Doogee Mix 2 tickled your tech buds?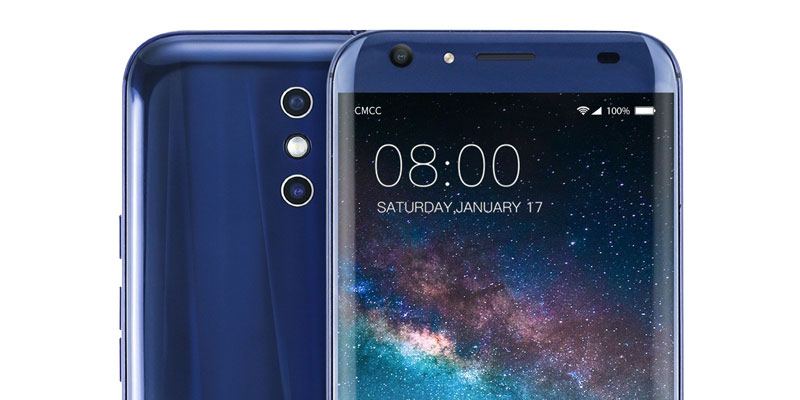 Doogee BL5000 – Best Budget All-Rounder
The Doogee BL5000 comes with, you guessed it, a 5000mAh battery that'll keep you off-grid well into your second day. It's a quirky smartphone that won't be for everyone with it's pearlescent reflective design, but, during my time with the BL5000 I surprised myself ending up a big fan.
View the full Doogee BL5000 review.
Packing a huge battery inside has meant that the BL5000 isn't the thinnest or the lightest, but, it does come with a bright vivid 1080P display protected by Gorilla Glass 5. The performance isn't on par with the Helio P25 found in the Doogee Mix & Mix 2, but it's still a smartphone worth considering.
Doogee BL5000 has excellent battery life…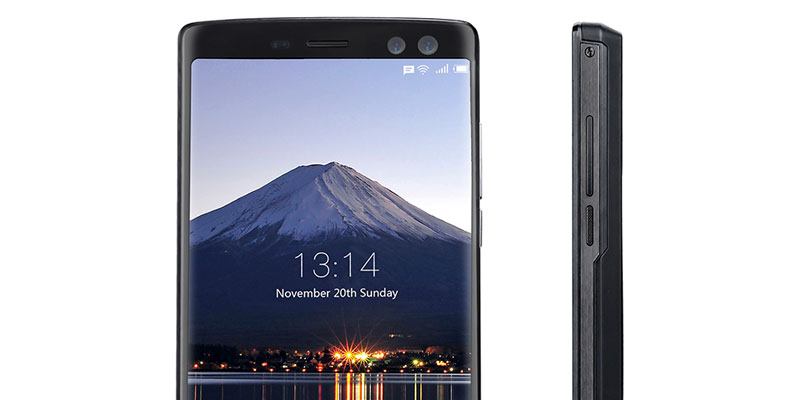 Doogee BL12000 Pro – Huge Battery Life
The Doogee BL12000 is just plain ridiculous. Doogee claims its won the Guinness World Record for the smartphone with the biggest battery. I couldn't find anything on the Guinness website, but as far as my smartphone knowledge goes, the Oukitel K10000 (10000mAh) would have been the previous owner of that title.
Further reading: Smartphones with Amazing Battery Life – 2019 Edition
Squeezing a 12000mAh battery into a smartphone is no easy feat. To achieve this in the BL12000, Doogee has actually put two batteries side-by-side.

So what happens to a smartphone when you squeeze a 12000mAh battery inside? It grows to 140mm in thickness and it makes it weight a hefty 300 grams in your pocket. While that doesn't sound too crazy, the Doogee BL12000 is one of the biggest smartphones available only trumped by phones in the Tough & Rugged Category.
There must become a point when it becomes more practical to carry around a small 5000mAh power bank in your pocket than have a goliath smartphone, right?
Battery aside, the Bl12000 is actually packing some decent hardware. A full HD+ display, 6GB RAM, 128GB Storage, Helio P23 2.5GHz next-gen CPU and, of course, the much needed 3amp / 12V fast charging.
Want to own the smartphone with the biggest battery ever?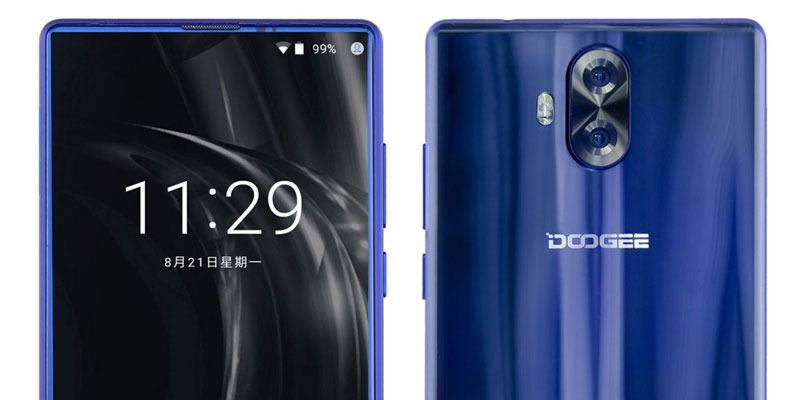 Doogee Mix Lite – Best Budget
The final Doogee Mix comes in the 'lite' variety and uses the same design as the original mix but with some hardware tweaks to bring the price down.
It loses the Super AMOLED display instead using an IPS display, drops the Helio P25 for a budget chip and only comes with 2GB of RAM & 16GB of storage (still expandable).
What does this all equate to? A smartphone that looks just as good as the original but comes in under the £100 price-point. Impressive!
It still comes with the same battery capacity of 3080mAh but it'll last much longer due to the scaled back hardware choices and smaller, more pocket-friendly 5.2 inch display. It's also a lot lighter weighing in at only 150 grams.
It's a real contender against the UHANS MX plus it even includes 4G.
Pocket-friendly Budget Heaven…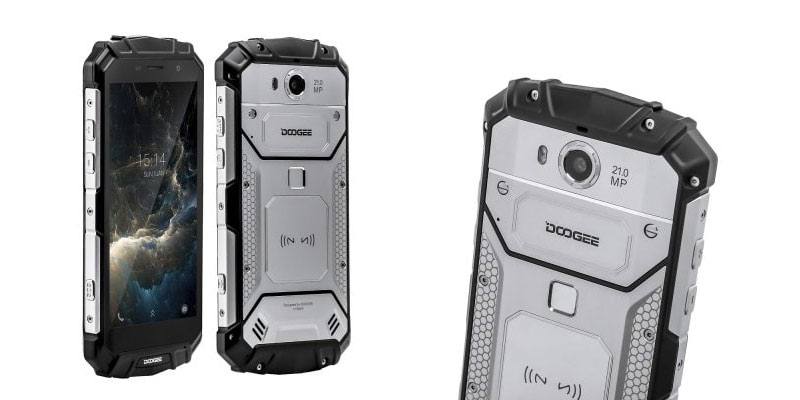 Doogee S60 – Tough & Rugged
The Doogee S60 is one of the first phones to marry performance with ruggedness. Rugged phones of the past have often had mediocre specs, being seen as a smartphone category for people who don't care about performance.
Well not so with the Doogee S60 which comes with 6GB of RAM, 64GB of storage, is fully IP68 water submersible and also includes high-end features like NFC, Gorilla Glass 5 and a Full HD display.
You can find out more about the Doogee S60 here.
The King of Rugged Phones… best deals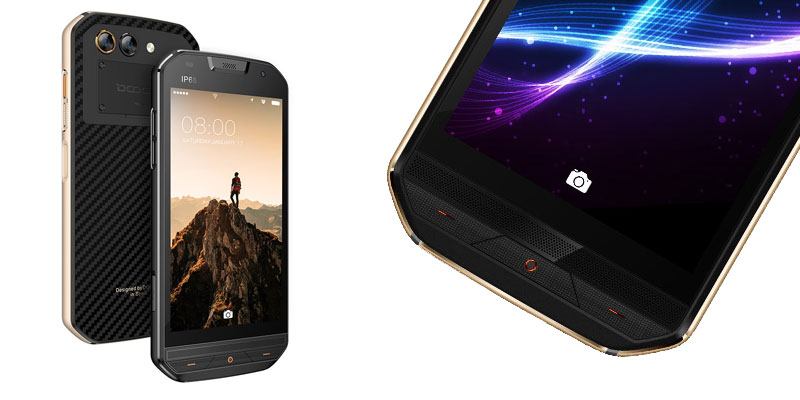 Doogee S30 – Tough & Rugged & Wallet-friendly
The Doogee S30 takes a different approach to tough & rugged smartphones. It believes you can be tough and beautiful, and well… it's kind of right!
The S30 is IP68 waterproof, shockproof, dustproof but doesn't look like like a regular tough & rugged smartphone. It features a side facing fingerprint reader and even has a huge 5580mAh battery to keep you off the grid for days while still keeping a low price-tag.
The rest of the hardware specs aren't very impressive with only 2GB of RAM and 16GB of onboard storage, but, this has meant you can get your hands on the Doogee S30 cheaply. A tough throwaway phone that you don't care if you break on your adventure.
Always dropping your phone but don't love the 80's Walkie Talkie design?

Best Doogee Smartphone Comparison Table
Smartphone
Doogee Mix
Doogee Mix 2
Doogee BL5000
Doogee S60
Doogee BL12000 Pro
Screen Size
5.5 inch
5.99 inch
5.5 inch
5.2 inch
6 inch
Pixel Density
267
403
401
424
402
Screen Resolution
720×1280
1080×2160
1080×1920
1080×1920
1080×2160
Screen technology
Super AMOLED,
Gorilla Glass 5
18:9 IPS,
Gorilla Glass 5
IPS,
Gorilla Glass 5
SHARP IPS,
Gorilla Glass 5
IPS, 18:9
Thickness
7.95mm
8.6mm
10.3mm
15.5mm
14mm
Weight
193 grams
210 grams
210 grams
287 grams
300 grams
Material
Glass Sandwich
Glass / Metal
Metal / Polycarbonate
Polycarbonate / Aluminium
Metal / Glass
Colors Available
Black, Blue,
Silver
Black, Blue,
Gold
Black, Blue,
Gold
Black, Gold,
Silver
Black, Blue
Storage
64GB / 128GB
128GB
64GB
64GB
64GB / 128GB
Processor (CPU)
MediaTek Helio P25
(2.5GHz 8-core)
MediaTek Helio P25
(2.5GHz 8-core)
MediaTek Helio MT6750T
MediaTek Helio P25
(2.5GHz 8-core)
MediaTek Helio P23
(2.3GHz 8-core)
Graphics (GPU)
Mali-T880 MP2
Mali-T880 MP2
Mali-T860 MP2
Mali-T880 MP2
ARM Mali-G71 MP2
RAM
4GB / 6GB
6GB
4GB
6GB
6GB
Android Version
Android 7
Android 7.1.1
Android 7
Android 7
Android 7 (Android 8 OTA)
IP Rating (Water, dust)
NO
NO
NO
IP68
NO
Micro-SD Card
Yes – Uses 2nd
SIM Slot (128GB max)
YES
YES
YES
YES
Notification LED
YES
YES
NO
YES
YES
Finger Print Sensor
YES (Front / Home Button)
YES (Rear facing)
YES
YES
YES
USB Type
Micro-USB
Type-C
Micro-USB
Micro-USB
Micro-USB
4G Bands
LTE FDD Bands: 1 (2100MHz),
3 (1800MHz), 7 (2600MHz) 8
(900MHz), 20 (800MHz)
LTE FDD Bands: 1 (2100MHz),
3 (1800MHz), 7 (2600MHz) 8
(900MHz), 20 (800MHz)
LTE FDD Bands: 1 (2100MHz),
3 (1800MHz), 7 (2600MHz) 8
(900MHz), 20 (800MHz)
LTE FDD Bands: 1 ,2, 3, 4, 5,
7, 8, 12, 19, 20, 38, 39, 40, 41
LTE FDD Bands: 1 (2100MHz),
3 (1800MHz), 7 (2600MHz) 8
(900MHz), 20 (800MHz)
3G Bands
WCDMA: 900, 2100MHz
WCDMA: 900, 2100MHz
WCDMA: 900, 2100MHz
WCDMA: 850, 900, 1700,
1900, 2100MHz
WCDMA: 900, 2100MHz
2G Bands
GSM: 850, 900, 1800, 1900MHz
GSM: 850, 900, 1800, 1900MHz
GSM: 850, 900, 1800, 1900MHz
GSM: 850, 900, 1800, 1900MHz
GSM: 850, 900, 1800, 1900MHz
SIM Support
Dual SIM – Micro + Nano
Dual SIM –  Nano x2
Dual SIM- Nano x2
Dual SIM- Micro x2
Dual Sim- Nano x2
WiFi
2.4 GHz + 5GHz (a, b, g, n)
2.4 GHz + 5GHz (a, b, g, n)
2.4 GHz (b, g, n)
2.4 GHz + 5GHz (a, b, g, n)
2.4 GHz + 5GHz (b, g, n)
GPS Tech
GPS, A-GPS, GLONASS
GPS, A-GPS, GLONASS
GPS, A-GPS, GLONASS
GPS, A-GPS, GLONASS
GPS, A-GPS, GLONASS
Bluetooth Version
4.0
4.0
4.0
4.0
4.0
NFC
NO
NO
NO
YES
NO
Sensors
Light, Proximity,
Magnetic, Accelerometer
Light, Proximity,
Magnetic, Accelerometer
Light, Proximity,
Accelerometer
Light, Proximity, Gyroscope,
Accelerometer, Compass, Barometer
Light,  Proximity, Accelerometer
OTG
YES
YES
YES
YES
YES
Battery Size
3380 mAh
4060mAh
5050mAh
5580mAh
12000mAh
Fast Charging
YES
YES
YES
YES (+ Wireless)
12V / 2Amps
YES (12V/3Amps)
Should you choose Doogee for your next smartphone?
While you're unlikely to find Doogee in your local mobile phone store it doesn't mean they're newcomers to the block. They've been around since 2013 producing smartphones for 6 years now.
In the time I've been writing for www.review-hub.co.uk I've seen many brands appear then disappear into obscurity. The fact that Doogee is still around, is a testament to them producing smartphones that are durable and reliable with modern features and design.
Of the many smartphones we've reviewed here, we've found Doogee to be some of the best. While not always cutting edge, or pushing boundaries we've found them to be reliable with a good level of build quality.
Do you love Doogee? Hate Doogee? Have any Doogee questions? Let me know in the comments below…