Budget & Super-Budget (Wallet-friendly)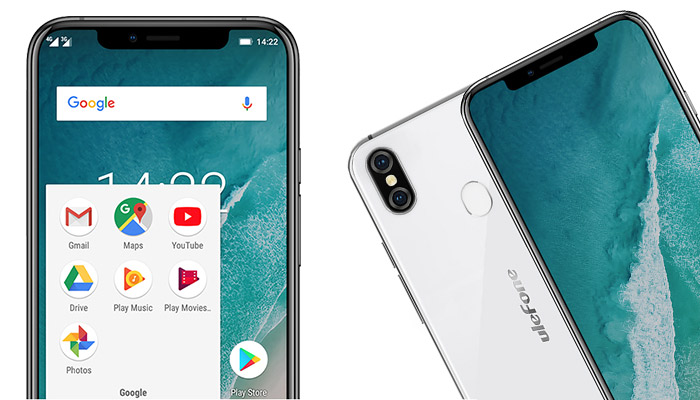 Ulefone X – The Best Budget Smartphone!
Just sneaking into the budget section (imported) is the impressive Ulefone X! Boasting a nearly 90% screen-to-body ratio coupled up with a sleek glass sandwich design, it's one good-looking smartphone.
Check out: Ulefone X Review
The Helio P23 processor is a tried and tested chip that's backed up by 4GB's of RAM and a healthy 64GB's of storage.
While the 3300mAh battery isn't anything to write home about, the Qi-enabled wireless charging is! Most flagships don't have the luxury of wireless charging, so to see in on a budget smartphone blows my mind!
While we don't get the benefits of a true Full HD display, we still manage to get a PPI (pixels per inch) figure of 286. Not bad.
To top it all off, the Ulefone X has a 16MP + 5MP rear dual camera setup, although only with a f/2.2 aperture. The selfie camera has a 13MP lens (+beauty mode) and is used for the phones face-ID unlock software.
Tech Specs: 5.85 inch, 1512×720 resolution, 18:9 Aspect Ratio, 286 PPI, MediaTek Helio P23 (2Ghz | 8-cores), 4GB RAM, 64GB Storage, Wireless Qi-ready 3300mAh battery, Android 8.1 with Full UK Support for 3, 7 & 20 bands.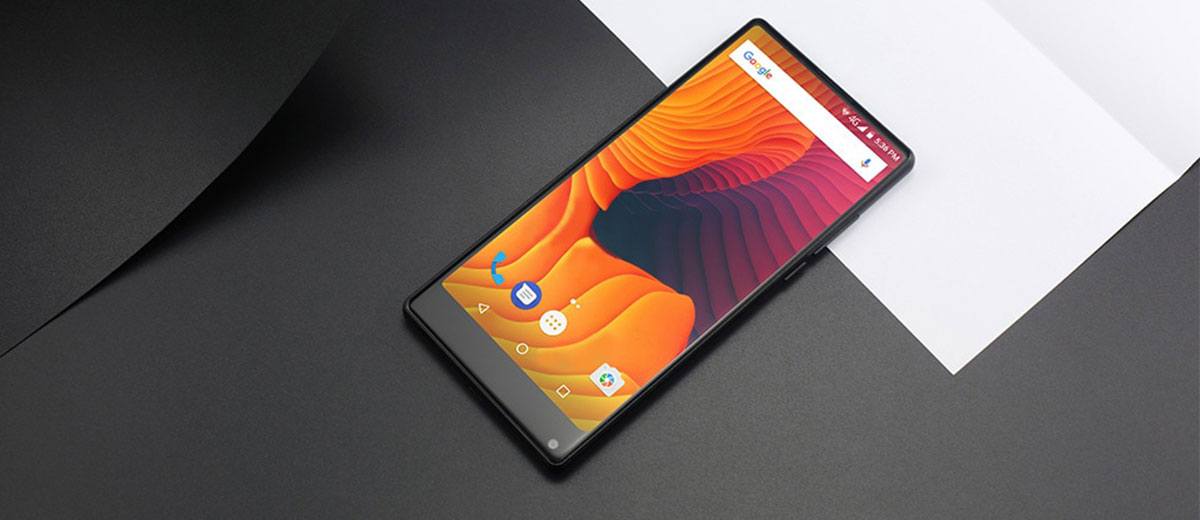 Vernee Mix 2
When we reviewed the Vernee Mix 2 back in January, we were impressed by the bright full resolution display, mid-level performance and solid build quality.
It's a well-made monolithic slab of a smartphone that feels great in your hand but is on the heavy side at around 200 grams. You soon forget this though when you see the price-tag!
At under the £150 mark, you're getting a great value handset with the Vernee Mix 2.
Other worthwhile mentionable's are a 4200mAh battery and while their is a pre-installed launcher it's not locked down so you can easily switch to Nova!
Check out our full Vernee Mix 2 hands-on review.
Tech Specs: 6 inch 2160 x 1080 18:9 Aspect Ratio, 403 PPI, MediaTek Helio P25, 4/6GB RAM, 64GB Storage, Fast charge 4200mAh battery, Android 7 + VOS with Full UK Support for 3, 7 & 20 bands.
More awesome Bezel-less phones below! Find yourself a great deal on last years smartphones.
The phones below didn't make it into our new best bezel-less smartphones this time, but, there's still great options to choose from. Another bonus is that if you pick up one of the phones below, you're likely to grab yourself a borderless bargain.
Why? because they've all been available for some time now, so prices will have dropped considerably.
Note: As the smartphones below were released much earlier, take the enthusiasm with a pinch of 12-months-gone-by salt.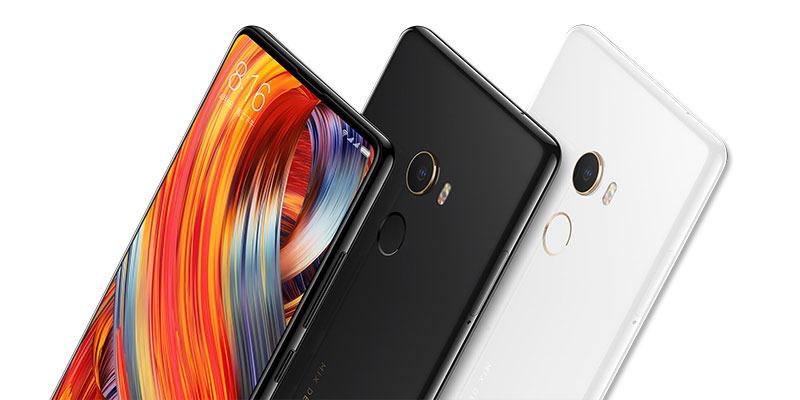 Xiaomi Mi Mix 2
The Award Winning Xiaomi Mi Mix 2 has arrived and while it's not completely bezel-free like early rumours suggested, it's still another impressive flagship level tri-bezel-less Android Smartphone.
It follows on with the 2017 curved corner trend and while the Mi Mix 2 display might not curve around like the Samsung's Infinity display, it still offers an impressive screen-to-body ratio thanks to the 18:9 form factor. The PPI has bumped up to 403 with an impressive resolution 2160×1080 on the 5.99 inch display. There is still a slight bezel at the top of the device but Xiaomi has positioned the speaker facing upwards to minimise this. Overall, it's a stunning device!
In terms of hardware, it's packing the latest Snapdragon 835 CPU (Same as the OnePlus 5 & Galaxy S8) and comes as standard with 6GB of RAM (8GB version available) and 64-264GB of storage depending on the model. The Mi Mix 2 uses dual-nano SIM slots but doesn't offer micro-SD card expansion so pick your version wisely.
Tech Specs: 5.99″ 2160 x 1080, 18:9 Aspect Ratio, 403 PPI, Sony IMX386, Snapdragon 835, 6-8GB RAM, 128GB Storage, Fast charge 3400mAh battery, Android 7 + MIUI9 with Full UK Support for 3, 7 & 20 bands.

UMiDigi Crystal
With an impressive 88% Screen-to-body ratio, the UMiDigi Crystal certainly has the wow factor! Available in two versions (2GB RAM + 16GB Storage | or | 4GB RAM + 64GB Storage), the Crystal offers a 5.5″ full-HD crisp Sharp display protected by Gorilla Glass 4 and a pure Android 7 experience.
Things start to get really impressive when you find out the price at which you can bag yourself the 4GB version for! Too good to be true right? To keep the price down, UMiDigi have opted for a lower-end CPUs, but the 4GB model still comes with the capable Mali-T860 graphics unit.
Overall, the Crystal offers fantastic value for money! The focus is on design, an excellent screen and mid-level performance for the 4GB version and budget performance for the 2GB model. It comes with USB-Type-C, SD Card Support / Dual-SIM Support and Dual Samsung Rear Cameras.
It's worth mentioning that Dual-Cameras at this price-point tend to be disappointing and inferior to a single camera lens. So if you're a serious shutterbug, ye here be warned! :D
Tech Specs: 5.5″ 1920 x 1080, 401 PPI, Sony IMX386, MTK6750T 8-Core CPU + Mali-T860 GPU, 4GB RAM, 64GB Storage, 3000mAh battery, Android 7 with Full UK Support.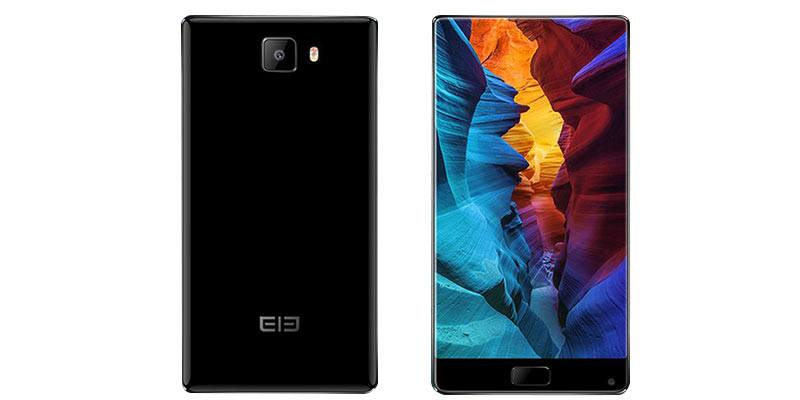 Elephone S8
The Elephone S8 is our third phone to feature almost bezel-less edges on three of the four sides. With Elephone being no stranger to bezel-less tech, having already released the S3 & S7, it's great to see them innovating further with S8. Although the S3 & S7 didn't make it into our Top Bezel-less Smartphones List this time around, you can still find them in our old list by scrolling down.
The Elephone S8 has a respectable 4GB's of RAM and 128GB's of storage as standard and is available now. Its crowning glory is the huge 6 inch 2K display that comes with an impressive Super-HD resolution of 2560×1440.
What's really exciting is that when smaller manufacturers like Elephone are already reaching 3-border bezel-less 2K displays it forces the bigger manufacturers to play their trump cards early. No more slow feature rolling out for Samsung & Apple.
Simply put, the Elephone S8 has it all, a super-high screen-to-body ratio, Super HD Display, Flagship Performance and a Big Battery all for an affordable mid-level price tag.
Tech Specs: 6″ 2560×1440, MediaTek Helio X25 CPU, 4GB RAM, 128GB Storage, Quick-charge 4000mAh, 21MP Camera, Android 7.1 Nougat with Full UK network support.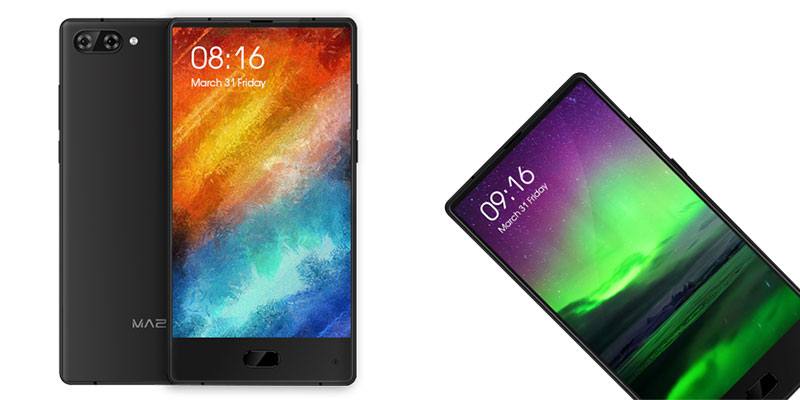 MAZE Alpha
Maze has followed the tri-bezel-less formula by focussing on a super high screen-to-phone ratio (86%) rather than super thin side bezels. It's a beast at 6 inches and has a full 1920×1080 resolution that uses Gorilla Glass 4 protection.
It's no straggler when it comes to performance either with the MediaTek Helio P25 combined with 4GB of RAM and 64GB of onboard storage. Powering the dual camera setup (13MP + 5MP, f/2.2) is a Samsung lens that will please the shutterbugs amongst us.
If you've never heard of Maze before that's because they are new to smartphone arena with the Maze Alpha being their 2nd smartphone release after the Maze Blade. Before this, Maze partnered with other manufacturers using their expertise in R&D department and production line management.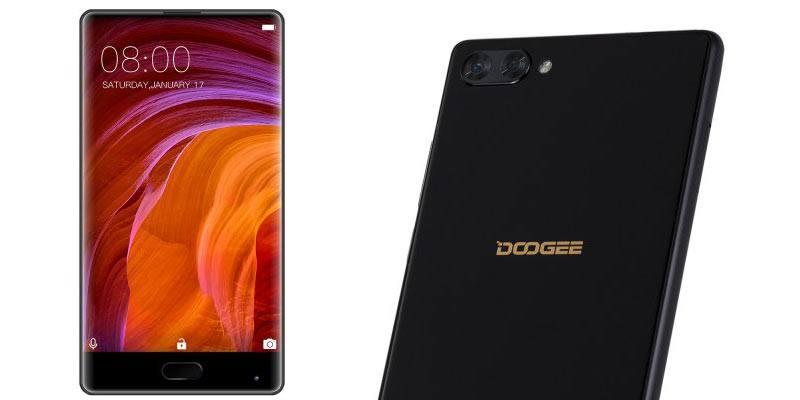 Doogee Mix 2
Fixing the biggest mistake from the Doogee Mix 1, the Mix 2 comes with a full-HD display using the popular 18:9 aspect ratio. Unfortunately, it drops the Super AMOLED Samsung display that we saw in the Doogee Mix 1, but we're getting 6 inches of screen at Full HD.
It also moves away from the tri-bezelless design but still manages a respectable 78% screen-to-body ratio which is 1% more than the original Doogee Mix 1. In terms of hardware, it's almost identical using the power efficient Helio P25 CPU coupled with 6GB of RAM but has a much bigger battery at 4060mAh to power the higher resolution display.
Design-wise, the Doogee Mix 2 uses a glass sandwich approach with a metal band connecting the two sides. Since there's now some room at the top for the camera, Doogee has stuck two in there for those dual-lens bokeh effect selfies. It's a big improvement over the bottom-placed camera on the Doogee Mix 1… but… the Mix 2 doesn't quite have the wow factor of its little brother!
We'll have a full review of the Doogee Mix 2 available soon.
Tech Specs: 6 inch 18:9 IPS 1080 x 2160, 403 PPI, Dual Rear + Dual Selfie cameras, Helio P25 CPU, 6GB RAM, 64GB Storage, Quick-charge 4060mAh, 209 grams, Android 7.1 Nougat with Full UK network support.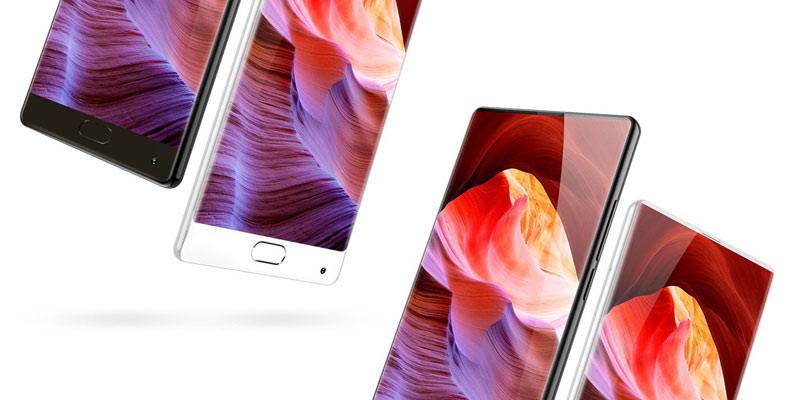 Bluboo S1
Joining the tri-bezel smartphone trend is the very affordable Bluboo S1. While the bezels aren't edge-to-edge you're still getting an impressive smartphone that's packing a 5.5″ Sharp full-HD 1920×1080 resolution display.
With a 90% screen-to-body ratio, 6GB of RAM and 64GB of storage the Bluboo S1 isn't holding anything back, offering great mid-level specs. Powering the phone is the mid-level MediaTek P25 CPU which won't be a winning any benchmark awards but will still run the 1080P display and Android 7 OS smoothly.
The Bluboo S1 is another great example of mid-range smartphones offering flagship level innovation, albeit thanks to Sharp pushing out their fantastic tri-bezel-less display. The Bluboo S1 should be on your smartphone watch list.
Tech Specs: 5.5″ Sharp 1080×1920, 90% Screen-to-body-ratio, Gorilla Glass 4, MediaTek Helio P25 CPU, 4/6GB RAM, 64GB Storage, Android 7, 3500mAh Fast Charge battery, Android 7 with Full UK network support.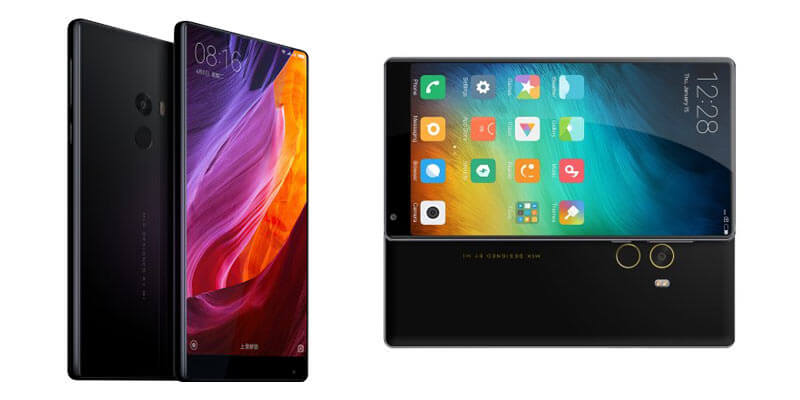 Xiaomi Mi Mix
If the Xiaomi Mi Mix with its almost non-existent bezels doesn't get you excited then I don't know what will. It's a punch in the face to those who said mobile innovation is dead and will hopefully drive forward bezel-less innovation in 2017.
At 6.4″ the Mi Mix OLED Screen sounds enormous, but thanks to not having top or side bezels it isn't much bigger than a Samsung S7 Edge. When we look at phone to screen ratio, the Mi Mix has a whopping 90% usable surface area which is unheard of before. Where you'll notice a big difference between the S7 edge and Mi Mix is in its weight with the Mi Mix weighing a hefty 210 grams.
Xiaomi has chosen a 1080×2040 OLED screen with rounded corners for both the standard & pro model which looks crisp and has a decent PPI of 361. It would have been nice to see a QHD screen option for the Pro version as this would improve its VR capabilities. Inside, you'll find a top of the line Snapdragon 821 CPU & either 4GB or 6GB of RAM.
The Mi Mix, in my opinion, is one of the best-looking phones of 2016 and has some good, not perfect, specs to match. If bezel-less isn't your thing then the OnePlus 3T has very similar specifications at a lower price point.
Tech Specs: 6.4″ OLED 1080×2040, 361 PPI, Snapdragon 821 CPU, 4GB/6GB RAM, 128GB/264GB Storage, 4400mAh, USB Type-C, 208 grams, Android 6 (MIUI V8).
The Technology Behind Bezel-free & Notch Phones
Originally written: 2016
You might be wondering why it's taken manufacturers so long to catch up with Samsung and produce budget variants of the bezel-less screen? Let's break it down into two reasons.
Reason number 1 is the cost & research needed to produce bezel-less technology.
A company such as Samsung has the money, resources & research to be able to create new types of technology such as an entirely border-less wrap-around screen. Smaller mobile manufacturers tend to outsource their parts which means they have to wait for 3rd party suppliers to innovate before catching up with the market leaders.
Reason number 2 is that manufacturers have had to create their own bezel-less software.
If you remove a smartphone screen bezel entirely, you then create another set of problems to overcome. When holding a phone, your hands will be gripping the edges of the screen slightly. On a phone with bezels, this is not a problem as you have an area on no-touch at the sides of the mobile screen. On a bezel-less phone, the screen will be registering these extra touches. To combat this, mobile manufacturers need to develop software that will recognise the difference between your hand gripping the phone and your hand trying to use the phone.
Thanks for reading & hit me up with any questions you have in the comments below : )