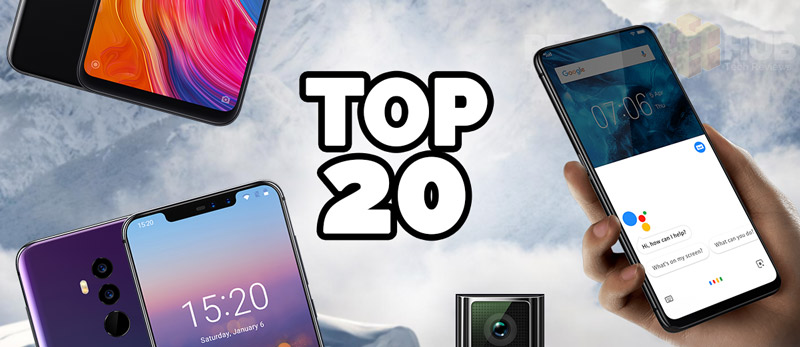 It's 2019 and Edgeless Borderless Bezel-less Notch Smartphones are here to stay!
Update: We've updated this article to include all the latest phones that have flooded the market with thin bezels and top notches. New smartphones added every week.
Android Makers are going Notch Crazy! Love the Notch? Hate the Notch? Let us know and comment below!
We've all looked on in awe Apple's iPhone X wishing for a more affordable Android option. Well you're in luck, as this year we are seeing an influx of mobile manufacturers step-up and produce their own notch phones.
Related: Smartphones with Amazing Battery Life 2019
Related: Smartphones that'll survive the Apocalypse
In this roundup, we'll take a look at some of the top all-display phones of 2019 that are either available now, set to be released soon or are still hot on the rumour mill.
Use the links below, to quickly navigate between the different price-ranges.
Let's get to it. Here's 2019's Top Bezel-less, Borderless & Top Notch Smartphones.
The Flagships (Ultimate Performance)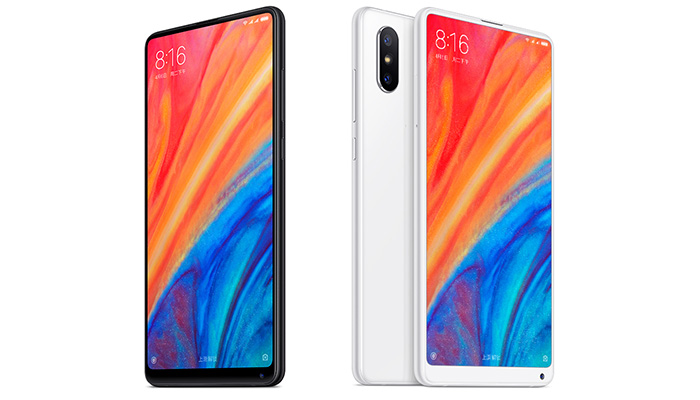 Xiaomi Mi Mix 2S – The Original
While every other smartphone seems to be adding a notch, Xiaomi has stayed true to its tri-bezel-less design originally features back in 2015 with the Mi Mix.
The Mi Mix 2S, while not a full display yet, still manages to hang out with the likes of Apple's iPhone X and the Samsung Galaxy S9 in terms of features, camera performance & good looks.
It's a truly beautiful smartphone that's now been upgraded to the latest Qualcomm Snapdragon 845 CPU giving you the fastest possible version of Android. Other upgrades include dual-cameras on the rear which has an AI module and also wireless Qi charging.
The only drawback is that Xiaomi is still using their impressive, yet only full HD+ display making top-end mobile VR a no-no.
If you're looking for a phone that ticks all the boxes, then the Mi Mix 2S has it all. Just make sure to get your hands on the International version.
Tech Specs: 5.99″ 2160 x 1080 18:9 Aspect Ratio, 403 PPI, Sony IMX363, Snapdragon 845, 6 or 8GB RAM, Max 256GB Storage, Fast + Wireless Charge 3400mAh battery, Android 8 + MIUI 9.5 with Full UK Support for 3, 7 & 20 bands.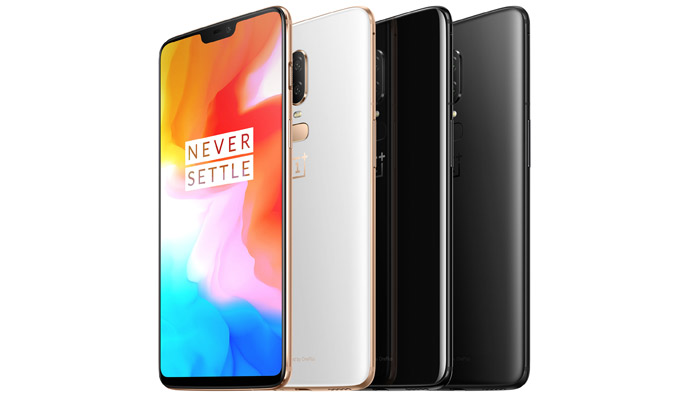 OnePlus 6 – Premium Meets Performance
The OnePlus 6 is turning out to be one of the hottest smartphones of 2018. Slowly migrating to a notched display via the OnePlus 5 and then 5T, it's now inline with 2018's best OLED offerings.
While some may complain that the once wallet-friendly brand is now producing flagship priced smartphones, this my friend, is the price of innovation.
So where is all the extra cost going?
The OnePlus 6 is advertised as dust, splash and water resistant. No official IPX rating but it's a step in the right direction. What we don't see is an ultra-HD display which will disappoint fans of mobile VR but on the plus side, please the battery-life lovers.
While the OnePlus 5 & 5T were both excellent value for money, they were lacking in the camera department when compared against the iPhone, Galaxy & Mi Mix.
It's good news, as there's been some progress with the OnePlus 6. Shots look sharper and low light photos much clearer. In my opinion though, it's still not on the same level as the Galaxy series.
What you do get with the OnePlus 6 is frequent software updates. Regular security fixes and software improvements come on a monthly basis which is a kick in the teeth to most other big brands.
Tech Specs: 6.28 inch Optic AMOLED, 2280 x 1080 Resolution, 19:9 Aspect Ratio, Gorilla Glass 5, Snapdragon 845, 6 or 8GB RAM, 128 or 256GB Storage, Super Dash Charge 3300mAh battery, Android 8.1 with Full UK Support.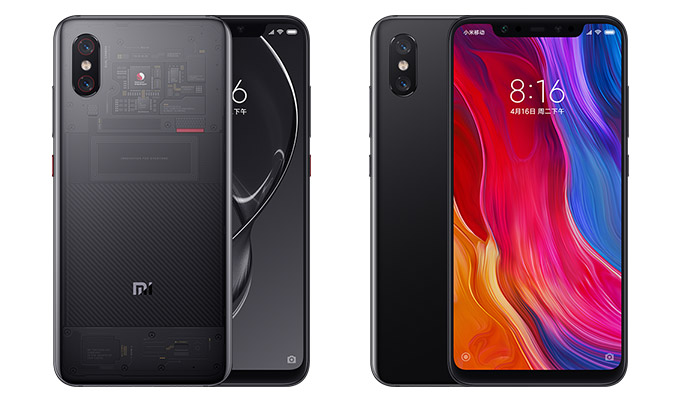 Xiaomi Mi8 – Best Value Flagship
Xiaomi have become known as the Chinese-brand that offer excellent craftsmanship and performance at mid-range prices.
The Mi 8 is soon to be released, and although traditionally second in line to the Mi Mix, the Mi 8 beats is a clear front-runner. It comes with the same Snapdragon 845 flagship processor, same high-end specs but has a trick up its sleeve.
The Mi 8 features a HDR ready AMOLED display (made by Samsung) for ultimate contrast and black levels. It's also the first phone to support dual-frequency GPS for faster and more accurate navigation.
This was the best value flagship to beat in the 2nd half of 2018!
Xiaomi are also releasing an SE version (lower priced) of Mi 8 that'll feature the same AMOLED display but drop down to the Snapdragon 710 and reduce the battery size slightly.
Tech Specs: 6.21″ Super AMOLED, 2248 x 1080, Gorilla Glass 5, Snapdragon 845, 8GB RAM, 128GB Storage, Quick Charge (4.0) 3400mAh battery, Android 8.1 with Full UK Support.
Connectivity: NFC, Bluetooth 5, Dual-band AC WiFi, Dual-frequency GPS, 2x Nano SIM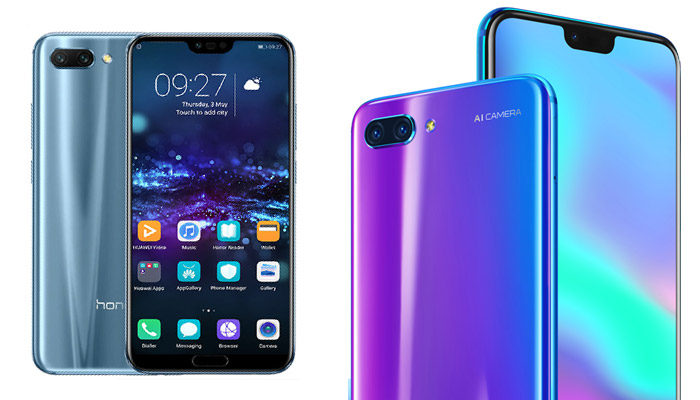 Huawei Honor 10 – Photo Expert
What I love about the Honor 10 is that it still managed to squeeze in a front-facing fingerprint reader into the bottom bezel. Rear fingerprint readers suck, and everybody knows it, but we'll have to wait until 2019 for in-display fingerprint readers to become mainstream.
Secondly, the Aurora Glass design looks beautiful and is a welcome change from the past 5 years of space grey and gloss white.
So who's the perfect owner of a Honor 10?
Anyone who's a keen photographer and wants flagship level performance. The Honor 10 comes with a 24MP (f/1.8) + 16MP dual camera rear setup that's backed up by a dedicated AI chip. This will automatically adjust the camera settings on the fly to give you the perfect shot.
If you're more into your selfies, then you'll be happy to know that it has a whopping 24MP front-facing lens with 3D lighting and AI portrait mode. This high-resolution lens means that we also get face-unlock to go alongside the dedicated front-facing ultra-sonic fingerprint reader.
Performance-wise, you're getting the same high-end Kirin 970 that we find in both the Mate 10 Pro and P20 Pro, just at a much lower price.
Finally, the icing on the cake is that the Honor 10 weighs in at only 156 grams which when combined with the smaller 5.84″ display makes it super pocket-friendly.
Tech Specs: 5.84″ 2280 x 1080, 19:9 Aspect Ratio, Gorilla Glass, Kirin 970, 4/6GB RAM, 64/128GB Storage, SuperCharge 3400mAh battery, Android 8.1 with Full UK Support.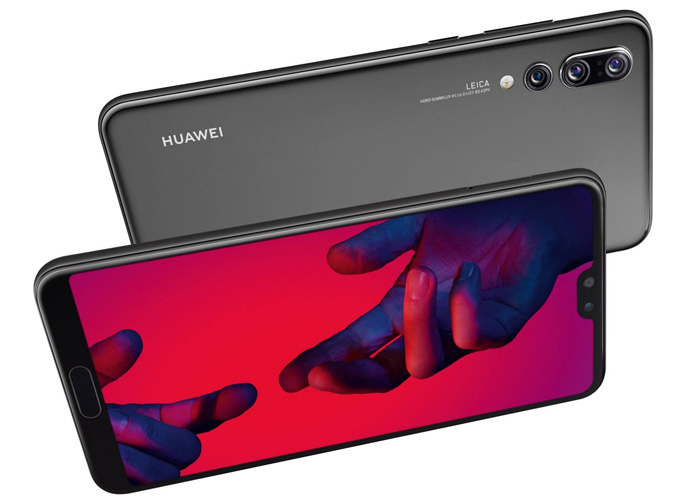 Huawei P20 Pro – Photo Legend
The latest of Huawei's smartphone range to hit the western shores is their P20 Pro with its insane Leica-made triple rear cameras (40MP + 20MP + 5x Zoom lens).
As well as that epic camera setup, it also has an epic screen-to-body ratio and a minimal notch all while still managing to fit in a front-facing fingerprint reader.
It's certainly a flagship device… so unfortunately comes with a mouthwatering price-tag. If you're not a photography nerd who can get the most out of the triple Leica lens setup then you can easily save a few hundred by going with Honor 10.
Still, it's great to see Huawei bringing out such an innovating smartphone and hopefully shaking the ground under Apple's, Google & Samsung camera dominance in recent years.
Tech Specs: 6.1″ 2240 x 1080 18:9 Aspect Ratio, 403 PPI, Leica Triple (40MP + 20MP + 5x Zoom), Kirin 970, 6GB RAM, 128GB Storage, Fast charge 4000mAh battery, Android 8.1 with EMUI 8, + Full UK Support for 3, 7 & 20 bands. Single SIM + Dual SIM options available.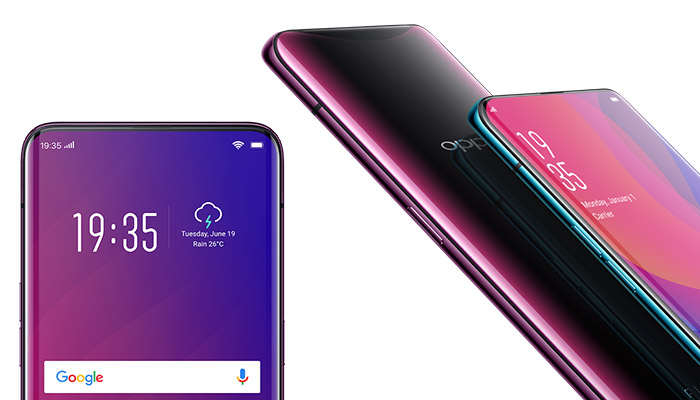 OPPO Find X – The Future
OPPO haven't entered into the European markets fully yet, so are less familiar than brands like Huawei and OnePlus.
As one of the most innovative smartphone brands out there, we've been missing out! The OPPO Find X comes with full UK cellular support and one hell of a full screen sexy display!
We find all the flagship staples like a 6.4″ AMOLED Display, Snapdragon 845, dual-lens camera and Bluetooth 5.
But then the Find X ups its game by having 8GB of RAM, 264GB storage and a hidden sliding camera mechanism that features a 25MP selfie cam with infrared 3D lens…
Now if that's not enough to get you excited? I don't know what is!
One drawback is that it's missing NFC, which for a flagship device is an unusual find. Even so, it's one smartphone that isn't afraid to push boundaries!
Tech Specs: 6.4″ 2340 x 1080, Snapdragon 845, 8GB RAM, 256GB Storage, 3730mAh battery, Android 8.1 with Full UK Support.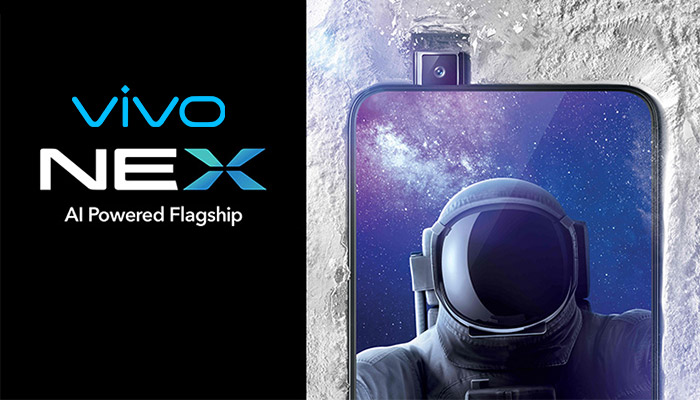 VIVO Nex – All Display Baby!
As one of the main sponsors for the 2018 World Cup, VIVO are on the top of their game. All of their 2018 lineup featuring beautiful notched displays but the Nex takes it one step further.
The Nex is their flagship and ditches the notch for a hidden selfie camera than slides up and out of the top of the phone. This allows them to use a beautiful 6.59″ Super AMOLED display that covers most of the phone. But, we still see a small chin bezel at the bottom.
If having the selfie camera rise out of the top of this phone isn't enough to get you excited, the VIVO Nex is one of the first phones to have an in-display fingerprint reader!
In the camera department, we see a dual aperture dual lens setup similar to the Samsung Galaxy S9. The 12MP (f/1.8) is coupled with a 4-axis OIS 5MP lens (f/2.4).
Finally, at nearly 200 grams and 6.4″ display this phone is a beast, but, you do get a healthy 4000mAh battery to match.
Tech Specs: 6.59″ 2316 x 1080, Snapdragon 845, 8GB RAM, 128GB Storage, Fast charge 4000mAh battery, Android 8.1 with Full UK Support for 3, 7 & 20 bands.