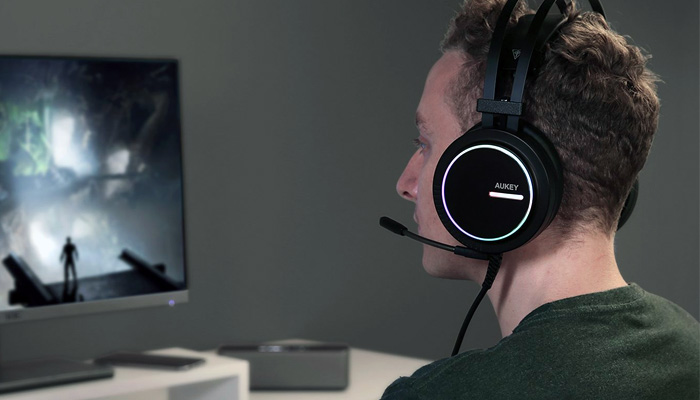 I've been testing the Aukey GH-S5 Virtual 7.1-Channel RGB Gaming Headset quite extensively over the last week, and for a budget headset, I must admit… I'm impressed!
You'd be forgiven for not having heard of Aukey before as they're tech generalists than hardcore game gear manufacturers.
And with so many unknown names flooding the market with gaming gear, it's hard to know which are bargains, and which are nothing more than RGB paperweights.
But rest assured, if you're looking for a cheap headset then the AUKEY GH-S5 should be on your shortlist.
Aukey GH-S5 Gaming Headset Offer…
Pros
Virtual 7.1 Surround Sound
Oversized 50mm drivers deliver deep bass perfect for gaming
24-month warranty
Lightweight yet durable
Great value
Cons:
Fixed Microphone
Cheap build quality
Inline controls clunky
USB only connectivity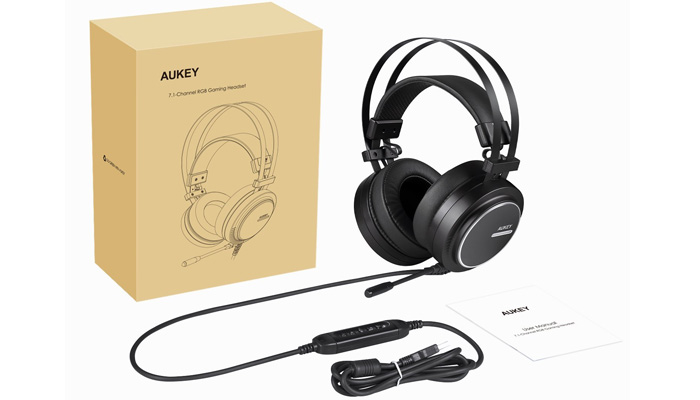 Unboxing
As you'd expect with a budget product, they don't spend much money on the packaging. However, they have opted for a green approach and used recycled cardboard for the outer box.
While not the best experience, at least we're gaining some green karma points.
Once inside, the recycled cardboard continues with the AUKEY GH-S1 firmly held in place. A little too firmly, as I managed to cut myself dragging the headset out.
Once you've finally freed the headset, you'll notice the 2.2m USB cable with the inline control (more on this later), the user documentation and a standard Aukey 24-month warranty leaflet.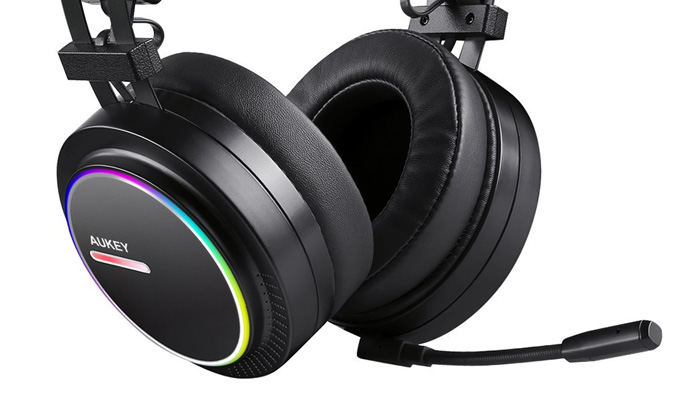 Sound Quality
The sound quality delivered from the AUKEY GH-S1 gaming headset is anything but budget.
The oversized 50mm drivers pack a serious punch, delivering growling lows, and bright mids. The high bass levels are exactly what you want when sitting down for a gaming session, giving off a great immersive feeling.
As well as excellent in-game audio, I was also impressed when I tested some my favourite music tracks. Without adjusting any settings, just plug'n'play, you can get great results. Again, the bass lines were standing out, but, the vocals are still incredibly clear.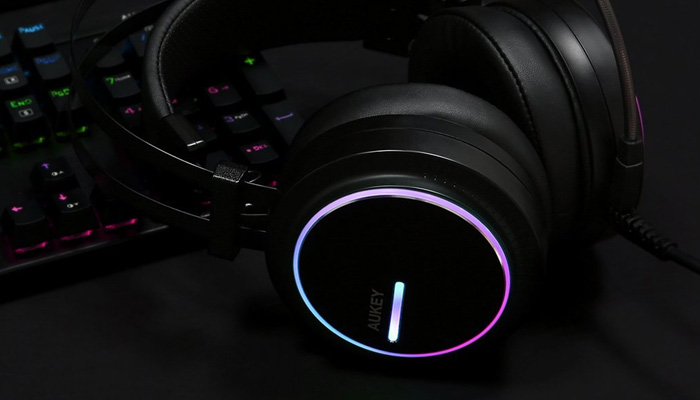 Microphone, RGB Lighting & 7.1 Surround
The omnidirectional microphone serves its purpose of allowing you to communicate clearly, however, as is the nature of omnidirectional pickups, you do get quite a bit of background noise transmitted as well.
The most common feedback I received was the noise when typing. The mic is also fixed in place, meaning there's no getting it out the way, or removing it when not in use.
Both cans sport an RGB circle on the outside of the cup, with an additional line under the AUKEY branding. They come with a few pre-set colour palettes which are changeable at the push of a button, and more options available within the Scepter Software.
This software isn't a requirement, but it's certainly worth a download as it unlocks a lot more functionality from the headset.
It gives you access to the EQ settings, microphone management, sound effects and the 7.1-channel surround sound.
Unfortunately, the virtual 7.1-Channel surround sound is a bit of a let-down. As with most headsets, the software engineered sound struggles to give any real directional feedback other than to your left or right.
Inline Controls
The final feature of the AUKEY GH-S5's I want to talk about is the inline controls. They're standout, but for all the wrong reasons. This is probably the biggest gripe I had with the headset, in that they're terribly positioned, overcrowded, oversized, and weighty.
You'll find a total of 5 buttons, the usual volume up and down buttons, a mute microphone button and then an RGB toggle switch and a 3D effect button. The latter of which essentially adds an echo effect to all sound.
Not very useful and probably could have been left out if I'm honest. The RGB toggle cycles through some pre-set colour patterns, which also could have been left out and purely controlled via Scepter.
The biggest problem with the inline control though is the positioning. Roughly 50cm off the left ear cup, they give a bit of a pull on the headset, and left me having to readjust the headset every so often, meaning hands off the keyboard and mouse.
Not an ideal feature for a gaming related product.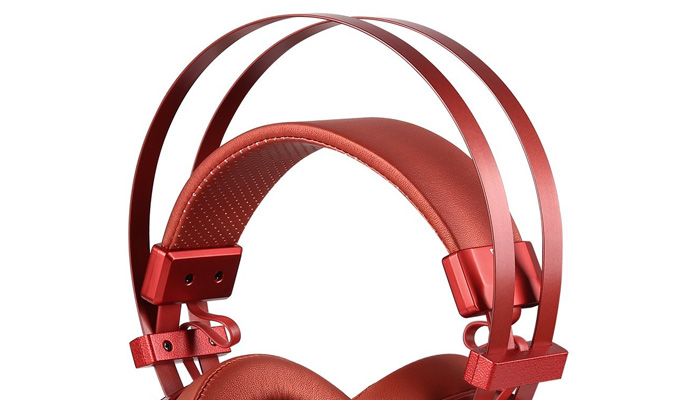 Comfort
The AUKEY GH-S5 headset weighs in at under 500g, which is pretty light in terms of headsets. This is partly due to the design of the headset, opting for 2 aluminium bands for the support, and a pleather cushioned headband.
It is adjustable, but not by much, and not permanently. It operated on a spring-like design, extending when you pull the cups down over your ears. A word to the wise, if you see yourself as having a larger proportioned head, you'll likely find the adjustment to be a bit off-putting.
The cups themselves have big circular cushions covered in more pleather and a thin foam layer over the speakers themselves. They are comfortable to wear but don't block out much sound unless you have volume coming out of the headset.
Aukey GH-S5 Headset – The Verdict
The AUKEY GH-S5 7.1-Channel RGB Gaming headset is a standout headset in the budget marketplace.
If you're looking for either a first-time purchase or something new and don't want to spend the big bucks, then this certainly ticks all the boxes in terms of sound quality and modern features.
If you're a serious gamer and into your audio then it may be worth saving a few more pennies and moving up to the next bracket of gaming headsets.
Overall though, you get everything you need to meet the basic needs of a gaming headset. Clear vocals from the microphone, heavy bass levels, RGB lighting and plug and play operation.
It would have been nice to feature a 3.5mm jack, but then what more do you really want from a headset that offers change from £40?
Has the Aukey Gaming Headset made you reconsider paying top dollar?