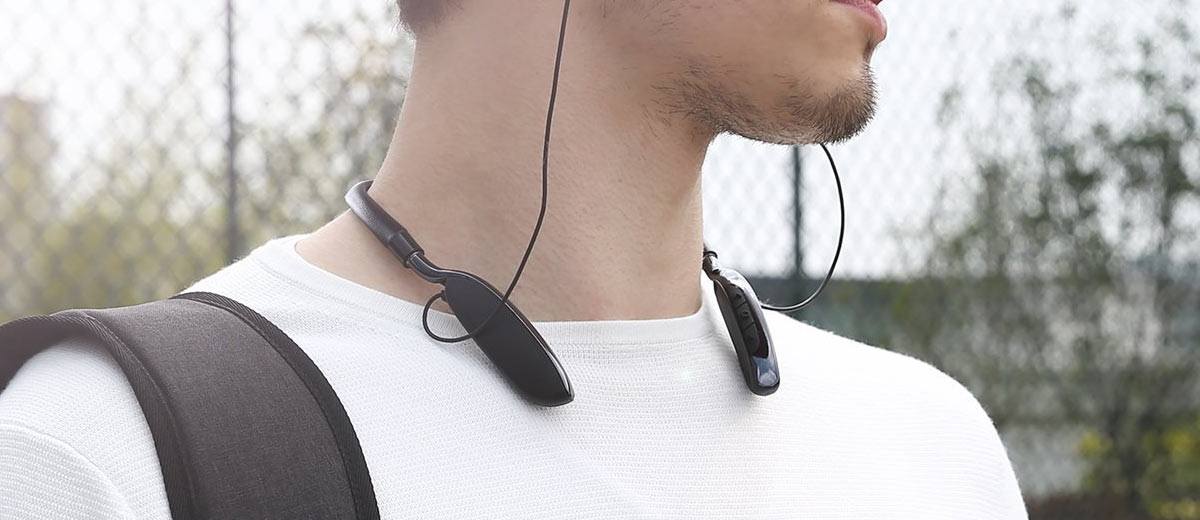 We get hands-on with the Aukey EP-B48 Neckband Headphones with built-in noise cancellation
Every major audio brand has released their own version of the neckband headphones so it wasn't going to be long before smaller brands such as Aukey jumped on the band-wagon.
Neckband earphones have their Pros & Cons which should both be considered before making a purchase. On the plus side, you get longer battery life, less weight on your ears and you can fit more audio technology into the bigger form factor without having giant headphone hanging out of your ears.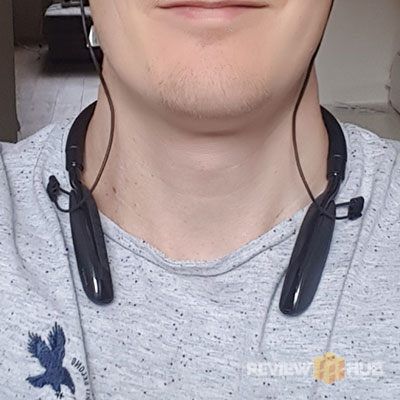 More Cool Stuff: Check out the our latest Wireless Headphone Reviews.
I've been using the, rather technically named, Aukey EP-B48's here at Review Hub for the last 2 months to see how they fair in terms of Sound Quality, Comfort, Connectivity, Battery-life and Durability.
Looking for a pair of headphones that offer superb comfort and excellent battery life?

Pro's
Long Battery Life
Comfortable
Nice Build Quality
Strong Bass, Clear Mids / Highs
Cons
Don't pack away neatly
Fingerprint magnets
Not great for exercise
Noise Cancellation is average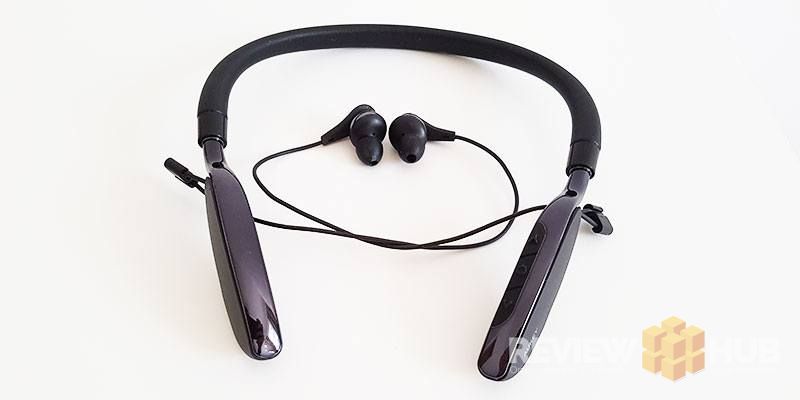 Design & Comfort
The design of the Aukey EP-B48 headphones is discreet but doesn't quite reach the level of premium. That's alright though, as these headphones are reasonably priced, super lightweight and offer decent sound quality.
One touch that does help them stand out in the crowded headphones market is the use of a soft touch faux leather neckband. The highly reflective plastic catches the light nicely but does easily pick up fingerprints.
The first thing you'll notice when unboxing the Aukey EP-B48 over neck headphones is just how light they are. At only 47 grams, you'll quickly forget that you're wearing them making them perfect for all day office or home use.
The earbuds themselves fit my ears perfectly straight out of the box, but they come with larger and smaller sets of silicone covers as well should you need them.
The music control buttons are made from a hard rubber and once you stop reaching for your ear, they're easy to find on the neckband itself. A little more awkward is the Noise Cancellation button which you'll find underneath the left side of the neckband.
Overall, the Aukey headphones score highly on design and comfort but there's a couple of negatives worth mentioning. The first is that when you've not got the headphones in your ears they just hang loosely and become annoying. They either need to be retractable or have magnetic ends so you can stick them together.
The second downside is that the design isn't very exercise friendly. When running they move around your neck too much and the earbuds will dislodge. They'll be fine for weights training, but most cardio exercises are off the menu.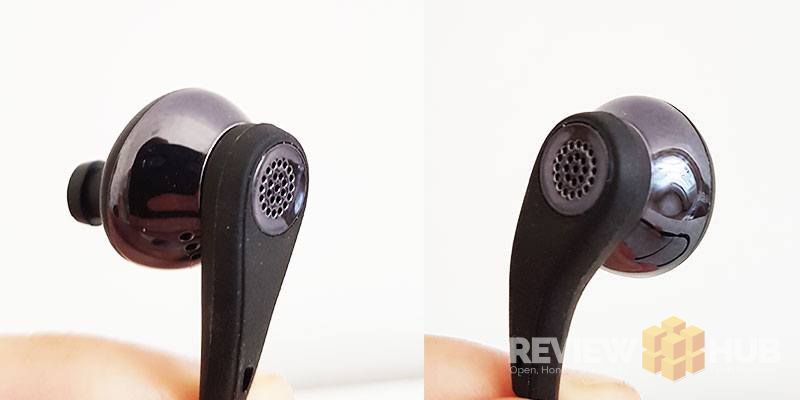 Sound Quality
Sound quality on the EP-B48's, on the whole, is good. Listening to a variety of tracks from Deep Techno to 80's power ballads showed that they can handle their bass well while still keeping the mids & highs clear. They work especially well for podcasts with voices being rich and clear.
Unfortunately, on low volumes, there is a constant hissing noise. You won't notice this unless you're listening at low volumes and the hiss is audible both with noise cancellation on and off. You do get used to it pretty quickly but it's off-putting for low volume listening.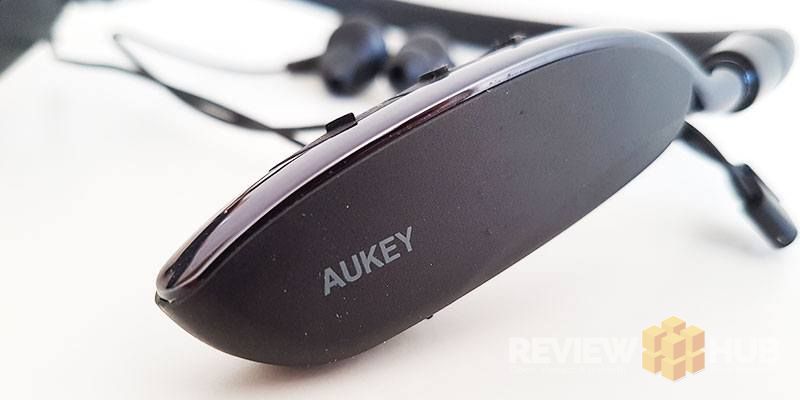 Noise Cancellation & Battery Life
Helping the Aukey's to stand out is that they come with noise cancellation which can be activated by flicking the switch underneath the left side of the neckband.
The noise cancellation worked well when I tested them on a train, and also helped to remove the sound of my keyboard typing. It's not the best with some background noise still making it through but it's a big step up from a pair of headphones without any noise cancellation.
Battery life on the other hand is fantastic. I've easily managed to get over 15 hours listening on the EP-B48 headphones and they are still going strong. This is in part thanks to the neckband being able to house a bigger battery than a pair of sports headphones.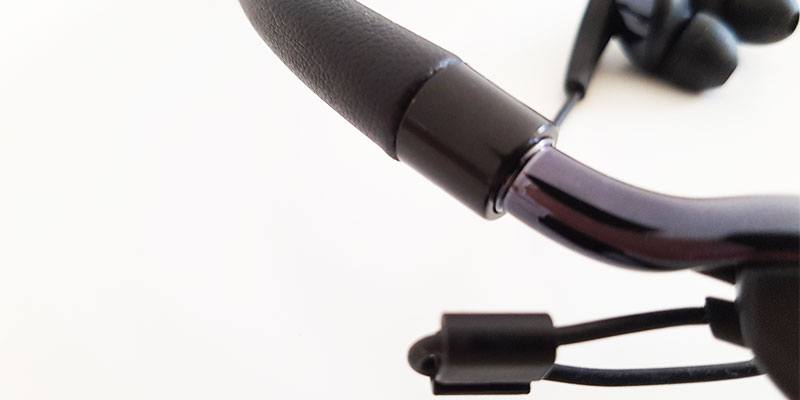 The Verdict – Aukey EP-B48
The Aukey EP-B48 headphones offer good sound quality for the price, excellent comfort and a long battery life thanks to the low energy Bluetooth 4.1 connection.
If you listen to your music at high volumes or don't mind a small amount of static noise then I'd recommend them. As an avid listener of podcasts and audiobooks, I'm a low volume listener so the static hiss is just a bit too off-putting.
Even so, I'm still looking forward to seeing the next iteration of these Aukey Neckband Headphones as they have lots of pros.
Check out the Best Aukey EP-B48 Deals below…