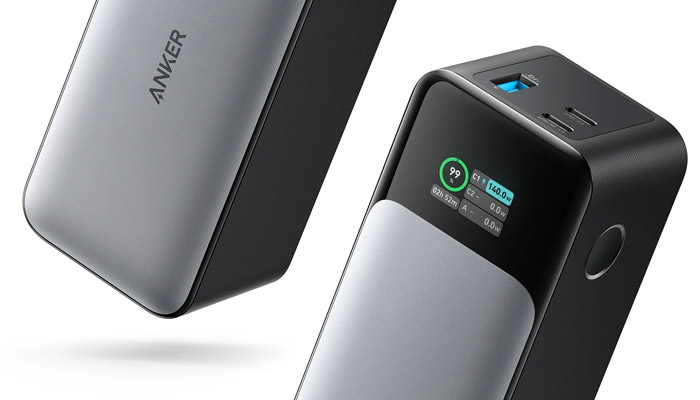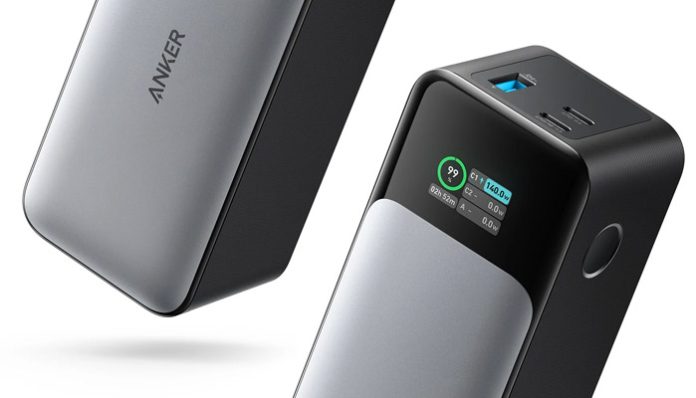 Ankers latest powerbank, the Anker 737 (PowerCore 24k), aims to be the last powerbank you'll ever need or want.
Capable of 140w charge output, that's enough to charge your Laptop, iPad and phone at the same time. Or superfast charge 2 of those together. Pretty impressive!
And unlike most other powerbank's on the market, the 140w charging works both ways. Meaning you can charge this power bank back up to full capacity at 140 watts as well.
But the elephant in the room, all this advanced charging tech doesn't come cheap. It's gonna set you back $150/€150/£150. Better that it burns a hole in your pocket figuratively, than literally…
Luckily though, you can often find some great discounts on charging tech, so if by the end of this review you're sold, add it to your wish list and wait for the next sale!
So let's take a quick look at the Pros & Cons of the Anker 737 Power Bank before we deep dive into the nitty-gritty details and find out if it can receive the Review Hub stamp of approval.
Available Now
Pros
30-Day Money-back Guarantee
2 Year Warranty
Design, Build Quality & Display
PD3.1 140w Ready
Pass-through charging
Great for travel
Cons
Price-tag
Loses efficiency at lower charge speeds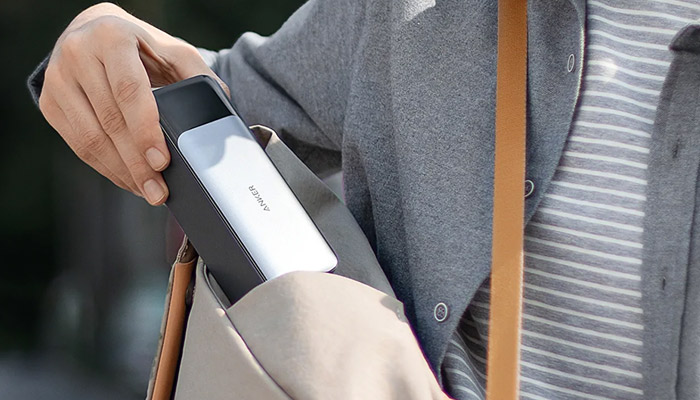 Display, Design & Form Factor
For a powerbank, the Anker 737 hits all the right design aesthetics. With slightly ribbed sides for grip, blue accents on the USB ports and a curved-corner matt silver plate that reaches up to the display, it doesn't disappoint.
Now taking at look at the display and you can somewhat justify this powerbank's high-end price tag, a little anyway. When you plug in your gadgets, the display will show you the charging speed per port, battery left as a percentage, total time left charging at current speed and also the internal temps.
There's also a display that shows you Anker 737's lifetime usage stats. Here you can see the total charge cycles, battery health and total Watt Hours in & out of the powerbank. A neat little feature, especially if you're buying this 2nd hand. The display also uses a gyro sensor and flips to the correct orientation automatically.
To flick between the different modes and see the stats, there's a single button on the right side.
Press twice to enter/exit trickle-charge mode
Long hold or auto-screen off (saves battery)
Press to cycle between screens
Finally, at 15x15x5cm and 630g weight, it's small enough to throw in your bag and carry around with you. It also has a low-enough total capacity, at 24000mAh, for you to be able to fly on most airlines, making it a great travel device on your holidays.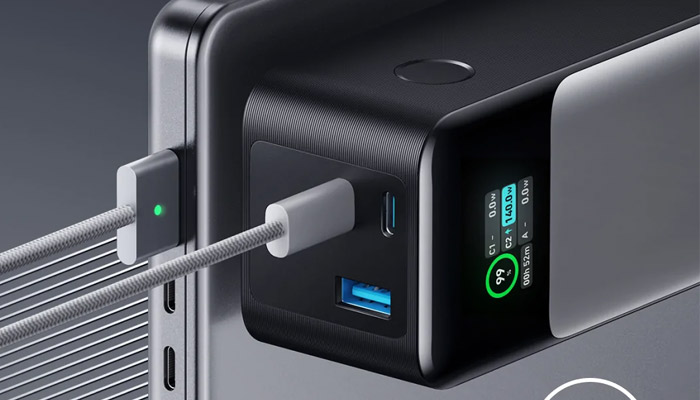 Anker 737 – PowerBank Technology Inside

Let's take a look at tech inside the Anker 737.
Anker manages to keep this little brick compact thanks to their use of Anker GaNPrime technology, or Gallium Nitride, which offers higher power conversion with lower temps, allowing smaller devices overall.
Related: Fast Charging Explained
For anybody who already has a MacBook (M1 & M2), you take advantage of the Type-C PD 3.1 pushing a whopping 140 watts output! That'll get you a full 100% charge in just under 50 minutes (MBP 14). Similar speed to the included wall charger, pretty incredible.
Related: More PowerBank Reviews
Both of the Type-C ports on the Anker 737 support this ultra-fast 140w charging in single-port mode, while the Type-A port supports a max of 18watts.
You can also use multiple ports at once up to the max 140w limit. An example of three-way charging would be.
Type-C Port 1: 80watts (Laptop)
Type-C Port 2: 40watts (Phone)
Type-A Port: 18watts (Phone)
The 140w is also available when charging the Anker 737. You can fully recharge this power bank in under an hour, putting it way ahead of the competition.
The power bank also supports pass-through charging, letting you charge it while also charging your other devices.
Finally, we see the inclusion of Anker's ActiveShield 2.0 – a fancy name for temperature sensors. These will monitor the internal temps and also that your connected devices are charging at the correct speed and don't overheat.
Compatibility (Charge Protocols Supported)

PD3.1 (Laptops)
QC5 (Phones)
PPS (Type-C devices)
Charging Formats supported.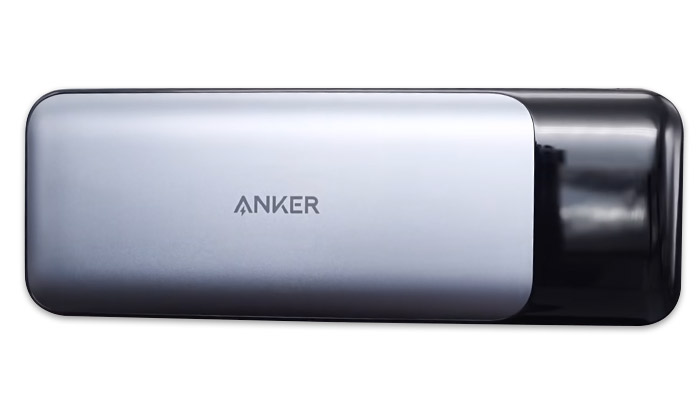 Charging Efficiency
Testing the Anker 737 at the max 140 watts showed us some incredible results. The temperature didn't get above 50 degrees and we measured the efficiency at 83%.
Using the 45w output (3A @ 15V) we tested an even more efficient 90% power conversion.
The efficiency did drop off a little at slower charge speeds, but still in line with the powerbank competition at around 80-85%.
Anker really shows their experience in building high-efficiency GaN products here with the 737.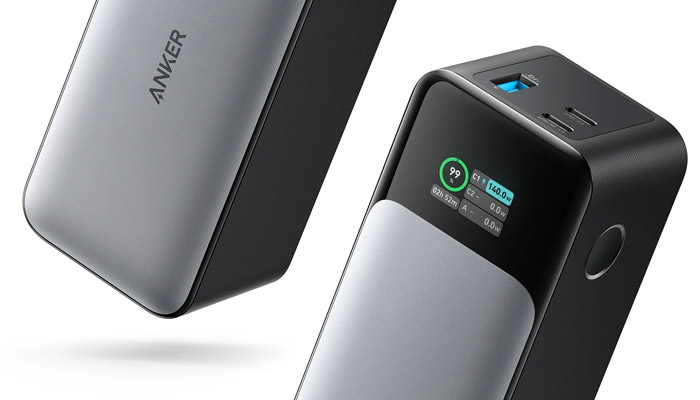 Anker 737 – Final Thoughts
Yeah, there's no denying the Anker 737 140w powerbank is expensive, and it's a price-point many can't justify to save ourselves some time 30min charging time.
But on the other hand, choose the Anker 737 and you're getting the best-of-the-best in portable powerbanks.
You can charge your high-end laptop, MacBook, Switch, Cameras and Steamdeck from one nifty little device that's small enough to lug around anywhere. And thanks to the vast array of fast-charging formats support, you can charge them in a pinch.
If you've got the cash to splash, you'll be set for the next 5 years! Say goodbye to searching for that hidden power outlet next time you're in a cafe.
Available Now
Do we recommend the Anker 737 Power Bank? Yes, there's no denying the Anker 737 PowerCore 24k is awesome! Grab it on sale, for closer to $100/€100/£100 and you've got yourself a steal.
What do you think of the Anker 737 Powerbank? A worthy investment, or a waste of money? Let us know below.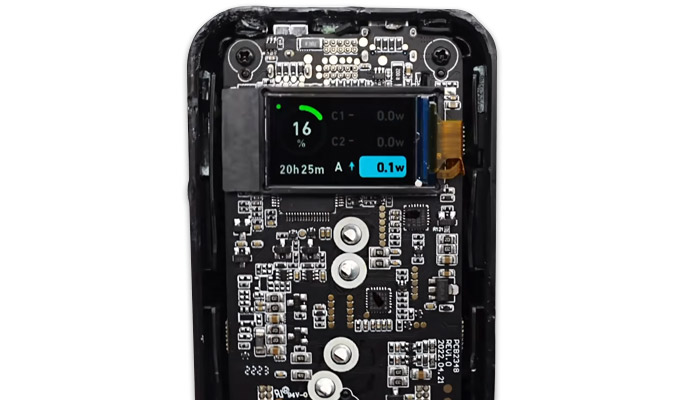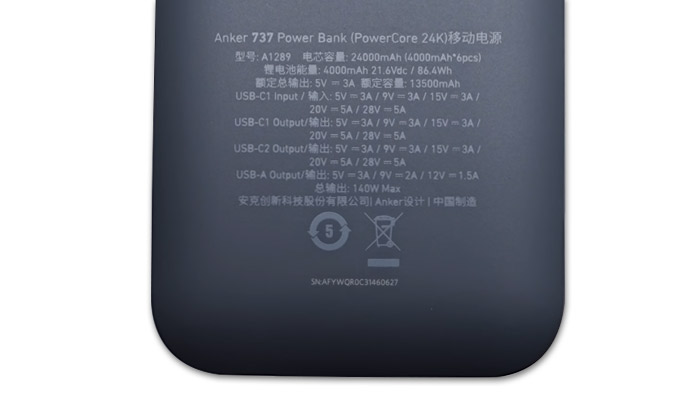 Anker 737 (24K) – Tech Specs
The technical specifications for the Anker 737 PowerCore 24k Powerbank.
Ports
USB-C input & output port
USB-C output port
USB-A output port
Dimensions
Weight
Input
5V ⎓ 3A / 9V ⎓ 3A / 15V ⎓ 3A / 20V ⎓ 5A / 28V ⎓ 5A
Output
USB-C1 Output: 5V ⎓ 3A / 9V ⎓ 3A / 15V ⎓ 3A / 20V ⎓ 5A / 28V ⎓ 5A
USB-C2 Output: 5V ⎓ 3A / 9V ⎓ 3A / 15V ⎓ 3A / 20V ⎓ 5A / 28V ⎓ 5A
USB-A Output:5V ⎓ 3A / 9V ⎓ 2A / 12V ⎓ 1.5A
Total Output:140W Max
Battery Cells
6x Lishen LR2170LA (21700) Cells (May vary by region sold)