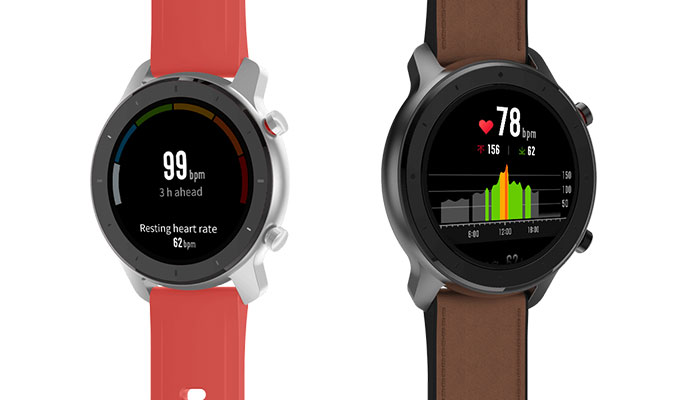 Amazfit Makes The Move To OLED While Keeping The 30+ Day Battery Life!
Huami, the parent company of Amazfit, and also now one of the biggest smart devices producers in the world, has come a long way since it entered the wearables market back in 2014. And to date, the Amazfit GTR is by far one of the most popular smartwatches the company has ever produced.
With its circular watch face, sleek metallic finish, and clever leather-look watch strap, the GTR looks and feels super classy. However, if you are into rectangular builds of modern smartwatches, then you might like the Amazfit GTS – which clearly takes design inspirations from the Apple Watch.
We've reviewed the Amazfit GTS separately, and you check out the pros & cons here.
In terms of functionality, both devices offer pretty much the same set of features and UI experience. They are also similarly priced, with both devices being available for less than $130  – the GTR being slightly more expensive than the GTS.
And for that price, you are getting access to exceptional build quality and super accurate fitness tracking functionalities.
But just how good are these fitness-focused smartwatches?
Well, here is our in-depth review of the Amazfit GTR (Amazon) to help you understand everything it brings to the table. But first, here's a quick look at the Pros and Cons to get you started:
The Good
✔️ 30 Day Battery Life
✔️ Discrete Traditional Design
✔️ Epic Build Quality
✔️ Bright and Vivid Display
✔️ Accurate GPS + Sports Tracking
✔️ 5ATM Waterproofing + Swim Tracking
The Bad
❌ Flick-to-display is slow
❌ No microphone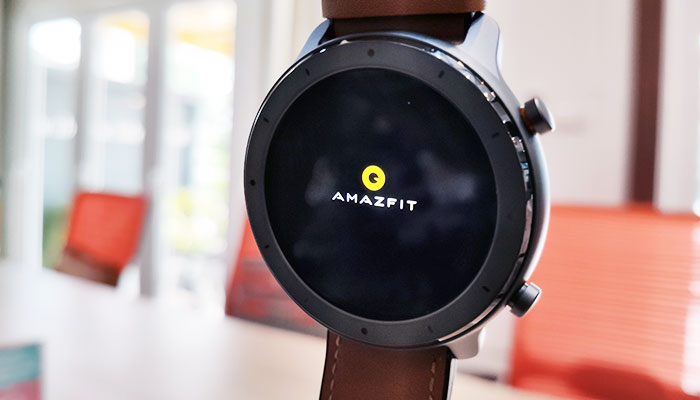 Display
As you can imagine, the screen size on the watch is going to vary depending on which size you pick. The 47mm model offers a 1.39-inch AMOLED display with 454 x 454 screen resolution, whereas the 42mm model boasts a 1.2-inch AMOLED display with a 390 x 390 screen resolution.
In both cases, the pixel density comes out to be 326 PPI (Pixels Per Inch) which makes it really sharp. On par with the Galaxy Active & Apple Watch. As such, you won't have to strain your eyes when reading notifications or navigating menus on the small display.
And speaking on UI navigation, thanks to the oleophobic coating, you don't have to worry about the display collecting fingerprint smudges. Also, both displays boast Gorilla Glass 3 so you are protected from scratches as well.
Other than this, the screen can also get really bright which makes it great for outdoor visibility. It comes with an ambient light sensor which configures the display brightness levels based on the surroundings. However, you can also manually control the brightness from inside the watch interface.
You'll be more than impressed with the GTR's display both indoors & in direct sunlight.
Quick Specs:
AMOLED Display with Gorilla Glass 3 Protection
39-inch (47mm) and 1.2-inch (42mm)
454 x 454 res (47mm) and 390 x 390 res (42mm), with 326 PPI
Oleophobic Anti-fingerprint Coating
Ambient Light Sensor for Auto-Brightness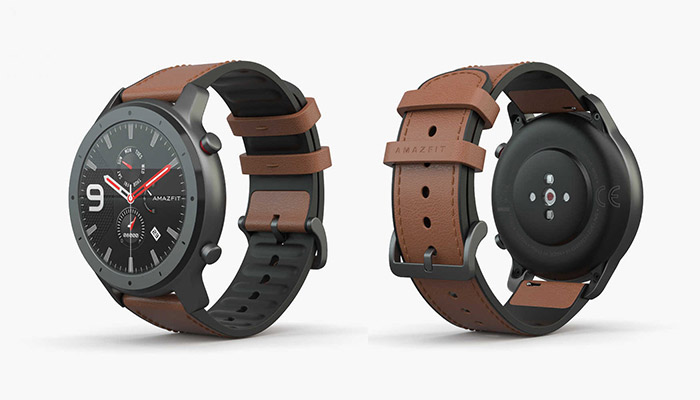 Design & Build Quality
In terms of build quality, the GTR can handle accidental knocks and bumps without taking a scratch. However, it is still light enough that you won't feel like you have a weight strapped onto your wrist.
Also, thanks to the premium quality materials used in the design, you can wear the smartwatch for long hours, even days, without any sort of skin irritation. But, with that being said, what type of material you get, oddly depends on which size you pick.
The Amazfit GTR gives you the option to choose between two different sizes – a 42mm model and a 47mm model.
The 42mm model is only available in an aluminium alloy casing. Whereas with the 47mm model, you have additional options including a stainless steel casing and a titanium casing.
However, the 47mm version only offers the option to choose between either a brown leather strap or a black fluoro-rubber strap. On the flip side, the 42mm model comes with tons of colourful silicone strap options as well as a formal white leather variant.
Also, the strap width is different depending on which model you pick – 20mm for the smaller version and 22mm for the larger one. As such, there is no way to interchange the straps between the models.
Not an issue though, as there are tons of cool straps to choose from online. Swapping the straps out takes only a few seconds which is great. You can have a dedicated sports strap and then swap back to the premium leather-look strap that comes in the box.
Other than this, the smartwatch features two side buttons. The top one is a Power button which you can short press to turn on/off the screen. The bottom one works as a Function button. You can configure it to work as a quick access button by assigning an app that you use often.
Quick Specs:
Lightweight (Approx 40g with strap)
Aluminium Alloy Casing (both 47mm and 42mm versions), Stainless Steel and Titanium Casings (only 47mm version)
Quick-Release Wrist Straps
Two Physical Buttons – a Power Button and a Customizable Functions Button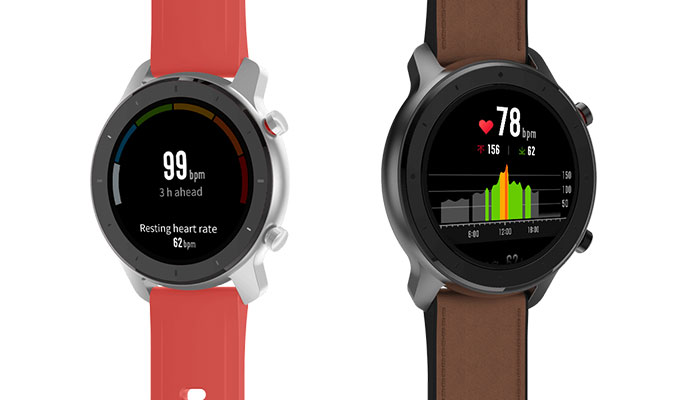 Amazfit GTR: User Interface & Features
The Amazfit GTR runs on its own proprietary Amazfit OS. It is a simple platform that is easy to navigate but is lacking in terms of functionality as well as apps when compared to the likes of the Apple Watch or Google Wear OS.
As such, when considering features, the Amazfit GTR is more like a fitness tracker with some smart features, rather than a full-fledged smartwatch.
While this might sound like a compromise, this Amazfit OS is the reason they manage to squeeze so much battery life from the GTR compared to the Apples 3 days and Samsungs 2 days.
However, much like other smartwatches, the watch face itself is extremely customizable. The GTR has over 100+ watch faces to choose from. You will need to download them to the watch via the paired Amazfit app, not a biggy, but it would have been nice to have a few more options on the device itself.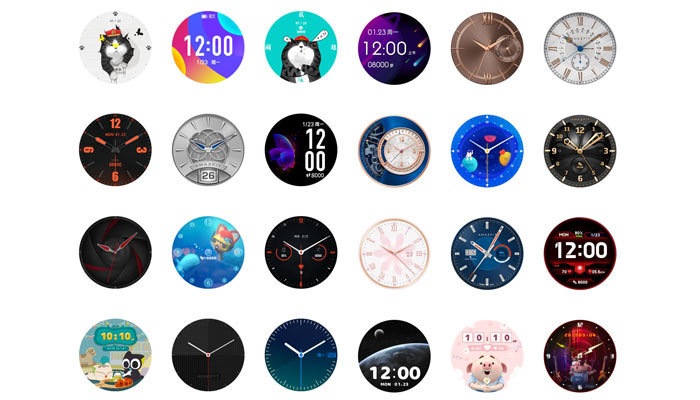 Coming to applications, the device features some basic apps that let you control music on your smartphone, see directions using a compass, read smartphone notifications, and view weather forecasts. You can also set reminders, timers, alarms, and even take quick notes with the GTR.
The watch will also vibrate as soon as you get a call, but you can only silent or reject the caller. There is no option to receive the call as it's lacking a speaker and microphone.
Other than this, being a fitness-centric smartwatch you get access to 24/7 continuous heart-rate monitoring, sleep tracking, a dedicated sedentary reminder, steps tracker, and support for 12 sports modes starting from outdoor running to swimming.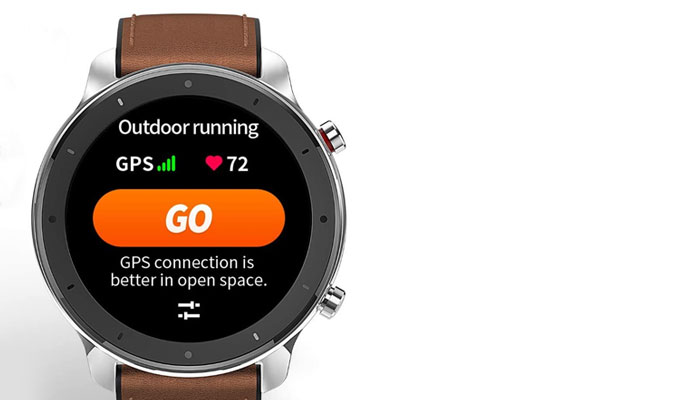 All the data that is tracked and collected by the watch will be accessible from the Amazfit app or the Xiaomi App on your phone. It will help you learn about your exercise status and deliver actionable insights to help you improve over time.
Quick Specs:
Music Controls, Weather Forecasting, Smartphone notifications, alarms and reminders, Compass, and more
24/7 continuous heart rate monitoring
Advanced sleep tracking
Sedentary reminders
Active tracking for 12 sports modes including swimming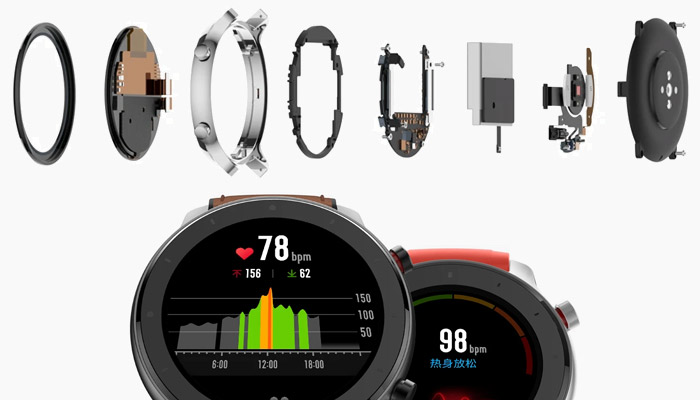 Amazfit GTR: Internal Hardware
The Amazfit GTR is a fitness-centric smartwatch, that is to say, most of its features are oriented around tracking and documenting your vitals and workouts sessions. As such, the accuracy of the tracking depends on the quality of the internal hardware.
So, to start things off, we have the Biotracker PPG biological tracking optical sensor that can help you with 24-hours continuous high-precision heart rate tracking. We tried comparing the results with that of a medically-certified heart rate sensor, and the results were astonishingly similar. Bonus points to Amazfit on this one!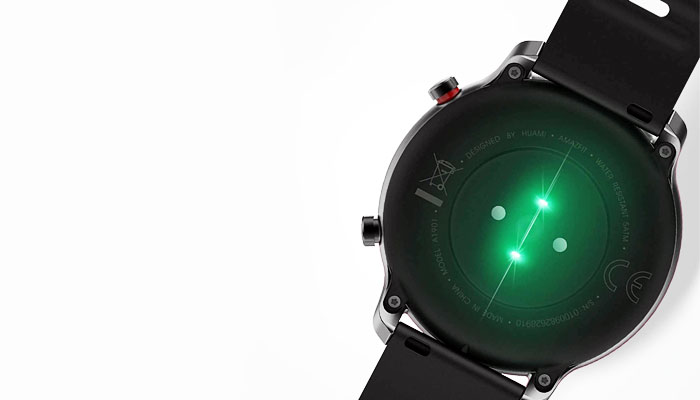 Building on top of that, we have a 6-axis accelerometer which helps with super-accurate sleep monitoring as well as steps tracking. In fact, we rarely found the device to mistakenly record some false steps when we were riding a bike or travelling in a slow-moving car.
You also have an in-built GPS with GLONASS. In my testing, it took around 15 – 20 seconds for the smartwatch to find our location, and after this stayed within 2 metres of my actual location.
Other than this, the smartwatch is rated for 5 ATM water resistance. This means you can immerse the watch to a depth of 50 meters underwater, and it will still be functional. As such, it is perfect for tracking your swimming sessions. But do remember to switch to a silicone strap as leather straps will get damaged from water exposure.
And finally, to communicate with your smartphone, the device comes with the superior Bluetooth 5.0 (latest version of Bluetooth) which ensures connection over substantially longer distances.
Note: You might have seen that the Amazfit GTR comes with NFC and it does. But it is only available to use with a select few apps. Sorry, no Samsung or Google Pay this time.
Quick Specs:
Biotracker PPG heart rate monitor
3-axis geomagnetic sensor
6-axis accelerometer
Air pressure sensor
GPS+GLONASS
Bluetooth 5.0
5 ATM – Water Resistant up to 50m
NFC (but only in Mainland China)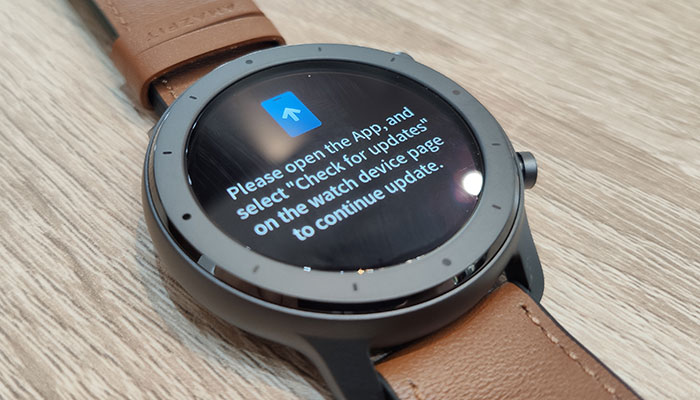 Amazfit GTR: Battery Life
Smartwatches are notorious for their poor battery life, but not the Amazfit GTR. Where the Apple Watch or the Galaxy Watch can barely get you through a couple of days on a single charge, the GTR promises weeks of battery life even with always on display + 24/7 heart-rate tracking
The only way to really kill the GTR is to have long sessions with GPS turned on.
The 42mm model comes with a 195mAh Li-Po battery and is advertised to last you around 12 days on typical usage, whereas the 47mm model offers 24 days of battery back-up, thanks to its 410mAh Li-Po battery.
In our time with both the devices, we actually found these claims to be on point.
According to their website, we tested the smartwatches by activating features like continuous heart rate monitoring, sleep tracking, and even went through 30 mins of exercise per day with GPS turned on.
And finally, with aching calf muscles, we can confidently say that Amazfit GTR has exceptional battery life.
In fact, this is further extended if you use it in basic watch mode. That is to say, if you turn off Bluetooth, GPS, the heart rate sensor, and other features, the 42mm Amazfit GTR can last you for around 34 days, or 74 days with the 47mm model.
Now, once the battery has completely depleted, you can quickly charge it back up to full in less than 2 hours. All you need to do is set the back of the watch to the USB-enabled charging base and it will magnetically snap into place and start charging through the 2-pin pogo charging connector.
Quick Specs:
410mAh (47mm) and 195mAh (42mm)
Around 25 days average usage
USB-enabled magnetic charging base
2 Hour Charge Time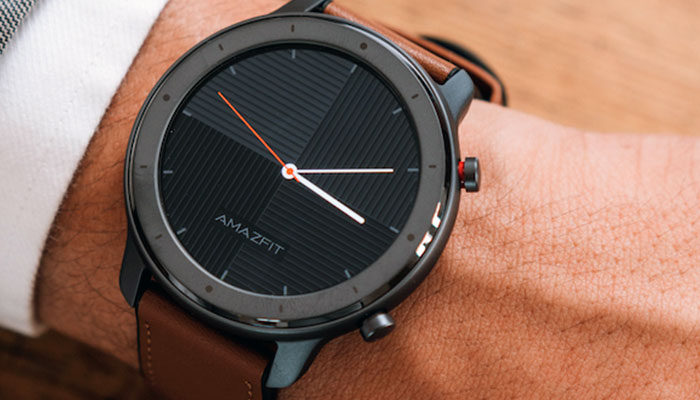 Amazfit GTR: The Verdict
Overall, the Amazfit GTR brings together a premium and classy design paired with an awesome display and a class-apart heart rate sensor.
While I can hear the Google Wear OS fanboys complaining about the lack of apps, I'd much rather have the 25 days battery life, thank you very much. ;P
With the current price-cuts on the Amazfit GTR, it's an easy recommendation for anyone wanting a health and fitness tracking watch that still looks just like a regular watch.
Has the Amazfit GTR got you grinning with excitement? Check out this week's best deals below.
Amazfit GTR – Tech Specs
Wearable
Amazfit GTR 44mm
Screen Size
1.39 Inch
Pixel Density
326
Screen Resolution
454×454
Screen technology
Corning Gorilla Glass 3
Thickness
10.75mm
Weight
40-50g grams
Material
Aluminium, Titanium or Stainless Steel
Colours Available
Grey, Silver & Pink
Bluetooth
5
GPS
GPS + GLONASS

IP Rating (Water, dust)
5ATM
Sensors
Heart rate, Pedometer, Sleep monitor
Barometer, GPS, Accelerometer, Compass
Notification
Vibrate
Battery Life
15-30 days
Battery Size
410mAh (non-removable)