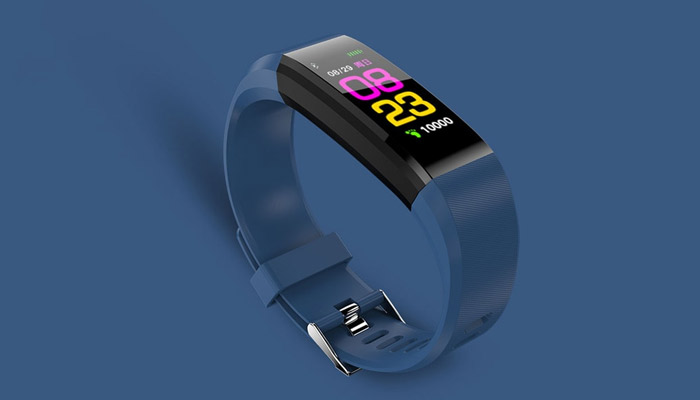 What if I told you that there's a smart band that costs £6 and can do everything your Fitbit can?
Well, you might think that I am trying to fool you, or that I've been fooled myself. But after looking at a solid 5-star rating coming from 68 users, I said to myself, "what the heck, let's give it a try." And after 2 weeks of usage, here's my full review of the 115Plus fitness band from Azhou.
Related: Amazfit Bip Review – An Awesome Retro Fitness Tracker
I kid you not when I say that the device offers excellent build quality, especially considering its price point. On top of you that, it's packed full of smartwatch and fitness feature. And best of all, it sports a colour display to showcase all your fitness metrics.
With a £5-10 price tag, the 115Plus isn't much of a gamble. From my side, the 115Plus gets a complete thumbs up. But if you're looking for some more details on this smart bracelet, then "brace" yourself, as we are going to dive deep into a comprehensive overview of the 115Plus fitness tracker.
The best value colour fitness tracker available…

Pros
Clear Colour Display
Feature Packed
IP67 Water Protection
The Price
Cons

No aftermarket service
Generic Brand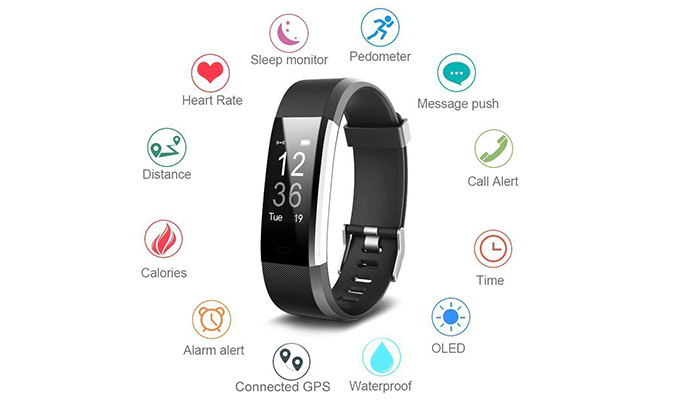 115Plus – Design & Display
When it comes to designing the 115Plus, it seems that Azhou has taken some cues from the Fitbit Alta HR. Design wise, the two devices carry an eerie resemblance, with the same sleek build and buckle clasp strap. There is no denying that the 115Plus feels solid and while not as high-end as the Fitbit, still looks nice on your wrist. You can also get the device in 5 different colours: black, blue, purple, red, and green.
Similar to the Alta HR, the straps can be attached/detached from the main device. Not only does it mean, you can interchange different coloured straps, but this also makes for a more secure configuration. For example, with the Mi Band 2, the tracker pill needs to be popped into the band/strap. This creates a not-so-strong grip causing the tracker to get dismounted if you jerk your arm too hard – a problem you won't face with the 115Plus.
As you detach the strap on the bottom, you will find the USB connector used for charging the device. The 115Plus features a 100mAh battery which can last you for an entire week. Charging the device with the provided charger takes approximately 2 hours. Not having to have an extra charging cable means you can top it up anywhere, anytime.
Now let's look at some of its feature-based hardware. At the bottom of the device, you will find the heart-rate monitor which measures your pulse using a green light. Coming to the top lies the 0.96" TFT colour display along with a touch-sensitive button. You can press the button to switch between the different information you wish to see on screen.
To access the time and other data, you simply have to lift up your wrist. This is made possible thanks to the 3-axis gravity acceleration sensor built-in.
The entire device is considerably light-weight at 49.9g and also comes with IP67 water-resistance. You can wear it while swimming or when you are taking a shower. You can pretty much wear the band under any conditions, all-day-long.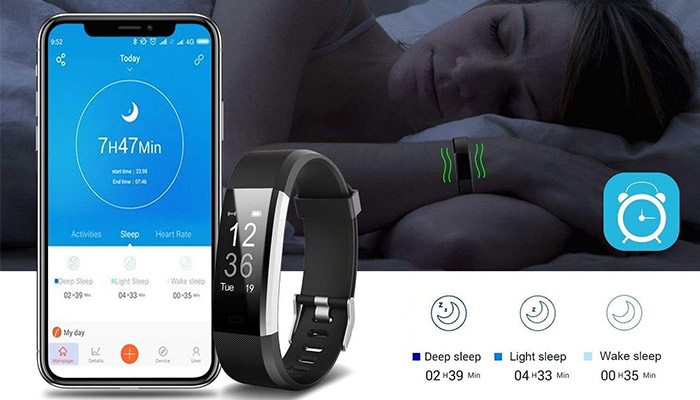 115Plus – Fitness & health Features
115Plus is a feature-rich fitness tracker. First and foremost, there is the Heart Rate and Blood Pressure Monitor to give you an overview of your health and fitness. However, it is worth noting that the device lacks any dedicated hardware to measure your blood pressure. It "calculates" your blood pressure by co-relating it with your heart-rate, which is basically fancy talk for guess work. So, this is one metric you shouldn't trust.
However, the built-in pedometer works accurately and will inform you about how many steps you have walked on a particular day. You will also get 14 different sport modes to track your activity depending on the exercise. Combining these functionalities alone will help you constantly stay on top of your fitness regime.
Also, if you are not doing any activity, the watch will remind you to stop being a couch potato. The built-in Sedentary Reminder monitors if you are inactive for a prolonged period, and then sends a reminder to get you moving.
Another feature I found insightful was the sleep monitoring functionality. Not only does the tracker keep tabs on the hours you have spent snoozing, but it can also tell you how much of that time was in deep (quality) sleep. As we all know, quality sleep is an essential part of our overall well-being.
Other functionalities
Besides all these health-related functionalities, the 115Plus also offers a bunch of additional options which I have come to love. Starting off with the basics, you can use the band to set alarms.
But what I love most is the push notification functionality which tells me if I have received a call, SMS, or message from different apps like Facebook, WeChat, WhatsApp, and many more. Granted, I must turn to my phone to view what the message was or to reply to the sender. Regardless, it is far better than a simple LED notification light that comes with smartphones.
But the most useful functionality out of the bunch was the Remote Camera Control option. It was extremely useful while taking group photographs. All I had to do was shake my wrist, and the phone would instantly take a picture. This is far more an elegant option than setting timers and hurrying back to fit into the frame.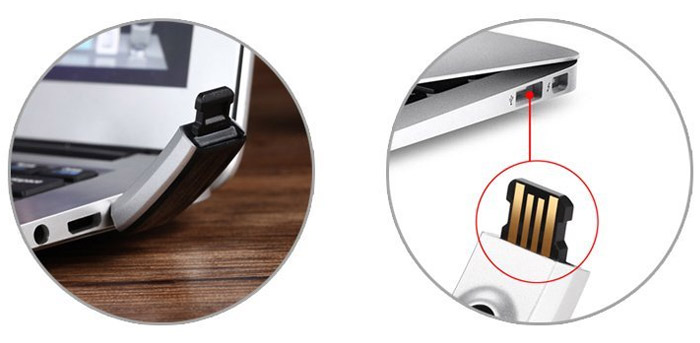 115Plus – Connectivity
Using the tracker's Bluetooth (4.0), you can pair the 115Plus to either your Android smartphone or Apple iPhone by using the companion app. However, do make sure that your iPhone is running iOS 8.0 or above, and your Android phone is updated to Android 4.3+.

115Plus – The Verdict
Cutting straight to the chase, the 115Plus is one of the best value for money fitness tracker available. Originally, the device is priced around £25-35, but has now dropped to between £6-10. At this price point, you're practically stealing it.
But at its original price point, the 115Plus faces stiff competition from the Honor Band 4 and the Xiaomi Mi Band 3 – both of which are excellent fitness bands.
All in all, with my time with the device, albeit merely two weeks, I have come to develop a positive impression. The design is solid, the feature list is exhaustive, battery life is good, it supports a colour display, and the price is super competitive – what more can you want?