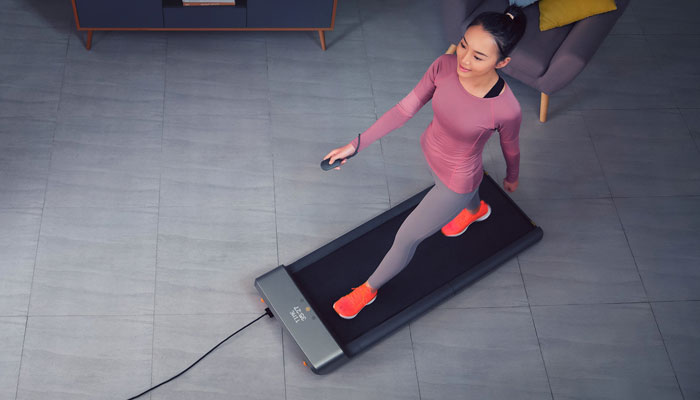 The Cleverly Designed Xiaomi MiJia A1 WalkingPad Should Be In Every Home

The lack of physical activity remains to be one of the leading risk factors for death worldwide, according to the World Health Organization (WHO). Sadly, a sedentary lifestyle is an inescapable consequence of modern-day living.
And while fitness trackers are always buzzing on our wrists, telling us to get up and move around, it's not always practical.
But what if there was a better way? Where you don't have to face the scrutiny of the gym, don't have to head outside into the cold and can get your doctors recommended dose of movement at home or at work.
Well now there is, and it just so happens that it'll also be the best looking gadget in your home! To keep you from falling into the deadly clutches of physical inactivity, you can now rely on the folding Xiaomi MiJia A1 WalkingPad.
Related: The Best Xiaomi Products You've Never Knew Existed!
With its clever design and intuitive features, this smart treadmill can be set up in seconds, and hidden away just as quickly thanks to its unique slim profile.
The fact is that we have countless excuses not to lift a finger (literally) these days. So removing any barriers between yourself and exercise is a good thing.
But the question is: What makes this walking treadmill a smarter choice over conventional elliptical trainers and treadmills? Let's find out!
The Good
Can Be Stored Anywhere
Solid Construction
Easy Setup & Intuitive Controls
It's Minimalist Beauty
The Could-Be-Better
No Incline Options
Need TO Look Down To See Display
Sleek Design
The A1 WalkingPad isn't your typical treadmill. For starters, there are no chunky plastic handrails or garish Gym Logos slapped on the side.
In fact, thanks to its minimalist routes, you could easily mistake it for a fancy, oversized bathroom scale at only 57mm thick. The only hint of that this is a treadmill comes from the bright orange wheels. Xiaomi's trademark design, is very much present.
Right away, you'll notice that the Xiaomi MiJia A1 WalkingPad is made from an aluminium alloy frame, more similar to Apple MacBooks than sports equipment.
Unfolding the A1 WalkingPad (Amazon) reveals the high-quality anti-slip belt. Supporting the wear-resistant belt is a noise reduction multilayer structure that lets you walk on the machine without disturbing anyone at home or in the office. It's seriously quiet.
Just be aware the this was created for the Asian market with a maximum load of 90kg. It's more of a keep moving keep fit device, than a dedicated weight loss machine.
… Xiaomi created the WalkingPad with sophistication in mind, and it shows …
Looking down you'll see that the LED dot display that is ingeniously hidden underneath the front panel. Underneath this, you'll also see three control buttons: Power, Settings, and Select. Although the mains power switch is located at the back, next to the power-in cable.
Another thing you'll observe about the treadmill is how Xiaomi deliberately excluded cumbersome handrails from the design. While that may seem like a huge oversight, it actually isn't given that the machine only runs 6 km/h at maximum speed. The exclusion also serves another important purpose: portability.
The biggest selling point of the Xiaomi WalkingPad, indeed, is its foldable design. From 56 x 21 inches, the device tucks into a measly 32 x 21 inches when folded. The compact setup allows you to neatly tuck the treadmill under the bed or office desk (or inside a cabinet) when you're done with your daily walkathon. This space-saving design makes the futuristic A1 WalkingPad the perfect option for desk warriors or folks living in bedsits or studio flats.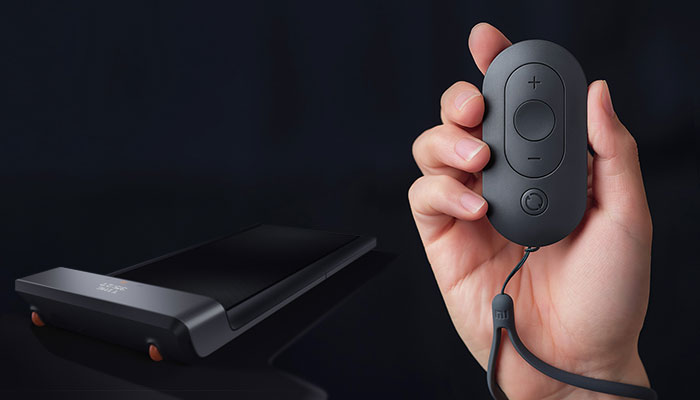 User-Friendly Operation
Unlike traditional gym equipment, the Xiaomi MiJia A1 WalkingPad doesn't require any complicated assembly from the get-go. You simply unfold it, tap the Power button (either on the supplied remote control or the front side of the machine), step on the belt, and start walking. It doesn't get more straightforward than that.
Before you step onto the machine, you have to choose between manual and automatic modes. With the former, you use the supplied remote control to turn on the machine and speed up/slow down the track. No surprise there, really. The real gem you'd find on the A1 WalkingPad is the latter mode, automatic.
… Simple, fun & easy setup …
Using built-in front and rear sensors that interpret specific movements, the MiJia A1 automatically determines the pace of your workout. It adjusts the speed of the track when it detects any change in your step. For instance, the track increases speed if your footsteps closer to the front panel. If it senses that you're slowly moving to the back of the track, it smartly slows down. With the automatic mode, you can start the WalkingPad by simply stepping on it and turn it off once you step off.
Remote
On the included remote, you can switch between the different modes, speed up, slow down and there's also an emergency stop button for when in manual mode.
Overall, the Xiaomi A1 treadmill is simple, easy to set up and very easy to maintain. The added benefit of automatic mode separates it from the competition. While a little strange at first, it becomes natural after around 30 minutes of walking.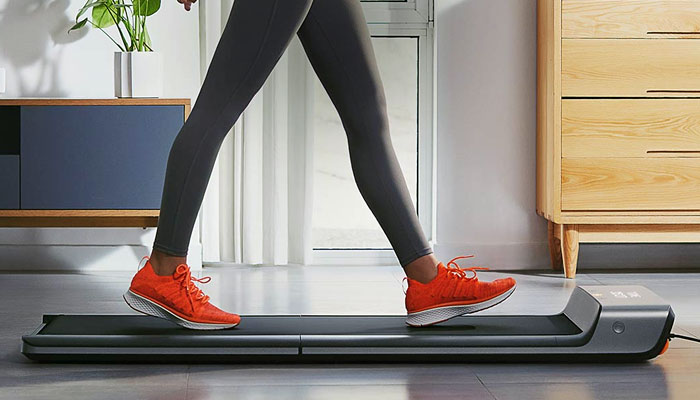 Smart Integration
With big technology brands joining the Smart Home frenzy, Xiaomi jumps into the fray with it slowly integrating its own product lines into the Xiaomi ecosystem. This initiative is put to good use with the WalkingPad A1, especially when you pair it with the Mi Home app.
After you pair the compact treadmill to the app, you then get plenty of customisation options and statistics. For one, you can track your training progress and view history of previous exercise sessions. You can even see live data as you walk on the WalkingPad.
The app also allows you to set Xiaomi's WalkingPad's maximum speed limit, its default speed during manual mode, sensitivity of the pressure sensors (for automatic mode), etc. You can even customise what's shown on the treadmill's subtle display (e.g. time, distance, speed, no. of steps, and speed).
… pressure sensitive walking zones …
You can also view your past workouts and see how far you've walked. Another handy feature is the 'Novice Mode Guide' which carefully takes you through all the functions step-by-step.
It gets better when you own a Xiaomi device with built-in Xiao AI. The brand's exclusive voice assistant allows you to control the WalkingPad via voice command, after all. The synchronicity immediately affords you better control and accessibility of the A1 WalkingPad. Sweet!
App Features: Min/Max Speed, Child Lock, Automatic-mode calibration, Dot Display Options, Statistics.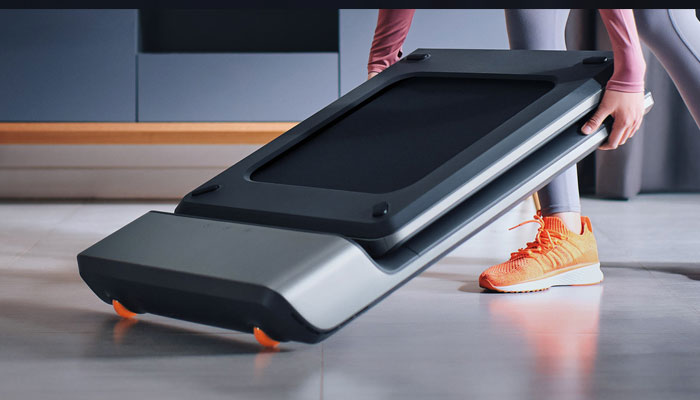 Xiaomi MiJia A1 WalkingPad – The Verdict
Thanks to its minimalist appeal, portable design, and smart controls, walking toward your fitness goal (literally) just got a little easier thanks to the A1 WalkingPad. Whether you're using it at home, at work or on the go, it quickly stores away in seconds.
Its accessibility alone makes this futuristic treadmill a worthy investment. With it, you need not suffer bad weather, cramped gyms, and steep membership fees just to squeeze in a few minutes of cardio into your daily schedule. Set it up in front of the telly and you now have a healthier way to catch up with all your favourite TV shows.
We're a little disappointed by its limited range of speed (compared to conventional treadmills) but, perhaps, the whole point of this innovation is to encourage you to start caring about your health and fitness before it's too late.
Do we recommend the Xiaomi MiJia A1 WalkingPad? To give you one less excuse to not exercise… Yes!
Xiaomi WalkingPad A1 – Tech Specs
| | |
| --- | --- |
| Model | Xiaomi MiJia A1 WalkingPad Treadmill |
| Material | Aluminium Alloy / ABS |
| Max Speed | 6km/h |
| Min Speed | 0.5km/h |
| Maximum Load | 90kg |
| Product Weight | 28kg |
| Dimensions (Folded) | 82 x 55 x 13 cm |
| Dimensions | 143 x 55 x 13 cm |
| Belt Size | 120 x 41.5 cm |