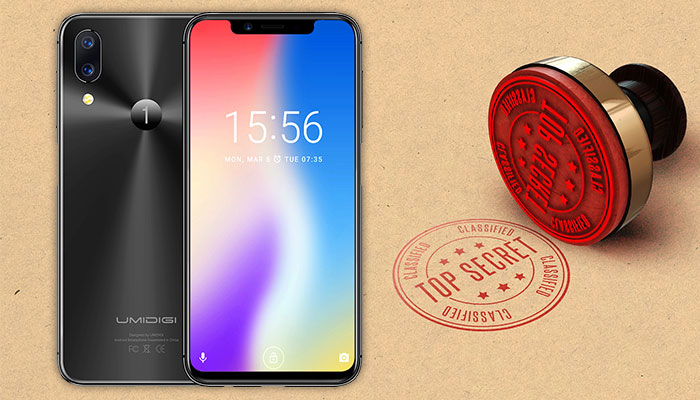 The next UMiDigi Flagship is here… The UMiDigi Z2
It feels like only yesterday that UMiDigi were just another Chinese smartphone brand bringing out mediocre budget devices.
Well over the last two years, they've pushed, fought and dragged there way into the mainstream creating a whole range of smartphone catering to everyone from super budget to premium mid-range devices.
The next UMiDigi smartphone to be released is the UMiDigi Z2 and it'll be featuring MediaTek's new Helio P60 AI chip. The same chip that was shown off this year at Mobile World Congress, Barcelona.
[column size=one_half position=first ]
The Good
Helio P60 AI Chip
15 Watt Wireless Charging
[/column]
[column size=one_half position=last ]
The Bad
Not a MediaTek 'X' Range
Average Gaming Graphics
[/column]
Design, Display & Build Quality
I can only speculate on the design so far… but we can gather some facts based off of recent UMiDigi One leaks. The UMiDigi One is to be the little brother to the UMiDigi Z2. The Lite Version.
We can safely assume that the Z2 will come with an 18:9 aspect ratio and it will most likely also feature a top notch like the iPhone X.
Related Content: Oukitel U18 comes with a display notch..
The resolution will be at least Full HD, with a PPI of 400+. With a CPU like the Helio P60 it's unlikely that the Z2 will jump to Quad-HD.
If there are two versions released, the Pro will likely have an OLED display with the normal only featuring an LCD display. Whether UMiDigi have OLED Notch technology yet is still a mystery though…
Screen Tech Specs: 6 inch display, 2160 x 1080 resolution, 403 PPI, 18:9 Aspect Ratio with curved edges, Top Notch
Colours Available: Black, Grey & Red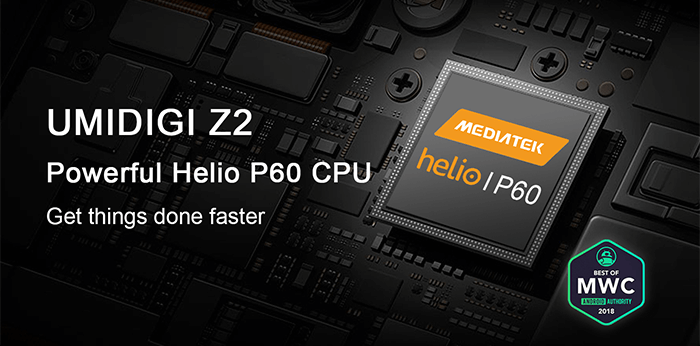 Performance
While not in the same league as the Helio X30 and still a long way behind the Qualcomm's Snapdragon 800 series, the Helio P60 still deserves some merrit.
It's built on MediaTek's the power efficient 12nm die process, bringing with it huge power savings. The P60 uses an 8-Core big.Little design with 4 ARM A73 2.0GHz Cores + 4 ARM A53 2.0GHz Cores.
This gives it 25% more power efficiency than the Helio P23 we're seeing crop in almost all new budget MediaTek Devices.
The big difference comes in the form of MediaTek's Neuropilot AI API built into the chip. This will let developers harness the power of AI learning within their smartphones.
We're likely to see 6GB of RAM and both a 64GB & 128GB storage models. In past Z models, UMiDigi has used high-performance RAM and Storage modules.
Whether it makes it into the final release, I can't say, but an UMiDigi source has stated that the Z2 will come with an Infrared module.
We're also going to see wireless charging at 15 watts (5A/15W) which will charge the Z2 from 0-80% in 1 hour. Impressive.
If the Z2 is as hipster as we believe… it'll also come with a top notch.
CPU: MediaTek Helio P60 Octa-Core
GPU: ARM Mali-G72 MP3 800MHz
RAM: 6GB LPDDR4X (unconfirmed)
Storage: 128GB (unconfirmed)
UMiDigi Z2 – The Super Early Verdict
It's really too early to give a verdict on the UMiDigi Z2. Instead, I'll leave you with some questions?
Is the Helio P60 good enough for the next UMiDigi Flagship? or do you expect a MediaTek Helio X30? Or Snapdragon CPU?
Does the UMiDigi Z2 need to have an OLED panel? and should it use a notch?
Related Content – Top 5 UMiDigi Smartphones

Related Content – Best Bezel-less Smartphones 2018