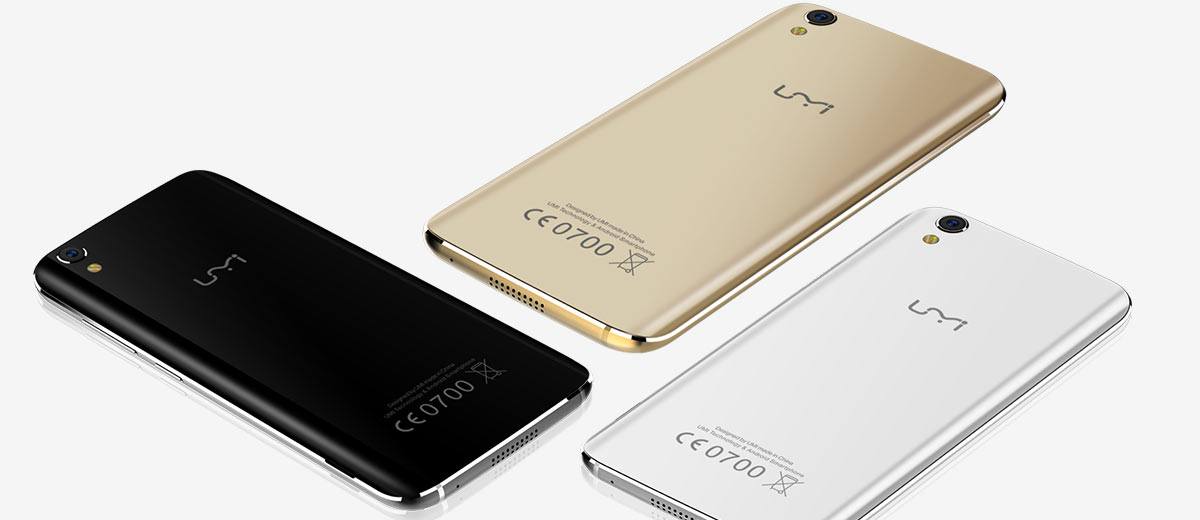 The UMi Diamond X is one hell of a Sexy Smartphone that ticks all the budget boxes!
If you haven't heard of UMiDIGI (UMi for short) then you must have had your head in the sand as they've been helping to reshape the budget smartphone market by proving wrong our misconceptions about small mobile brands! Check out all of our UMi Smartphone Reviews.
The team behind UMi are known for creating sleek & stylish Android devices with the UMi Diamond X being no exception. With the Diamond X borrowing heavily from the design department of the ever-popular Samsung Galaxy range, I wouldn't blame you for confusing the two side-by-side.
[column size=one_half position=first]
Don't let this put you off though as clone phone or not, what you get with the Diamond X is truly value for money. Starting with a price tag of £85.99, the Diamond X comes with a sleek premium design, solid build-quality and a vibrant IPS LED screen.
This smartphone combination all adds up to firmly put the UMi Diamond X high up on my list of favourite budget smartphones this year!
[/column]
[column size=one_half position=last ]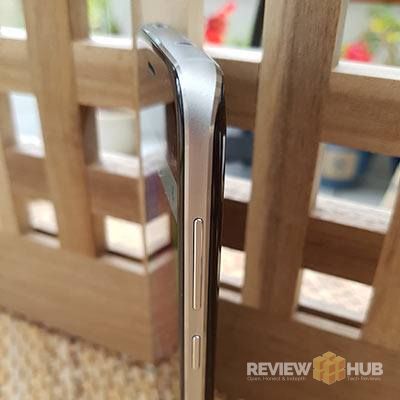 [/column]
Unfortunately, I didn't get a chance to review the original UMi Diamond Smartphone but the differences between the two models are easily explained. The Diamond 'X' comes with less RAM (2GB) and a slightly slower quad-core CPU. In terms of Design, Camera & Connectivity, the two models are identical. So, you're essentially saving on the overall cost for a small sacrifice in performance.
So let's check out the UMi Diamond X Pro's & Cons before I explore in-depth the Screen Quality, Build Quality, Performance, Software, Connectivity, Camera & finally Battery Life.

[column size=one_half position=first ]
What We Love

Premium Design
Low Price
Solid Build Quality
Vibrant Screen
Removable Battery
[/column]
[column size=one_half position=last ]
Could be better

Capacitive buttons aren't backlit
No pre-applied screen protector
[/column]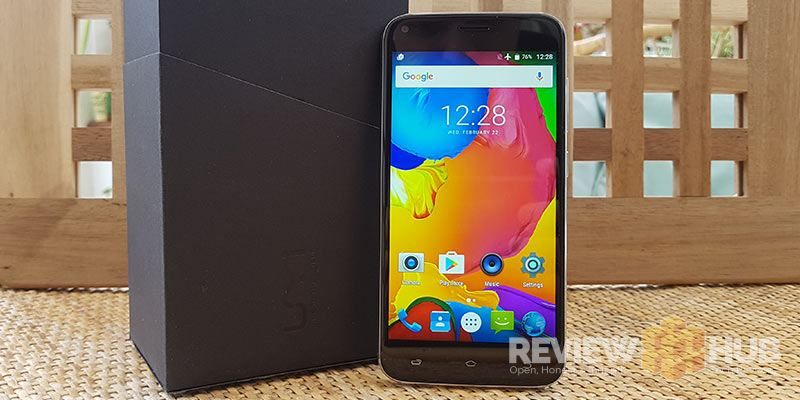 Screen Quality
The UMi Diamond X comes with a 720×1280 resolution IPS display that is bright, vibrant and has good viewing angles. In terms of screen bezels, they're not impressively thin but they aren't overly large either.
The Black levels on the display are okay but don't reach the depths of the surrounding phone border. I'm happy with this though as overall the display is good for a budget device. Viewing angles show little colour change or brightness dip when tilted.
[column size=one_half position=first ]
Where the screen really shines is in its vibrant colour reproduction. Although it's not OLED, the colours really pop on default settings and then you can enhance this further using the inbuilt MediaTek MiraVision options via the settings.
[/column]
[column size=one_half position=last ]
…Bright & Vibrant 720P Display…

[/column]
It's worth noting that UMi haven't gone down the traditional Gorilla Glass route with the Diamond X. They've chosen to go with Toughened Dual T2X-1 Glass which we know little about.
Overall, the UMi Diamond X 720P display is a pleasure to look at with a good max brightness and vivid colours.
Screen Tech Specs: 720×1280 pixels, PPI, IPS LED, 2.5D Curved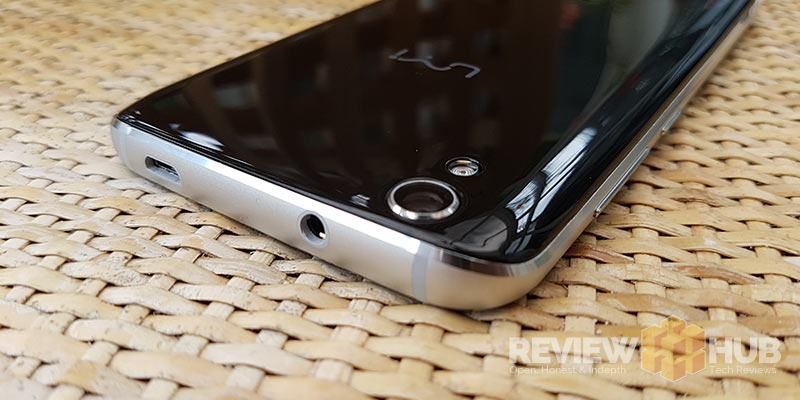 Design & Build Quality
This is where the Diamond X gets exciting! For a budget phone, I absolutely love the design and most importantly it feels great in your hand with the high gloss plastic back giving plenty of grip. The phone feels solid without feeling overly heavy and the side buttons have a premium feeling firm action to them.
[column size=one_half position=first ]
When put next to the Samsung Galaxy S7 you start to see where a lot of the design inspiration came from for the UMi Diamond X. The soft curves of the side and metal unibody frame are almost identical.
Upon very close inspection, it doesn't stand up to the highest level of craftsmanship that we expect of flagship phones. But, for a phone that sits clearly in the budget category it certainly outshines the competition.
[/column]
[column size=one_half position=last ]
… Premium Design with a budget price tag …

[/column]
One area that UMi forgot to copy from Samsung was to backlight the capacitive buttons on the Diamond X. On a plus note, there is a notification LED.
It's top marks to UMi for the Design & Build Quality of the UMi Diamond X. You won't see any shabby mould lines or air gaps on this S7 lookalike!
Colours Available: Black, White & Gold


Hardware & Performance
So far so good, but how does the UMi Diamond X perform when it comes to hardware? It certainly isn't as nippy as some other budget devices I've used with the newer Helio MediaTek CPU's. Even so, it still handles all the day-to-day tasks such as web browsing, opening & closing apps easily without any jerkiness or slow downs.
[column size=one_half position=first ]
In terms of mobile grunt, we find a 1.25GHz quad-core MediaTek MT6737 mobile CPU that is backed up with 2GB's of RAM and 16GB's of storage. All this equates to a low-end budget hardware setup that's perfectly fine for light Android users.
[/column]
[column size=one_half position=last ]
…a good performer for the light Android user…

[/column]
In terms of storage, the Diamond X comes with 16GB's of storage (11GB Usable) but includes the option to add a Micro-SD card of up to 128GBs. You will have to sacrifice the 2nd SIM slot to expand the storage. We tested the speed of the internal storage it performed well.
CPU: MediaTek MT6737 (Quad-Core 1.25GHz)
GPU: ARM Mali-T720
RAM: 2GB
Storage: 16GB (11GB usable) (read speed: 91MB/s, write speed: 53MB/s)
Expandable: Yes (Dedicated slot up to 128GB)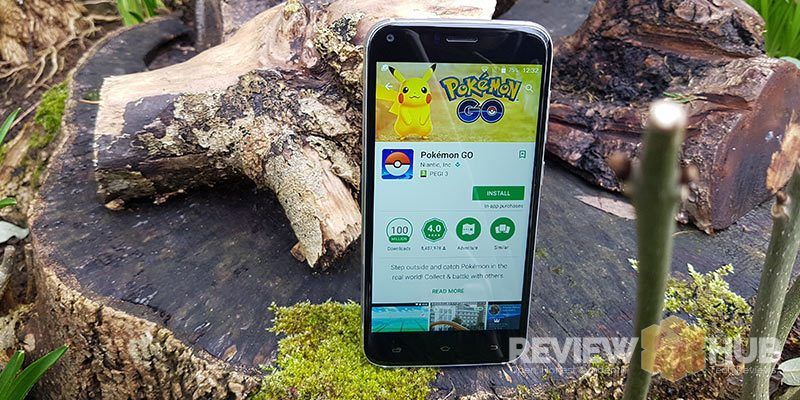 Gaming
Gaming is pretty much what you'd expect from a budget orientated device with MediaTek's low-end Mali-T720 Mobile GPU. Which is that it plays our favourite 2D games like Clash of Clans easily but struggles a little on the more 3D intensive titles.
As the screen is only 720P, it did play games more smoothly than Full-HD smartphones I've tested with same Mali-T720 mobile GPU.
I've posted the benchmarks below from the most popular Android benchmarking tests. Geek out all you want!
[column size=one_half position=first ]
AnTuTu Benchmark 6

3D – 2358
UX – 12297
CPU – 10498
RAM – 4400
Overall Score: 29553
[/column]
[column size=one_half position=last ]
Geekbench Score:

Single Core Performance: 533

Multi-Core Performance: 1476

[/column]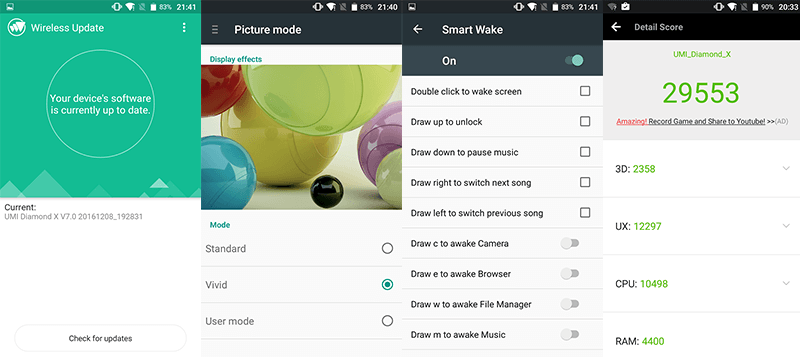 Software
In terms of Software, the Diamond X uses a non-bloated close-to-stock Android ROM. Running on Android 6.0, it is a generation behind the newest version of Android OS (Nougat 7.0). UMi have been quite good at updating their flagship models to Android 7.0 but only time will tell if this trickles down to the budget Diamond X.
The phone is also fully compatible with the Google Now Launcher for that more authentic Android experience. One annoying software feature is that UMi have hidden the recent apps command behind a long-press of the home button.
Other features include: Not Rooted, MiraVision (Colour tweaker), Double-tap to wake, Bluetooth Smart Lock, SIM Management.

Speaker & Call Quality
I didn't have any issues when testing out the internal microphone & speaker on the UMi Diamond X. Calls were clear and didn't suffer from any muffled voices or low volume levels.

The external speaker was middle of the range but leaning more towards budget & tinny. Whilst perfectly fine for loudspeaker calls you'll want to plug your headphones in before watching Netflix.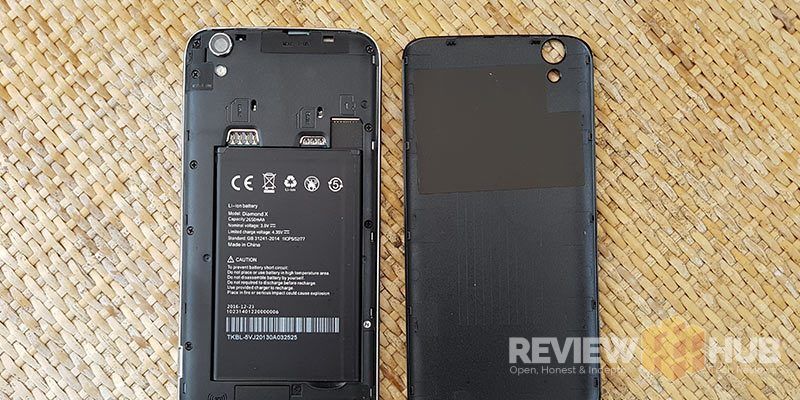 Battery Life
Battery life was better than I expected with the 2560mAh battery lasting me the entire day during testing. For power users, you'll probably be wanting to carry around some extra juice but for occasional browsers who spend most of the day attached to a source of WiFi you shouldn't need to recharge throughout the day.
Great news for power users is that the battery is fully removable, so you can purchase a spare for emergencies or longer trips.
There aren't any quick charge capabilities but the battery included is manufactured by Sony so we should see a reasonable amount of longevity / cycles.

Camera
Whilst it certainly won't keep up with a flagship camera lens I managed to get some good looking snaps from the UMi Diamond X considering how overcast the day was.
Working with HDR mode certainly seemed to work well and improved the definition in a lot of the photos. You can see the full album of test photos over in our Diamond X Flickr Album.
Camera Features: HDR, Gesture Snap, Beauty mode, Smile Detection, Face Detection, Timer, Time Lapse, Panorama

[column size=one_half position=first ]
Rear Camera:
8MP (Hi843B)
Interpolated to 13MP
Flash
1080P Video Record
[/column]
[column size=one_half position=last ]
Front Camera (Selfie time):
2MP (SP2509)
Interpolated to 5MP
[/column]
Connectivity
Connectivity on the Diamond X is good and we see features such as Dual-band WiFI, Dual 4G SIM Slots as well as GLONASS tracking. You will have to sacrifice the dual SIM support if you want to use the Micro-SD card functionality.
It comes with full UK bandwidth support for both 3G & 4G.
Frequencies Supported: GSM (2G) 850 / 900 / 1800 / 1900MHz, WCDMA (3G) 900 / 2100MHz, LTE (4G) 800 / 1800 / 2100 / 2600 (B20, B3, B1, B7)
3G: YES
4G: YES
Full UK Coverage: YES
Bluetooth: 4.0
GPS: GPS, A-GPS, GLONASS
NFC: NO
Sensors: Accelerometer, Light sensor, Proximity Sensor, Magnetic
USB OTG: YES
USB Type: Micro-USB
SIM support:  Dual standby (Micro-SIM + Nano-SIM)
WiFi: 802.11a, b, g, n 2.4GHz + 5GHz (Dual-band)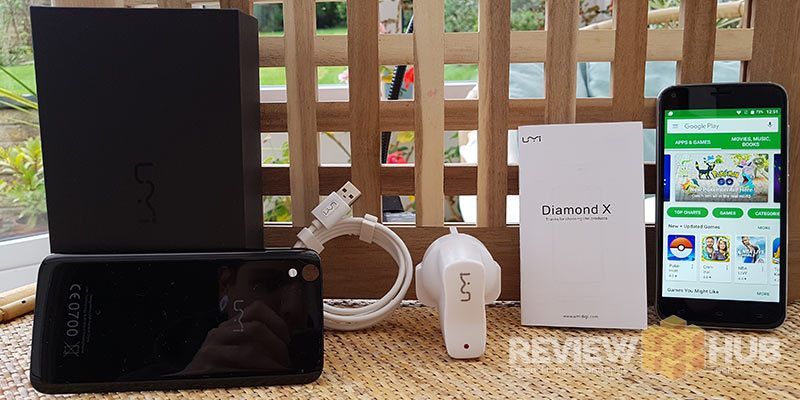 Packaging & Box Contents?
After having recently unboxed the Blu VIVO 5R, the UMi Diamond X packaging left me feeling a little underwhelmed. Inside the box, you'll find a regional charger, micro-USB to USB cable, instruction booklet & Diamond X smartphone.

Not even a screen protector this time, UMi you are getting stingy! : )
The bottom line…
I can sum up the UMi Diamond X quite easily. It's budget Android Smartphone that's been squashed inside a premium looking well-built Galaxy S7 clone that comes with a vibrant screen and okay camera performance!
What more could you want from a budget phone?