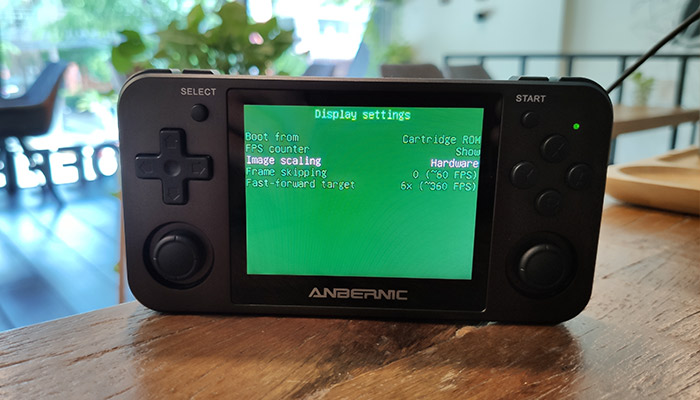 Why do GBA Games Look Blurry & Soft on my shiny new Anbernic RG350M (reGBA emulator)?
Is exactly what I was thinking when I received what has to be the coolest retro gaming machine for my birthday, the Anbernic RG350M (Amazon).
After searching the Reddit forums and OpenDingus website, I couldn't find an answer to the reGBA scaling issue I was facing. The original Anbernic RG350 has a lower resolution display and doesn't suffer from blurriness or softness issue.
The new RG350M (Retro Gaming 350 Metal) having a higher 640×480 resolution, just doesn't look right. The edges are too soft & everything's a little blurry… the inbuilt software is seriously making a mess of my childhood nostalgia…
So I tried everything setting in ReGBA settings by pressing the 'power button' in-game and entering 'Display Settings' then 'Image Scaling'.
None – Looks great. But only half of the display used.
Hardware – Blurry / Soft
Aspect & Full Linear – Blurry / Soft
Full Scan – – Blurry / Soft
Aspect Bilinear – Blurry / Soft
Aspect & Full sub-pixel – Blurry / Soft
And got nothing… I couldn't fix the issue at all. The only way to get the GBA games pixel perfect on this retro handheld was to use the 'None' option which adds a GBA frame around the edge making the playable area half the size.
Blurry reGBA – The Solution
It turns out that reGBA automatically adds a pretty strong default sharpness every time you load it up. To change the sharpness on your RG350M, you hold the 'Power' button and the use 'Up & Down' on the DPad.
Turn the sharpness off completely: Hold with Power + Down.
As for the 'Image Scaling' setting, leave this set to 'Hardware'.
Now bask in the glory of perfectly sharp, pixel-perfect scaled Game Boy Advance games!
Yeah, I know it's not the original 240×160 resolution, but it looks great scaled up on the RG350M's larger 3.5″ IPS panel!
And before you ask, no. I've not got a clue how you get the ReGBA emulator to save the sharpness level. Comment below if you have the answer, but for now, you have to follow these quick & simple steps each time you start reGBA.
Leave a comment if this helped you and share your top RG350M tips below! : )