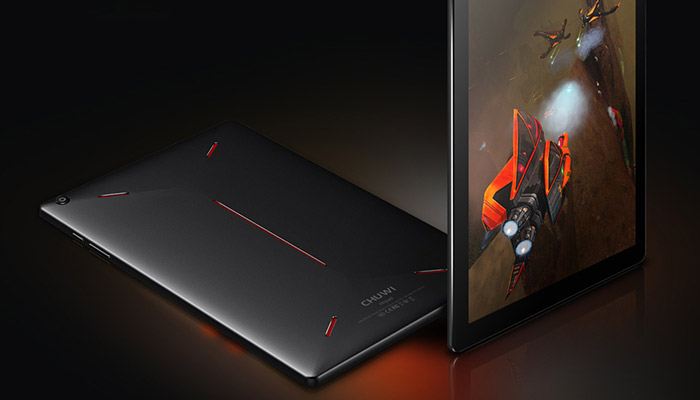 Chuwi, a Shenzen (China) based company, has been pumping out a lot of tablets and laptops over the last year. And quite frankly, all of them do provide a bang for the buck.
Here at Review Hub, we've covered a couple of their laptops and tablets in the past. And now, we will be bringing you an overview of their latest budget gaming tablet – the Chuwi Hipad.
With an extremely affordable price tag, the Hipad offers great specs wrapped up in an awesome all-metal chassis. It's super sleek at 9.4mm and stays true to its "gaming" route with red detailing over the back panel. And at the same time, you get enough power to run any game in the Android PlayStore.
Furthermore, it's totally up-to-date, running Android 8.0, and ships with barely any bloatware.
Now, with all the introductory stuff out of the way, let's dive into our comprehensive overview of the Chuwi Hipad.
This Week's Best 'Chuwi Hipad' Offers…
Pros
All Metal Design
Solid Performance
Large Bright IPS Display
Affordable Price Tag
Android 8 OS
Lightweight at 490g
Cons

Low-res Cameras
Lacking Sensors
Larger Real-life Bezels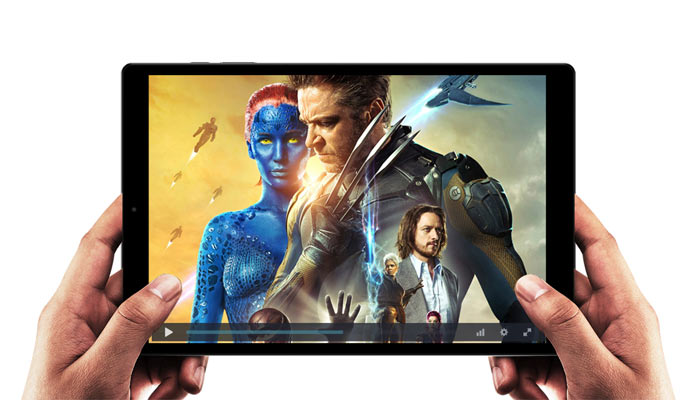 Display
The device has a 10.1-inch screen, with a 16:10 aspect ratio. This is excellent! Most modern smartphones are coming with a 6-inch screen. So a tablet with a marginally larger screen size of 7-inches or 8-inches just doesn't cut it these days. With a 10.1-inch display, you get noticeably more screen real-estate, which is exactly what we want from a gaming tablet.
… Glorious 10.1″ IPS Gaming Display…
Now for the display quality – the Chuwi Hipad is being marketed as a tablet for gaming and entertainment. So unlike the 2K display we find on the Chuwi Hi9 Air, the Hipad opts for a 1080P panel with an 18:9 resolution. This lower resolution means you'll get more performance from the Hipad as there are less pixels for the CPU to compute. The PPI (Pixels per inch) is still a respectable 224 which letting your games pop with crispness.
Viewing angles are okay, but it's an IPS display best looked at straight on and max-brightness is also good.
Other than this, the screen boasts OGS (One Glass Screen) full lamination technology. So you can rest assured that the Chuwi Hipad offers an immersive experience while playing games or binge-watch your favourite series.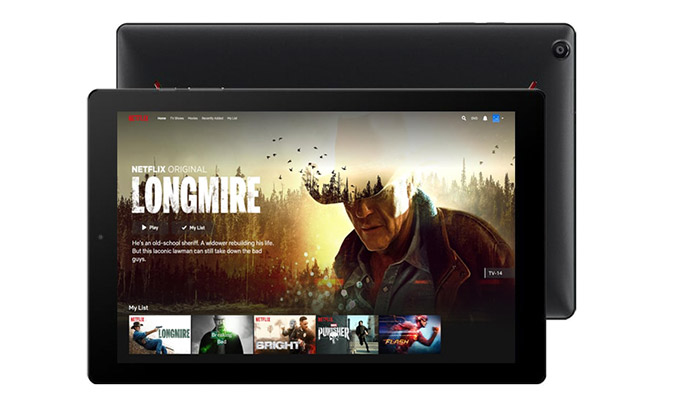 Design & Build Quality
From the front, the Chuwi Hipad looks like any regular 10.1-inch Android tablet. But it's not until you turn it around that you see the gaming detail.
As you can see from the images, the four-way slanted back, along with the red indentations create a stunning design. While it's not RGB like we see on the latest Gaming Smartphones, it's still a neat design touch.
… Superior all-metal design …
It uses a full metal body which feels very premium in your hands. Also, thanks to the rounded corners, a slim body (just 8.0mm thick), and the slanting back, it's quite ergonomic as well. However, do note that it will wobble if you use it on flat surfaces.
The device is also light-weight at only 490g so won't be tiring your arms out during those long MOBA sessions.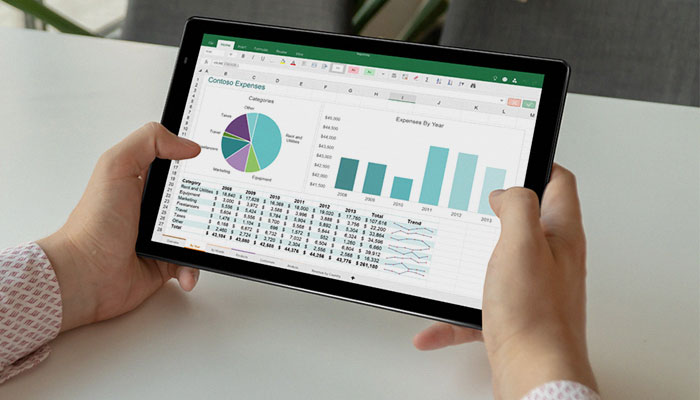 Performance
So we have established that the Chuwi Hipad looks great. But what about its performance?
Since the Hipad is a tablet aimed at gamers, the pressure is high to deliver on performance.
So have they managed this?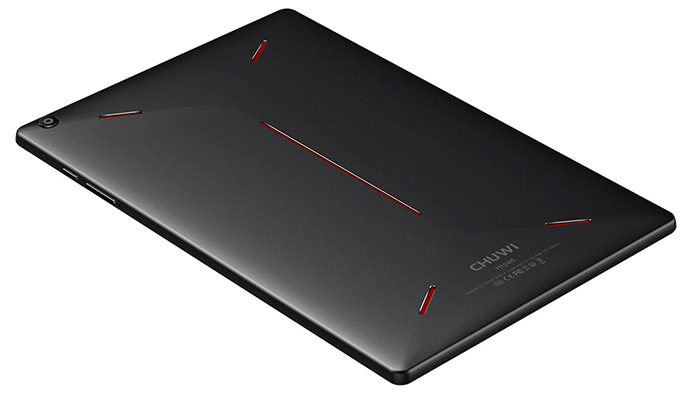 CPU & GPU
Let's start with the processors. Under the hood, there Chuwi has used the Helio X27 chipset to power the Hipad. This was the flagship-level chip created by MediaTek in 2017. It follows the 20nm manufacturing process and features 10-cores in a tri-cluster (2.6Ghz + 2.0GHz + 1.6Ghz) structure.
You get 2 fast Cortex-A72 cores designed for burst performance at 2.6GHz clock speeds. Then there are 4 Cortex-A53 cores clocked at 2.0GHz and 4 Cortex-A53 cores clocked at 1.6GHz. And for handling the graphics performance, the X27 used the integrated Mali-T880 GPU with an 875MHz clock speed.
All these numbers don't help paint a clear picture of the overall performance. So let's break it down.
By 2018 standards, the X27 isn't something extraordinary, but it will still run all those high-end games and heavy apps. If you have ever owned a smartphone donning the Snapdragon 821, then you can expect a similar performance.
Just because a mobile chip is older, that doesn't mean you should write it off. Last years high-end MediaTek & Qualcomm mobile CPU's will still offer better performance than this year's mid-range lineup.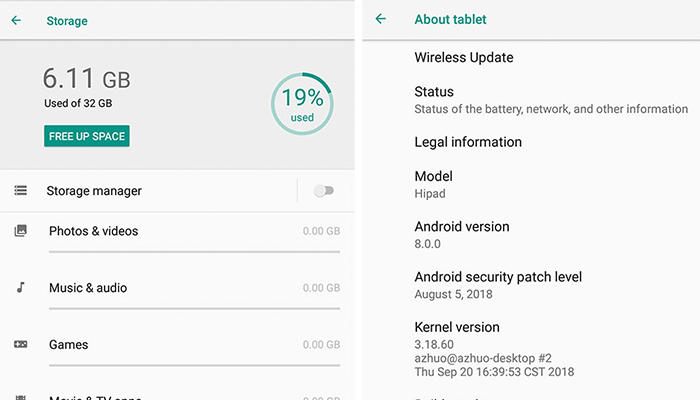 Memory & Storage
The Chuwi Hipad features a 3GB's of RAM and 32GB's of onboard storage.
Now, you might note that many smartphones are coming out with 6GB's, even 8GB's of memory. So isn't the Hipad lacking in this department?
Well, the main question boils down to this – do you need 6 or 8 Gigs of RAM for your Android smartphone? Many tech experts are of the opinion that… you don't!
As of 2018 standards, the average consumer will rarely be able to utilise all that extra memory. 4GB of memory is unanimously considered to be sufficient. So with 3GB's of memory, is the Hipad is making a slight compromise? Yes & No.
Compared to a 6GB tablet, it means you're going to have to close down some of those open applications a bit more often to free up the Hipad's memory. But with Android 8 being pretty adept at RAM management, you'll only notice the 3GB when pushing the Hipad to its max.
With that being said, there is no hiding the fact that 32GB of storage is just too low. Especially considering a portion of the space will be taken up by the OS itself. But thankfully, there is support for expandable storage. So when you need to, you can pop-in a 128GB(max) microSD card, and voila – more room for your movies, pictures & games.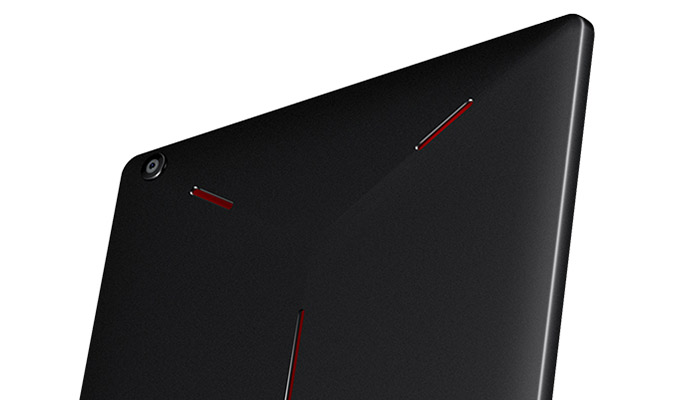 Camera
Tablets are not generally associated with outstanding camera performance, and the Chuwi Hipad has no intention of break this stereotype. The device comes with a 5MP shooter on the front and the back. The picture quality produced is nothing to brag about.
In fact, you will probably take better pictures with your smartphone. However, something is always better than nothing. Who knows when you have to scan that QR code or make a video call?
Battery Life
Now onto the battery life. All these components are powered by a massive 7000mAh battery. Couple that with the well optimised Helio X27 processor, and the Hipad offers excellent battery life letting you rack up those headshots in PUBG wire-free.
Related: Smartphones with epic battery life
While not as big as the 8000mAh we find on the Chuwi Hi9, you'll still get between 5-7 hours screen-on time. Although, expect less than this when gaming as this is the most power hungry task a tablet or smartphone can perform.

Sensors & Connectivity
So far, great design and solid performance; so how did Chuwi pull this off and still keep that budget price tag?
Well, they cut some corners where you least expected.
The Hipad has skipped many of the standard tablet sensors. For example, there is no gyroscope or compass, so VR & games like Pokemon Go are limited. It's also missing an ambient light sensor meaning you'll have to manually adjust the brightness yourself.
When we take a look at the Chuwi Hipad connectivity, it's a different story.
The Hipad comes equipped with dual-band AC WiFi for the fastest & most stable connection when gaming. The 5GHz band has improved signal stability when indoors and is often less crowded than 2.4Ghz if you live in an apartment. We also have Bluetooth 4.2 and a 3.5mm headphone jack included.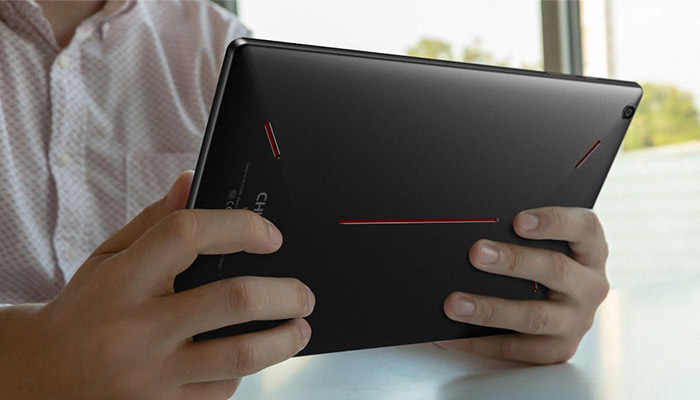 Chuwi Hipad – The Verdict
So should you buy the Chuwi Hipad Gaming Tablet?
Choosing last years flagship MediaTek X27 chip is a smart move. It's not only helped to keep the cost down but also provides the tablet with high-end performance. While I would have liked to have seen at least 4GB of RAM, the 3GB is enough for gaming with a little Android management.
The real high-points for the Hipad come from the metal body combined with the FHD+ bright display. I don't mind that it's missing a gyroscope and a great camera as none of these impact the gaming performance of the Chuwi Hipad.
All in all, if you like to play Android games, and enjoy streaming media content, then the Chuwi Hipad deserves a place on your tablet short-list.
Has the Chuwi Hipad got you excited? Check out the latest deals below…