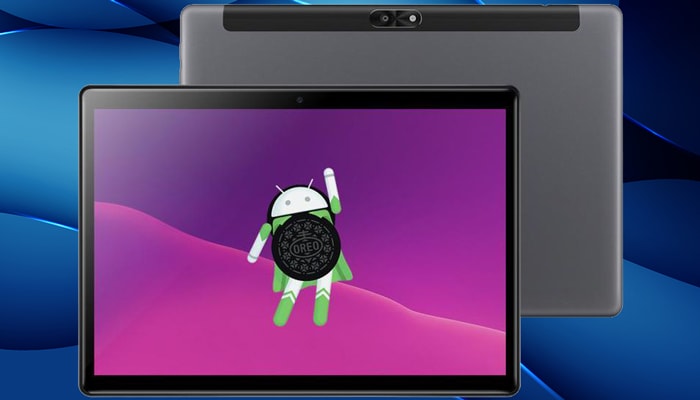 Chuwi Hi9 Air – Hands-on Android Tablet Review
The Chuwi Hi9 Air aims to prove that Android tablets are still relevant. With ever-increasing smartphone screen sizes, is there still a place for 'droid tabs? Chuwi certainly think there is. In recent years they've been quietly cementing a reputation as one of Shenzen's premier tablet/laptop/combo manufacturers.
Chuwi have been very busy recently. Along with the CoreBook and SurBook they're also released the original Hi9 in the last 12 months. Of course, naming conventions are never simple when it comes to Chinese tech. The Chuwi Hi9 has an 8.4 inch screen, but the Hi9 Air's is 10.1 inches!
I'm please to see an impressive spec-sheet too. Boasting the deca-core Helio X20 CPU, 4GB RAM, high resolution screen and massive battery this is a well kitted out machine.
Let's have a quick check on the positives and negatives before taking a more in-depth look at the Hi9 Air.
Grab the bargain Chuwi Hi9 Air…
The Good
Serious specs for a tablet
Very generous 8000mAh battery
Can also be used as a huge dual-SIM phone!
The Bad

Only micro-usb charging
No accessories as yet
A couple of cheap-feeling construction aspects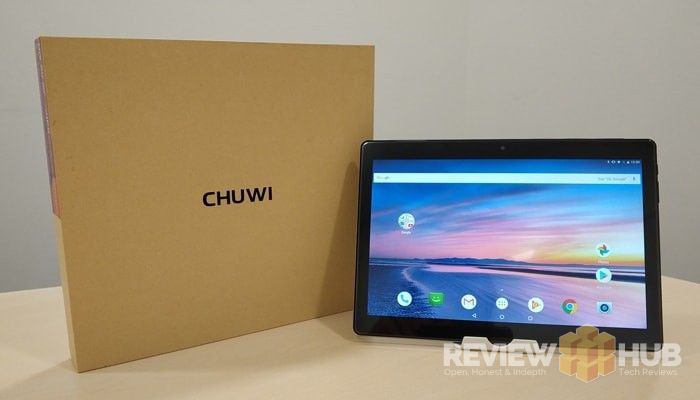 Design & Build Quality
Unlike an iPad, the Chuwi Hi9 Air is clearly designed for use in the landscape orientation. In this position we find the camera at the top, and the power/volume buttons on the right. There's more movement in the power button than I'm happy with, hopefully this doesn't become problematic down the line.
Upon powering up, the first thing that I noticed was that the side bezels are relatively narrow. I'm not talking 'smartphone narrow', as James discusses in his article we're not expecting tablets to take up this trend any time soon. But, in terms of the more price-conscious end of the market the Chuwi looks good.
The main shell is constructed in a matte black metal which, while prone to collecting finger-prints, feels solid enough. There's a silver bevel running round the edge where the case meets the screen, and this catches the light and is another nice touch.
But…
Spoiling all Chuwi's hard work is an incongruous plastic access panel surrounding the rear camera, incorporating the headphone and charging ports, and running nearly the fill width of the tablet. Removing this reveals the slots for a micro SD cards and 2 SIMs. Not only does this look and feel incredibly cheap, I've got concerns that this may fail over time… Please please please just use a SIM tray next time Chuwi!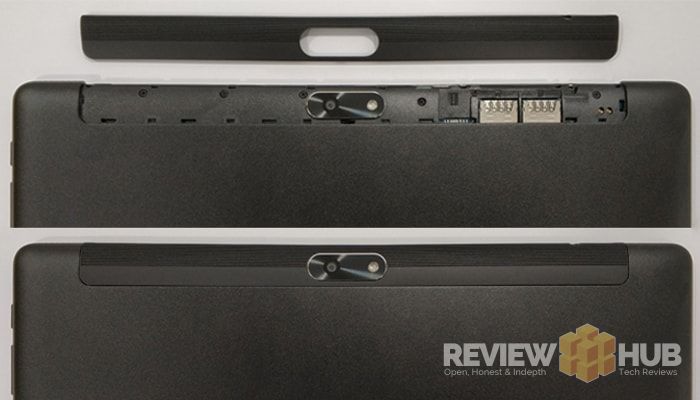 Display
While the smartphone world has almost entirely moved to a stretched 18:9 display ratio, this format would be unsuitable for tablets. The Hi9 Air has a 16:10 ratio 10.1 inch screen, which is very close to the golden ratio. I'm not going to get into a debate about whether 16:10 is better or worse than 16:9, both have benefits for certain applications.
In default setting the whites edge towards the bluer end of the spectrum. MediaTek's built in Miravision app allows you to configure this, but unlike Vanish I was unable to get them to display whiter than white.
The screen brightness could be better. While it's absolutely fine indoors, it's struggled a little outside in the bright sunshine. I would have liked to see an auto-brightness mode too.
Screen Tech Specs: 10.1 inch 16:10 Display, 2560 x 1600 resolution, 299 PPI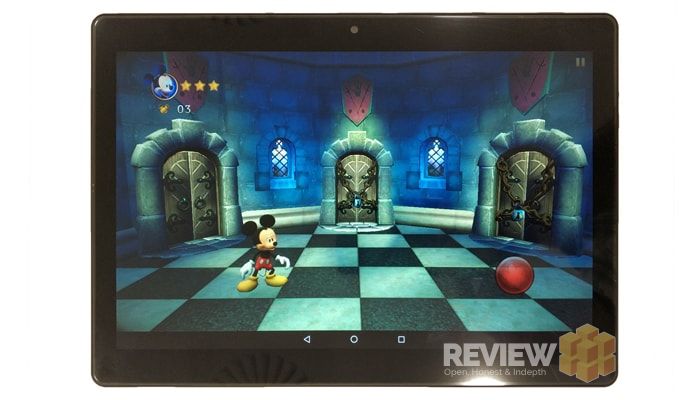 Hardware, Performance & Software
You don't often find the latest and greatest CPUs in tablets. Most tablets rarely stray out of what would be mid-range territory for a smartphone, and the Chuwi Hi9 Air is no exception.
Chuwi pair the ageing deca-core MediaTek X20 CPU with 4GB RAM. This is a combination I last saw in 2016's "pretty decent actually" HomTom HT10. It's still a more than capable CPU, and I don't think anyone could have any complaints about the performance here. As a comparison I ran the Chuwi side by side with an iPad Air 2 I got in 2016. In terms of opening and switching between apps there was no obvious difference in speed and smoothness.
Gaming-wise, my daughter was slightly disappointed with the PUBG performance. The Mali-T880 does seem to struggle pushing so many pixels around on the bigger screen of a tablet.
In truth 3D games with on-screen controls don't translate too well to a 10 inch tablet anyway. It's just too big and heavy to make playing these games very enjoyable. But, I found myself revisiting the Kingdom Rush series which is much more fun in this format.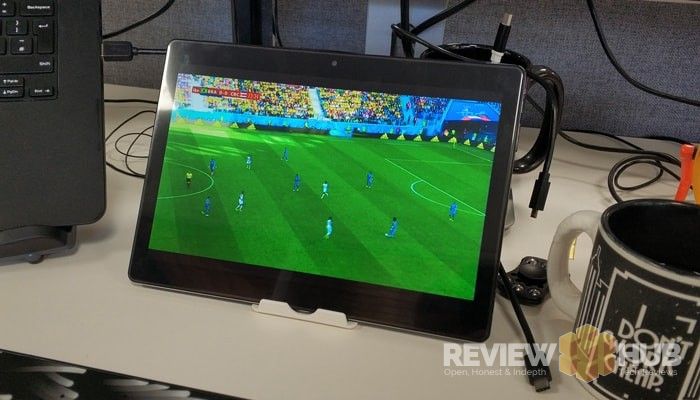 Another great benefit offered by 10 inch tablets is multitasking and productivity. I was able to work on some pretty hefty spreadsheets on the move. The convenience of being able to do this when and where I needed to outweighed the slightly fiddly nature of doing this on a touchscreen. But… I'm sure I'll be investing in a Bluetooth mouse sooner rather than later.
With the World Cup on the go it was a great platform to stream the game in one half of the screen and catch up with social media in the other – perfect for those times I lost out on the battle for the remote control and the soaps were on the TV!
Software-wise the Hi9 Air is running pretty much vanilla Android 8, with a couple of the MediaTek features thrown in such as Miravision and DuraSpeed. I'm glad to report that there was nothing installed on the Chuwi that I consider to be bloatware.
I was also pleased to see that UK banking apps work fine on the Chuwi, as I have had some issues in the past with devices from lesser-known Chinese brands.
CPU: Helio X20 (MT6797) – 2 x 2.3GHz, 4x 1.85 GHz + 4x 1.4 GHz
GPU: ARM Mali-T880 MP4 (780 MHz)
RAM: 4GB
Storage: 64GB
Expandable: Yes
Battery Life
The 8000mAh battery exceeded my expectations considering the size of the screen and the fact that the Helio X20 is an older 20nm CPU. One of my primary uses for the tablet was to watch movies on my regular 4.5 hour train journey from Southampton to Preston, and the Hi9 Air was able to cope with this and still report 27% battery life.
Low stand-by power draw certainly helps. I've left it switched on and unused for 2 days and this only cost me around 18% of battery life. Even though it's pretty huge the battery charges nice and quickly with a 2 amp adapter.
GPS
GPS actually worked pretty well, though I can't see this replacing too many drivers' sat-nav systems. The notification LED is conspicuous by its absence and would have been a sensible addition. Bluetooth headphones and keyboard paired quickly and seemed reliably connected.
Cameras
Finally, the front and rear cameras were usable, which is all I want from a tablet. The 13MP Samsung rear camera produces images that I'd put on par with a lesser-known mid-range phone, adequate for social media etc.
The front camera was fine for video calls, so on the whole the Chuwi photographic experience does what it needs to but doesn't particularly impress.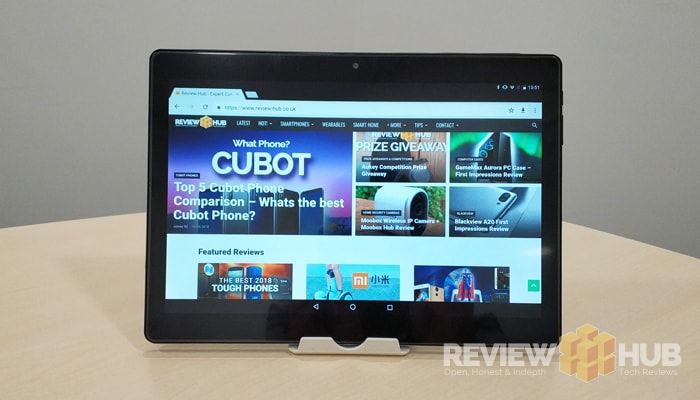 Chuwi Hi9 Air Tablet – The Verdict
Overall the Chuwi Hi9 Air is great value for money. It excels in areas where a small screen cannot compete, such as media and productivity use.
Performance-wise it felt smooth and responsive in operation and with an (almost) great screen and commendable battery life the Chuwi Hi9 Air is certainly well worth your consideration if you're in the market for a large-screened Android tablet.
Like the look of the Chuwi Hi9 Air?
Full Tech Specs Below…
Tech Specs & Connectivity
You can find all the tech specifications for the Chuwi Hi9 Air below. If I've missed off a parameter that you're looking for just comment below.
UK Network Coverage? Yes the Chuwi Hi9 Air is also a phone! It comes with full UK Support for all carriers.
| | |
| --- | --- |
| Tablet | Chuwi Hi9 Air |
| Screen Size | 10.1 inch |
| Screen Ratio | 16:10 |
| Pixel Density | 299 |
| Screen Resolution | 1600×2560 |
| Thickness | 8.4mm |
| Weight | 560g |
| Colors Available | Black |
| Storage | 64GB |
| Processor (CPU) | Helio X20 (MT6797) – 2 x 2.3GHz, 4x 1.85 GHz + 4x 1.4 GHz |
| Graphics (GPU) | ARM Mali-T880 MP4 (780 MHz) |
| RAM | 4GB |
| Android Version | 8.0 Oreo |
| IP Rating (Water, dust) | None |
| Micro-SD Card  Support | Yes – Dedicated Slot |
| Notification LED | No |
| Finger Print Sensor | No |
| Infrared | No |
| USB Type | Micro USB |
| SIM Support | Dual micro SIM |
| 4G Bands | B1 (2100MHz) / B3 (1800MHz) / B7 (2600MHz) / B8 / B20 (800MHz) |
| WiFi | 2.5GHz – b, g, n, 5GHz – n, ac |
| GPS Tech | GPS, A-GPS, GLONASS |
| Bluetooth Version | 4.0 |
| NFC | No |
| Sensors | Accelerometer |
| OTG | Yes |
| Battery Size | 8000 mAh |
| Fast Charging | Yes (5V/2A) |