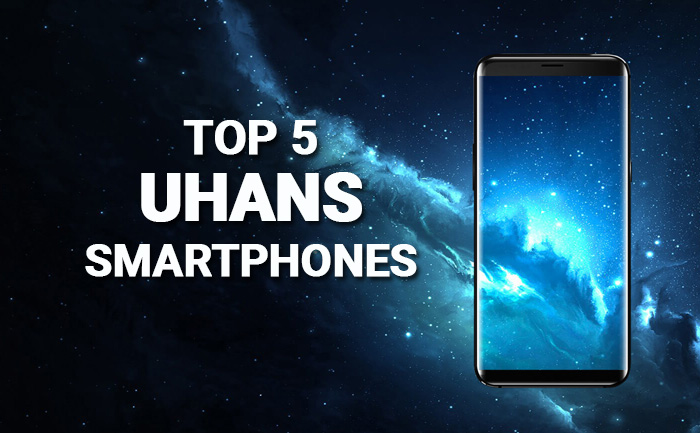 Uhans have been making waves in the mobile industry in 2018 with an impressive selection of budget Android devices to choose from
Editors Update: Even though Uhans created some of the most innovative budget Android devices, sadly they are no longer with us. They've stopped producing smartphones completely.
If you're looking to upgrade we recommend checking out the following great smartphone brands!
Uhans is a little-known company on the shores of the UK and US, but that could be about to change. They're quickly increasing their presence in the budget sector by offering highly affordable smartphones with big features.
They hail from Shenzhen (South-East China) and have been in the manufacturing business since 2010. The official brand name Uhans, however, was only launched in 2014 and is name formed by its core series of phones.
As a company, they mainly focused on emerging markets in the Middle East, Europe and Africa. Now they're making moves and coming to the more mainstream markets in the UK and America. This is paying off as you can now find Uhans phones on some of the big named sites such as Amazon, Gearbest and eBay.
Their primary goal is to improve the end user experience while keeping the phones highly affordable for the masses. You can see this with a few of their latest offerings like the much-loved UHANS MX and their i8 budget-flagship that offer impressive specs for just north of £100.
So as Uhans are now becoming more widely available, we thought its time to put together this list of their best phones that you can pick up right now.
Here are the Best Uhans Smartphones Available In 2018!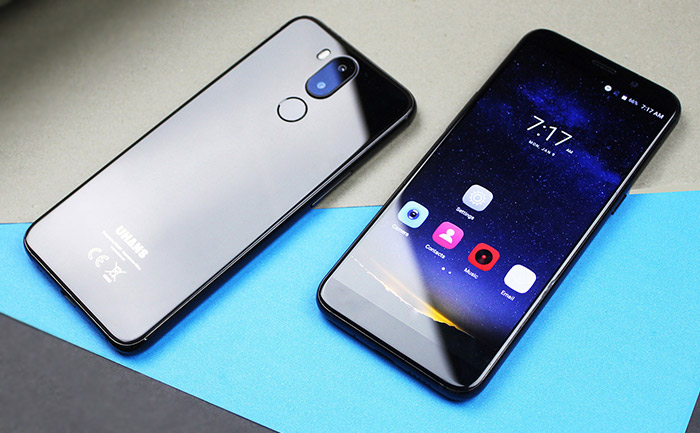 UHANS I8 Pro – Best Performance
The I8 Pro is currently the most premium offering from Uhans, and it does look it. Using a glass a metal construction with an almost bezel-free display you could easily mistake this for a higher tier smartphone.
It's no slouch when it comes to power, packing an Octa-core MediaTek MTK6763, a massive 6GB RAM and 64GB ROM. This is all tucked away behind a 5.7″ 18:9 aspect ratio display which has 2.5D curved glass and a resolution of 1440 x 720. The display tech is IPS which is known for its colour accuracy and excellent viewing angles.
If you don't need the power, there's also the i8 (non-pro) version which is identical except for a slower CPU and less RAM.
It's right on trend in the camera department too using a dual lens configuration. This is comprised of a primary 16MP sensor and 3MP secondary. The front is an 8MP with bokeh effect. Other impressive features include Face ID unlocking, a fingerprint scanner, USB type C and a 3500mAh battery.
The main drawback I can see to the i8 Pro is the display, it is IPS which is a bonus, but the resolution is a bit low for the price point. Usually, at this price, you'd see a 1920 x 1080 panel, but not with the i8. Although it might not be a deal breaker for some, the lower resolution may put off pixel peepers.
However, although the screen may not win the resolution race, it does make up for that in other key areas. Overall, the i8 is a reasonably impressive package for around £250 mark.
A nice alternative to the i8 Pro is the Xiaomi Redmi Note 5. The Xiaomi is quite a bit cheaper, and although not as attractive it boats a bigger 4000mAh battery, improved Snapdragon 636 processor and higher resolution display. It lacks the same level of RAM as the i8 Pro with only 4GB, but it could be a great choice if you don't need the extra RAM.
Colour: Black
Tech Specs: 5.7" 24bit IPS 1440×720, 2.5D curved glass, Octa-core MediaTek MTK6763 CPU, ARM Mali-G71 MP2 GPU, 6GB LPDDR4X RAM, 64GB storage (expandable to 128GB via SD), Android 7.0, 16MP + 3MP f/2.0 main camera, 8MP Selfie Cam, Face ID unlock, Dual SIM, Dual band WiFi, 4G, 3500mAh battery, 205g.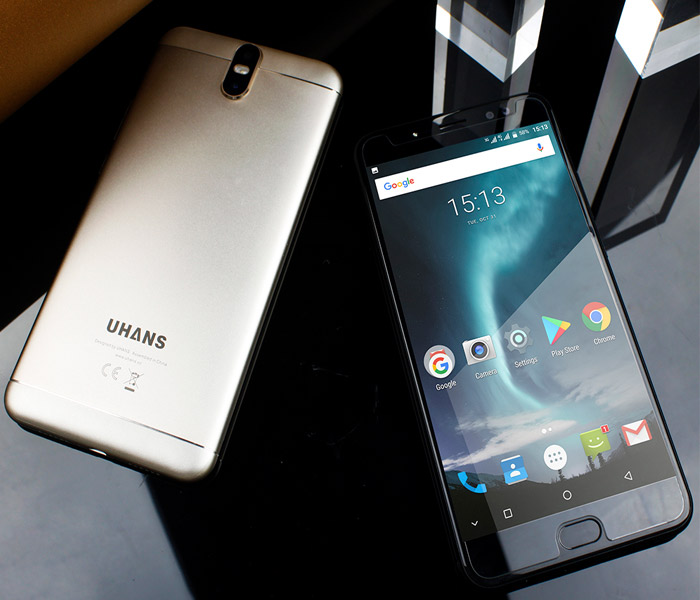 UHANS Max 2 – Best For Netflix Lovers
The Max 2s best features are a pretty beastly 6.44″ 1920 x 1080 IPS display and a large 4300mAh battery. This will give you ample real estate to view your all your media in all it's glory and plenty of juice to keep you entertained for hours. So whether you consume copious amounts of Netflix or you're an avid watcher of Twitch or YouTube, the Max 2 has you covered.
Uhans have packed in some good specs too. Under the hood, there's an eight-core MediaTek MTK6750T processor, 4GB RAM and 64GB storage which is expandable via SD card.
It's got cameras too, four of them to be exact. The rear main camera is 13MP and that is backed up with a secondary 2MP one. Round the front, there is also a 13MP main sensor and a 2MP secondary. These work in tandem to create a shallow depth of field, so if you like taking your selfies, two cameras are better than one.
The Max 2 also has Android 7.0, a front mounted fingerprint scanner, micro USB port and 3.5mm jack.
Sadly though, its best feature may be its downfall for some due to its sheer size (6.44″), many users may not be able to handle it. You might have to go all William Wallace and wield the Max 2 two-handed.
If you can manage the size, then the Max 2 could be just the budget media phone you've been after.
Colours: Obsidian Black, Elegance Gold
Tech Specs: 6.44" 1920×1080 IPS Display, 2.5D curved glass, Octa-Core MediaTek MTK6750T CPU, Mali-T720 GPU, 4GB RAM, 64GB storage (Expandable to 128GB), Android 7.0, 13MP + 2MP Rear Cam, 13MP + 2MP Selfie Cam, 4G, 4300mAh battery, 245g.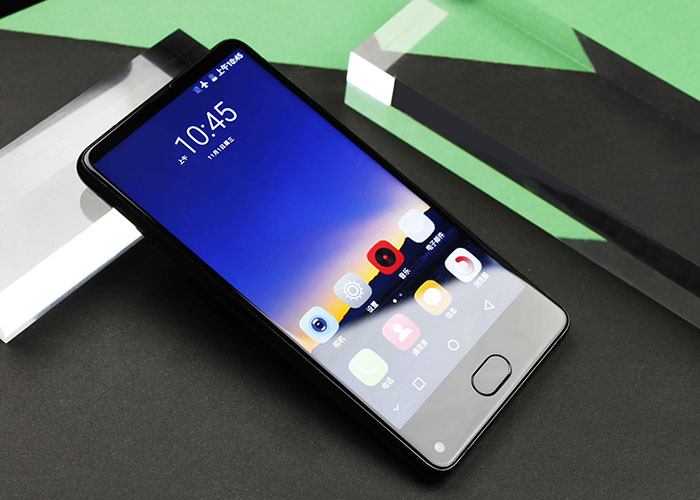 UHANS MX – Budget Design Heaven
Uhans have in my opinion made one of the better-looking devices that cost under £100 with the MX and boy is it a good looking budget phone that you could easily mistake for a higher end device.
So it's quite the looker but that isn't all as the MX is sporting a double-sided glass shell which isn't too often seen on a phone at this price point. So not only does it look like a high-end phone, it's made like one too. Plus the side and top bezels are almost none existent which helps create a clean front aesthetic.
Check out our full hands-on UHANS MX Review
Specs wise the MX is okay, with a quad-core MediaTek MTK6580 CPU, 2GB RAM and 16GB storage. Camera wise there is an 8MP main sensor with a 5MP selfie shooter, check out our sample photos here.
The display on the MX is IPS and has a resolution of 1280 x 720. It also includes Android 7.0 out of the box along with all the usual suspects.
So it may be a real looker, but with the 2GB of RAM, it may struggle to handle some more demanding tasks such as heavy multi-tasking. This small amount of RAM is a common thing at the price point, but if it was packing more RAM it would be significantly more expensive.
As a budget device under £100, it does have a lot going for it, if you can live with it not being lightning fast for all tasks and only using 3G.
Colour: Black
Tech Specs: 5.2″ 1280×720 IPS, 2.5D curved glass, Quad core MediaTek MTK6580 CPU, 2GB RAM, 16GB storage (Expandable to 128GB), Android 7.0, 8MP Came, 5MP Selfie Cam, 3G only, 3000mAh battery, 180g.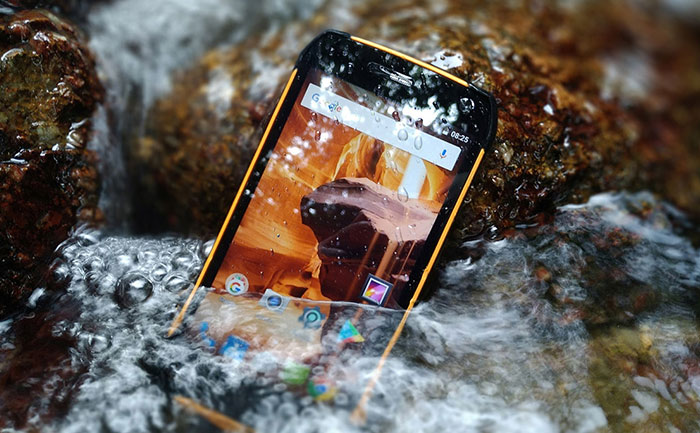 UHANS K5000 – Tough & Rugged
If you're in the market for an affordable phone that's a bit tougher than the usual crowd then the K5000 could be just the ticket for you.
It has an IP68 rating which allows it to be submerged in water up to 1.5m deep along with a toughened exterior. Plus its rugged exterior enables it to be dropped from a height of 1.5m and allows prevents dust ingress with its good IP rating.
The display also receives the tough treatment and is made from a reinforced version of corning gorilla glass 4.
Check Out – Tough & Rugged Smartphones that'll survive the Apocolypse
So it's a tough one but Uhans haven't skimped on the internals either. It's got a massive 5000mAh battery, a 5″ HD display, MediaTek Octa-core processor and Sony made camera.
Other features include a fingerprint scanner, 3GB RAM and 32GB storage. It's running Android 7.0 too and even has support for OTG.
One final impressive feature is an intercom function. Pressing the side mounted button acts like a walkie-talkie making it much more cost-effective than using traditional cellular networks.
So not only will the K5000 survive a fair few knocks, it'll perform well too and keep up with you all day.
Colours: Black, Black and Orange
Tech Specs: 5″ 1280×720 TFT IPS, Gorilla glass 4, Octa core MediaTek MT6753, Mali-T720, 3GB RAM, 32GB storage (expandable to 128GB), Android 7.0, 13MP Main Sony camera, 5MP Selfie Cam, 4G, 5000mAh battery, 212g.
Looking for number 5?
Let us know in the comments below, what's your favourite UHANS Smartphone.
Should you pick a Uhans for your next device?
Of course, there are pros and cons with any phone and company. These can be potentially off-putting, especially if you are unfamiliar with the company. So here we have outlined a few benefits and drawbacks of using a smartphone from a smaller Chinese manufacturer like Uhans.
Pros
Great price to performance ratio.
They offer up to date modern designs for all their smartphones.
Use of premium materials even on their lower tier devices.
Con's
Due to their size, third-party accessories such as cases are hard to come by.
Some replacement parts such as batteries, displays etc are harder to come by than those offered by the big companies.
As always feel free to ask questions about UHANS or any of the UHANS Smartphones in this review.