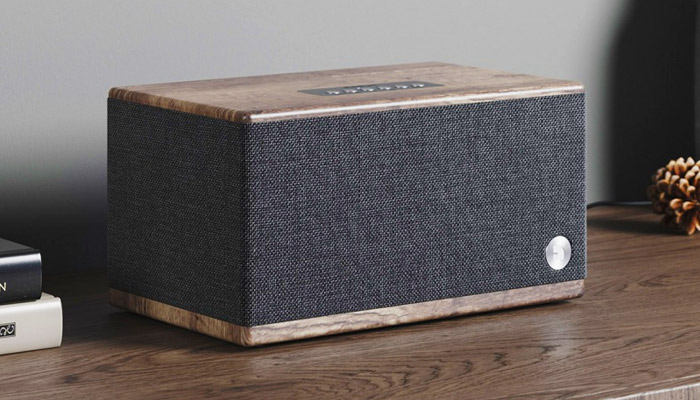 The Swedish Audio Experts, Audio Pro, strike again. But this time, with a Scandinavian design that'll please the most design-conscience
Updated: May 2023
If you've been looking for a high-quality speaker that doesn't use a boring bookshelf design, but also doesn't look like it belongs on the starship enterprise… then you might just fall in love with minimalist Audio Pro BT5 Bluetooth speaker.
Available in Driftwood, Walnut and Black for the outer shell, and then wrapped across 3 sides in a dark grey Nordic weave, this is contemporary speaker-design at its best. The BT5 is a box speaker that's anything but… well erm… boxy, for a better word.
With such a simplistic design, you can proudly display the BT5 almost anywhere. Whether on your kitchen counter, coffee or side table, the versatility of this minimal speaker is fantastic.
My only con is that Audio Pro didn't continue the grey fabric across the back of the speaker as this would have opened up the option of a coffee table centrepiece. And another small nitpick is that the elegant design doesn't continue through to the power cable. Maybe a subtle Nordic braid of the BT6?
But both of these points can be easily be forgiven as the BT5 is priced at the very respectable £99.99. While the lack of WiFi multi-room support does help keep the price low, if the BT5 can match the audio quality of the T series lineup, then we'll be onto a winner!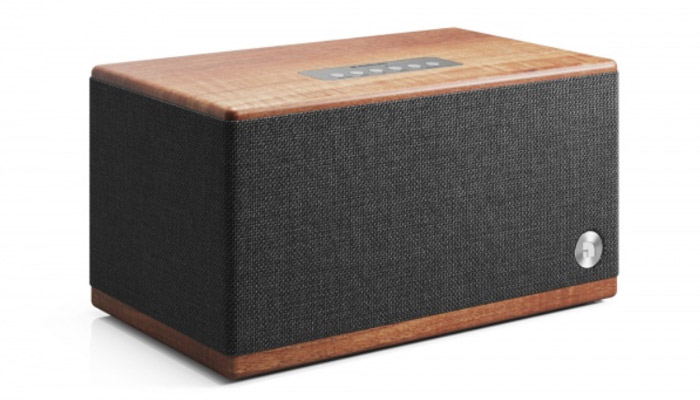 Speaker Specification
The BT5 speaker uses a switching amplifier (Class D) to help reduce heat and allow the smaller lighter form factor. Unlike the more expensive Audio Pro Addon T3 (Full Review), the BT5 only has one tweeter alongside it's 101mm main speaker.
We'll be using the speaker over the course of the next 4 weeks, and be updating back soon with our full sound evaluation.
Amplifier: Digital Class D 10W + 30W
Tweeter: ¾" | 19mm Textile Dome
Mids / Woofer: 4″ | 101mm
Range: 50 – 20.000Hz
Crossover: 3.800Hz
Power: Mains
Dimensions (HxWxD): 134 x 250 x 150 mm
Weight: 2.75Kg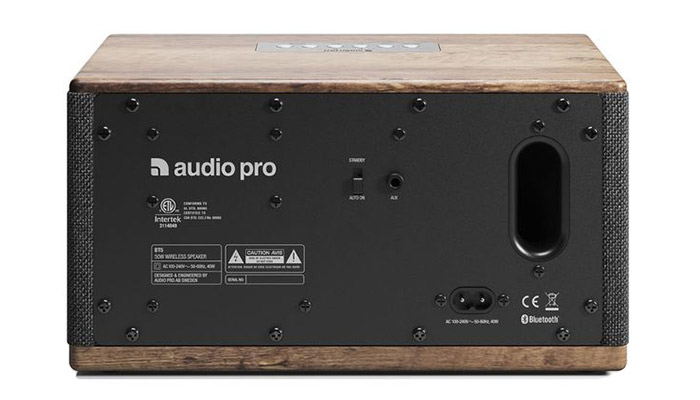 Connectivity
I briefly mentioned earlier that this speaker purposely lacks the inputs and smart connectivity of Audio Pros A, C & T ranges.
You could say that Audio Pro purposely chose a minimal connectivity route for this Scandinavian design, but let's be honest… it's a cost-saving measure chosen to deliver the best audio at the lowest price point.
Even so, I think that for such an audio-focussed company, someone in the tech department should of at least considered the benefits that Bluetooth 5 could have brought to this speaker… but I guess they'd argue back, "that's what the 3.5mm input is for…"
Input: 3.5mm Aux-In
Bluetooth: v4.0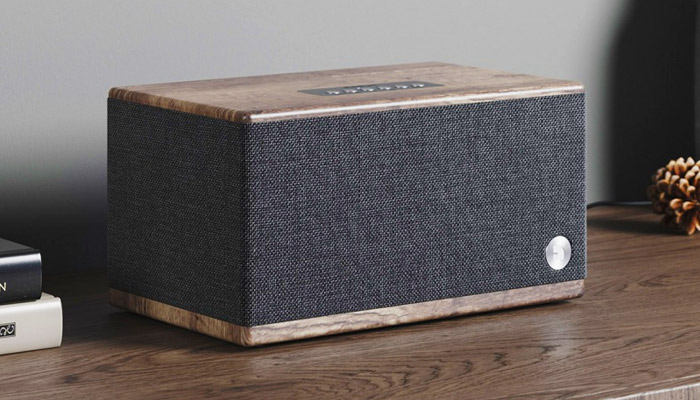 Audio Pro BT5 Bluetooth Speaker – The Verdict
It's a promising start for the Audio Pro BT5 which fills the gap between portable Bluetooth speakers and multi-room Sonos setup.
We know that the design and build quality is there, but stay tuned for our full sound assessment next month.
Looking for more speaker reviews? Check Out These Bluetooth Speakers.