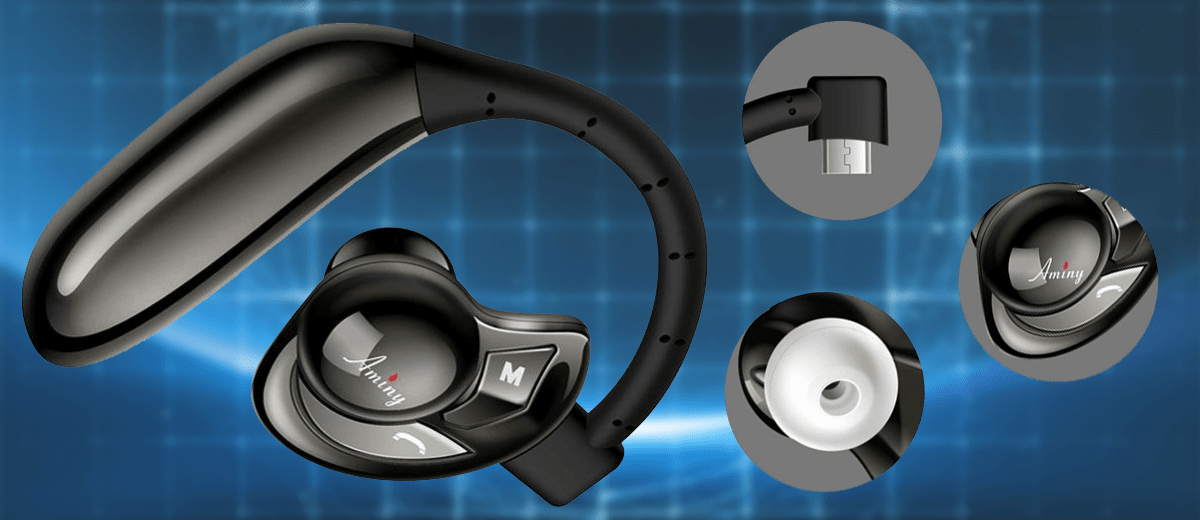 The Aminy UFO has crash-landed in the Review Hub office and demanded to be taken to our leader.
Unfortunately James was busy, so I've jumped in the cockpit and engaged the hyperdrive! Sorry, got a bit carried away there… The UFO is a budget Bluetooth headset with a novel design. Before we get into the main review let's take a look at the pros and cons.
Grab yourself an Aminy UFO for only… UK : £21 | EU : €24 | US : $27
[column size=one_half position=first ]
What we loved

Long battery life
Surprisingly good sound quality
The main unit can be used in either ear
[/column]
[column size=one_half position=last ]
Could be better

Cyclical volume control is a pain
Noise cancellation isn't great
[/column]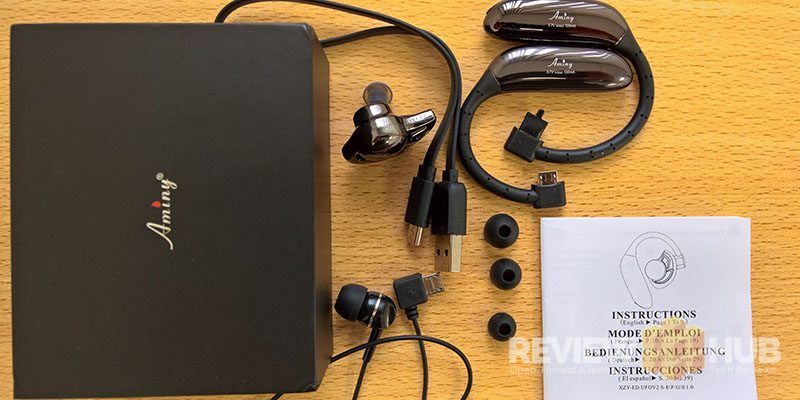 Unboxing/Design
The UFO is an in-ear style Bluetooth stereo headset. The main unit can be used on its own in either ear, or you can connect the supplied secondary earpiece for stereo sound and to prevent you from looking like a London cab driver circa 2006.
The unit that we were supplied for review is in a shiny gunmetal colour, which looks good though is a bit of a fingerprint magnet – you'll see from the images how reflective it is! There are 2 multifunctional buttons, Call and Volume, the main function of which should be self-explanatory. Other functions such as pausing/skipping music tracks, rejecting calls etc are also available and are listed in the supplied manual.
[column size=one_half position=first ]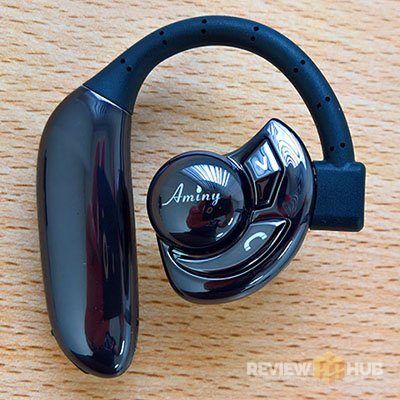 [/column]
[column size=one_half position=last]
The main selling point of the UFO is that it comes with a spare battery. The batteries are designed for specific ears though, so if you prefer to wear the main unit in your right ear the other battery will require that you wear it in the left ear. I don't see that as too big a deal though, it's better that it comes with a quirky spare battery than none at all!
Also worth a mention, the included instruction manual lists all functions clearly and is relatively simple to understand, which isn't always the case with import gadgets :-)
[/column]
Tech Specs
The standout technical feature of this headset is the battery life, I've been using the UFO most days for about 3 weeks, albeit for between 30 minutes and half an hour, and have only recently had to swap to the 2nd battery.
Bluetooth Version: 4.0
Transmission Range: 10 Metres
Transmission Power: Class 2
Battery Capacity: 170 mAh per battery (500 hours standby time)
Working Time: Talk / Music Time: 8 – 10 hours
Weight: 82g
Connectivity
Putting the UFO into pairing mode is as simple as holding in the call button, until you hear a beep and a little voice announces 'pairing'! The Call and Volume buttons will flash alternately red and blue too, indicating the mode. I've managed to pair 3 Android phones, a Windows phone, a laptop, Samsung TV, iPad, Fire tablet and my Playstation with the UFO so I don't think you'll have any compatibility issues.
Another useful feature is that you can connect to two devices at the same time, so you could be watching a movie on your tablet and still be able to take a call from your phone! Maybe not a feature that I'd use a great deal but certainly will be very useful for some people.
Sound Quality
[column size=one_half position=first ]
Of course, this is what really matters with headphones, and the UFO certainly delivers in this area. Thanks to the snug in-ear fit I was able to get more bass than on a regular headset. I have a playlist of sonically diverse tracks that I use when road-testing new speakers/headphones, and I was mostly impressed with the performance of the UFO. Teardrop by Massive Attack had its regular big bass and the treble of percussion remained nice and crisp. Where found that the UFO struggled a little was in the midrange, which could sound slightly muddy when there was a lot going on, like in Ball and Biscuit by The White Stripes – but not to a hugely detrimental level.
[/column]
[column size=one_half position=last]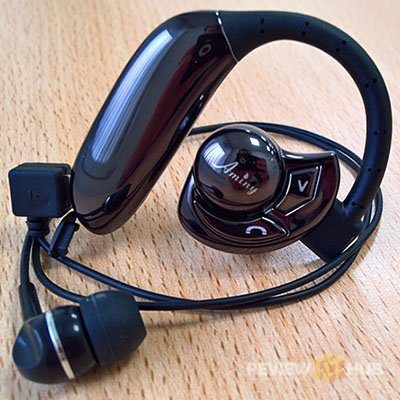 [/column]
When using the UFO to watch a movie I found that the dialogue was clear and it handled large volume changes well, such as the silence before an explosion etc.
In-call sound quality has proved to be absolutely fine but one thing to note is that the microphone tends to pick up some background noise, so when I was in a store that was playing music quite loudly, the person at the other end struggled to hear me.
The main set of Bluetooth headphones I use is the Jabra Sport Wireless +, which are a lot pricier than the UFO, and I'd go so far as to say that the sound quality of the UFO is superior. Compared to the Jabras, music played on the UFO has more bass and a richer sound, which I was surprised about given the relative prices.
Usability
[column size=one_half position=first ]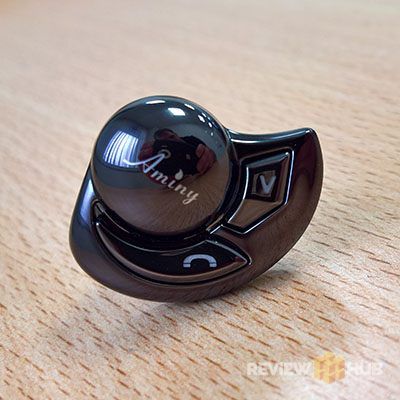 [/column]
[column size=one_half position=last]
I've used the UFO daily for a number of tasks and in most areas it performed very well. The over-ear setup of the main unit was comfortable and secure, even when I used the UFO at the gym I didn't have any worries that either earpiece would fall out. The biggest issue I have with the UFO is in the controls. There is only one button for changing the volume level, which increases the volume with each press until the maximum (where a beep sounds), and then resets it to the quietest setting. Also, you are able to skip tracks forward, but not back.
[/column]
The relatively small size of the UFO means there was not space for a volume rocker or buttons for skipping forward and back, though you can still use the device that it is connected to for these functions if required.
When paired with a phone, if a call comes through a voice will tell you the number that is ringing. This is either a help or a hindrance depending on your ability to remember peoples' phone numbers, but an irritation here is that the voice continues announcing the number even if you have answered the call.
Aside from these minor issues though I've not found anything too off-putting with the UFO and I'll continue using it once the review is complete.
Conclusion
The Aminy UFO is a versatile unit and a wise choice for a number of applications. The sound quality is great for the price range, and the fact that it can be used as a single unit in either ear or as a stereo set is a bonus. There are a few niggles, the volume control method can be a pain, and noise cancellation could be better, but these shouldn't be deal-breakers for most people.
Land yourself an Aminy UFO for only… UK : £21 | EU : €24 | US : $27
I'd love to hear what you think about the Aminy UFO, please add any comments below!