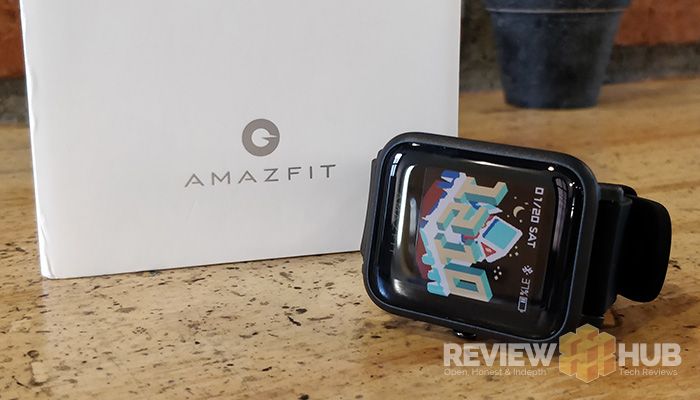 The Amazfit Bip is here, and we love it!
The Amazfit Bip (or Bip Lite) is the smaller, simpler and slightly retro little brother to the Amazfit Pace. It runs on the same Amazfit watch OS platform, comes with many of the same features and most importantly still has the standalone GPS module built-in.
Taking its design cues from the Apple Watch (who took theirs from this), it couldn't look less like what we're used to from Amazfit. It's the opposite of their usual high-end designer fitness items like the ceramic Pace smartwatch and Infinity necklace.
Even so, I've been wearing the Amazfit Bip every day for the last two weeks and it's really growing on me! While it does have a few irritating quirks and I haven't received any compliments yet… its rectangular shape and retro graphics always manage to put a smile on my face.
And the best bit, it comes with a 45 day battery life, absolutely smashing the 4-5 days I get on the Amazfit Pace, which smashes most other Android smartwatches.
In this review, I'm going to take a look at the Design, Display, Build Quality, Features, Tracking, App & Battery Life to find out whether the Amazfit Bip is a solid buy or one to skip and wait for the Pace 2S.
This weeks latest Amazfit Bip deals…
The Good
Retro & Lightweight
Bright Clear Display even in Sunlight
Weighs only 31 grams
Responsive & Accurate Display
New Lower Price
Quality Band
Simple setup
The Bad
Lacking any water activities
Can't turn off vibrate for alerts
Backlight has a blue hue
*Needs a screen protector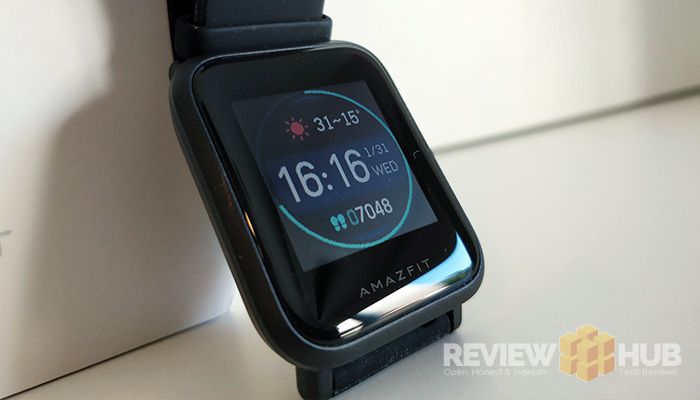 Design, Display & Build Quality
I might as well come out and say it, the Amazfit Bip looks like an Apple Watch clone. But it's not, it's far from it!
The low resolution 176×176 display is charming and the Bip uses the same backside illuminated pixel technology as we see on the Amazfit Pace. This actually means the display gets brighter the sunnier it is.
If you've not seen a 'backside illuminated pixel display' before, imagine a colour e-ink (Kindle) display but brighter. The screen itself is protected by Corning Gorilla Glass but there's plenty of screen protectors online if, like me, you know you're clumsy.
Update 20/02/18: my clumsiness is confirmed… I banged the Amazfit Bip against a metal table and the glass screen has cracked in the corner. It's still all in one piece and still functioning but has a visible hairline crack across the top left corner. *Do yourself a favour and order a screen protector. : )
Also included is a backlight that's activated either by lifting your wrist or by a press of the side button. It does have a blue tint to it, but that's a downside of the illumination technology.
There's an intelligent 'Do Not Disturb' feature built-in so the Bip doesn't light up while your rolling over in your sleep.
Surrounding the screen is a lightweight plastic, that feels cheap and matches the retro aesthetics. You'll find more retro when you head to the watch face settings as most of them wouldn't look out of place on a ZX Spectrum game case. New Watch faces are available to download from within the app, but currently, you can only load one extra at a time.
The watch strap doesn't feel as premium as that of the Pace, but it's still soft and fits comfortably. The buckle has been switched to plastic as well, all helping the Amazfit Bip to weigh in a super-lightweight 31 grams.
While the materials are cheap, the whole retro aesthetic works. It's a great mix of old and new. Once on you're wrist though, it's a far throw from the sleek world of Apple Watch.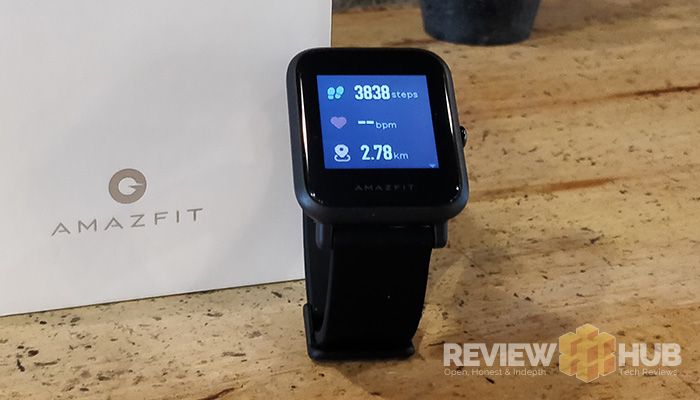 Sports Features, Software & Tracking
Unlike the Amazfit Pace which comes with its own App Store app, the Amazfit Bip uses the Xiaomi Mi Fit app. This makes sense as Xiaomi and Amazfit (Huami) are partners, sharing their expertise in software & manufacturing.
If you check out my Xiaomi Mi Band 1 review, you'll see that the Mi Fit app wasn't very polished back in 2015. Well, it's come a long way since then and looks a hell of a lot more polished, although, the occasional Chinese symbol does pop up… but it's all part of the charm.
Inside the App, you have access to your Heart Rate Data, Sleep Data (with light / deep sleep charts), your activities and your step data.
There's a small amount of motivational encouragement in the form of step streaks, but it's still something that's missing from the Mi Fit & Amazfit ecosystem.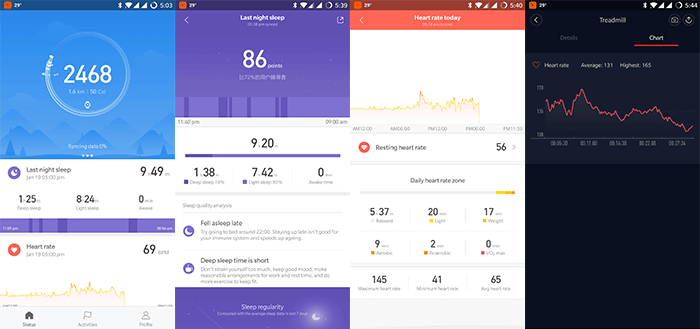 In terms of activities, you can track Outdoor Running (GPS tracked), Indoor Treadmill, Cycling (GPS tracked) and finally walking (GPS tracked). Since the Amazfit Bip is IP68 waterproof, I would have liked to have seen swimming added.
It wasn't until a few updates down the road, that the Amazfit Pace had all of it's activities added. So let's hope the same is true of the Bip, with more activities being added during future software updates.
During testing, the GPS worked well once locked on. It easily tracked me cycling across Chiang Mai in Thailand, and even the indoor treadmill (non-GPS) is accurate but can't calculate for any incline.
If you're a fan of cycling or running up and down hills, then you're weird. But on the plus side, the Amazfit Bip has an inbuilt barometer, displaying elevation levels on the watch.
The watch will work as a standalone device, meaning there's no need to bring your smartphone along with you if you don't want to. To start your activity, press the singular side button, swipe left to activities and then select one of the 4. You'll then get a three second countdown and your off. You can view the workout stats on the watch including: steps, stride, distance, time, speed, incline and your heart rate.
You can pause the workout (manually or auto) or end it completely by holding down the button. The activity data is then stored locally until it syncs with your smartphone Mi Fit account. Although unlike the Pace, you can't connect your Bip to WiFi and update data that way.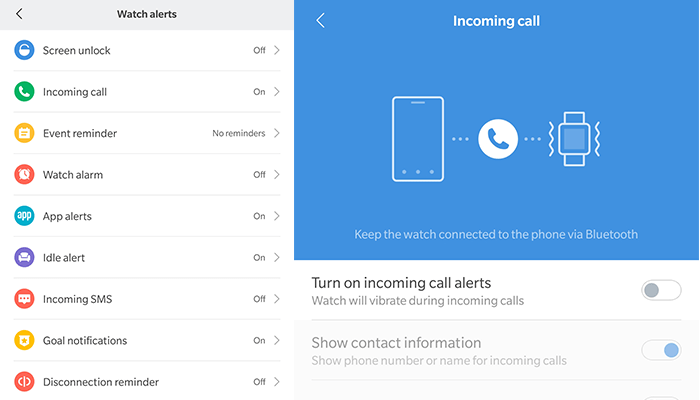 Smartwatch Features
Since you can't spend your whole life running and cycling around, Amazfit has also included some handy features on the Amazfit Bip to make your life a little easier.
You can get phone alerts pushed through, read texts & Whatsapp messages as well as set alarms, countdowns, view the weather, find your phone (makes it ring), use a compass and set sedentary reminders.
One annoying feature is that you can't turn off message alert vibrations… receiving 5 Whatsapp messages in a row makes your wrist vibrate like crazy!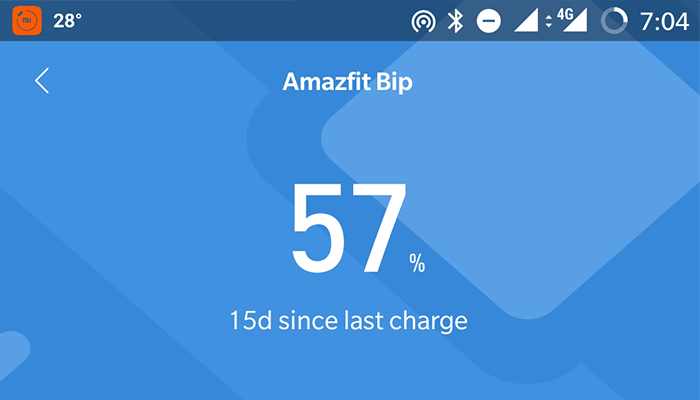 Battery Life
Battery life is as good as Huami Amazfit claim. I'm currently on 15 days since the last charge and I've still got 57% battery left. That's with constant heart rate monitoring turned on and the backlight set to medium. Not bad Amazfit, not bad at all.
Update: If you're as lazy as me, I'm now on 27 days since last charge with 32% battery left. :D
A 2.5 hour charge will get your anywhere between 30 and 45 days of usage. I'm not the biggest fan of the included charger. It's trying to hard and is a bit fiddly to use. The Amazfit Pace charger is lighter and a lot more convenient.
It's not an issue though, as you hardly ever need to charge the little bugger.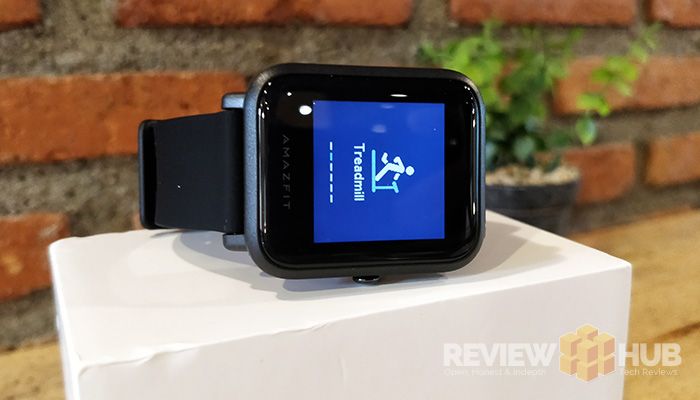 Amazfit Bip – The Verdict
Having worn the Amazfit Pace for months, it was a welcome change to try out the Amazfit Bip with its simple yet fun version of Amazfit's watch software.
There's nothing bad at all about the Bip fitness tracker. Even the low resolution jagged graphics are fun, only adding to the retro feel. In a world where tech is striving to be as crisp and high-resolution as possible, the little Bip feels rather refreshing.
It'd be nice to see more tracking activities available, but I'm sure they'll arrive in future software updates, the same as they did with the Pace Smartwatch.
My biggest issue with Amazfit Bip is that it's not a lot cheaper than the Amazfit Pace which offers a lot more functionality as well as bigger & easier to see display.
Update: The Amazfit Pace price has plummeted recently, going from around £90 to as low as £50.
Do I recommend the Amazfit Bip? Hell yeah, but I'm a massive fan of retro though, so I might be slightly biassed.
Amazfit Bip Bonus Watch Faces – Available for download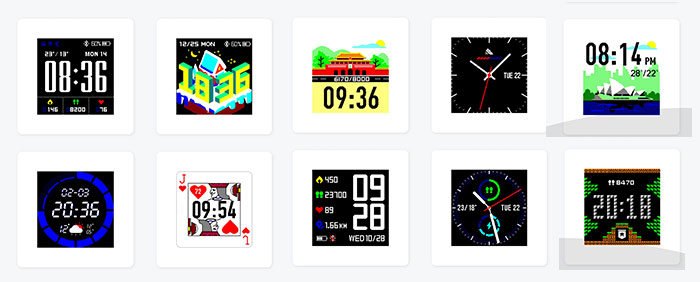 Wearable
Amazfit Bip
Screen Size
1.28 Inch
Pixel Density
195
Screen Resolution
176×176
Screen technology
Corning Gorilla Glass 4
Thickness
13mm
Weight
31 grams
Material
Plastic / Glass
Colours Available
Black, Green, White, Red
Bluetooth
4.0
GPS
GPS + GLONASS

IP Rating (Water, dust)
IP68
Sensors
Heart rate, Pedometer, Sleep monitor
Barometer, GPS, Accelerometer, Compass
Notification
Vibrate
Battery Life
30-45 days
Battery Size
190mAh (non-removable)