2016 is the year of affordable bezel-less phones, Hurray!
We've all looked on in awe at Samsung's almost bezel-less Galaxy series, wishing for a more affordable option. Well you're in luck as this year we are seeing an influx of budget-orientated manufacturers step-up and produce their own bezel-less phone options.
In this roundup, we'll take a look at some of the top bezel-less phones of 2016 that are either available now, set to be released soon or are still hot on the rumour mill. If you've heard of a great bezel-less phone that I've missed and that's set for release this year, let me know in the comments below.
Let's get to it. Here's the 2016 Top 5 Bezel-less phones.
Update: Xiaomi Mi Mix
If the Xiaomi Mi Mix with its almost non-existent bezels doesn't get you excited then I don't know what will. It's a punch in the face to those who said mobile innovation is dead and will hopefully drive forward bezel-less innovation in 2017.
At 6.4″ the Mi Mix OLED Screen sounds enormous, but thanks to not having top or side bezels it isn't much bigger than a Samsung S7 Edge. When we look at phone to screen ratio, the Mi Mix has a whopping 90% usable surface area which is unheard of before. Where you'll notice a big difference between the S7 edge and Mi Mix is in its weight with the Mi Mix weighing a hefty 210 grams.
Xiaomi has chosen an 1080×2040 OLED screen with rounded corners for both the standard & pro model which looks crisp and has a decent PPI of 361. It would have been nice to see a QHD screen option for the Pro version as this would improve its VR capabilities. Inside, you'll find a top of the line Snapdragon 821 CPU & either 4GB or 6GB of RAM.
The Mi Mix, in my opinion, is of of the best looking phones of 2016 and has some good, not perfect, specs to match. If bezel-less isn't your thing then the OnePlus 3T has very similar specifications at a lower price point.
Tech Specs: 6.4″ OLED 1920×2040, 361 PPI, Snapdragon 821 CPU, 4GB/6GB RAM, 128GB/264GB Storage, 4400mAh, USB Type-C, 208 grams, Android 6 (MIUI V8).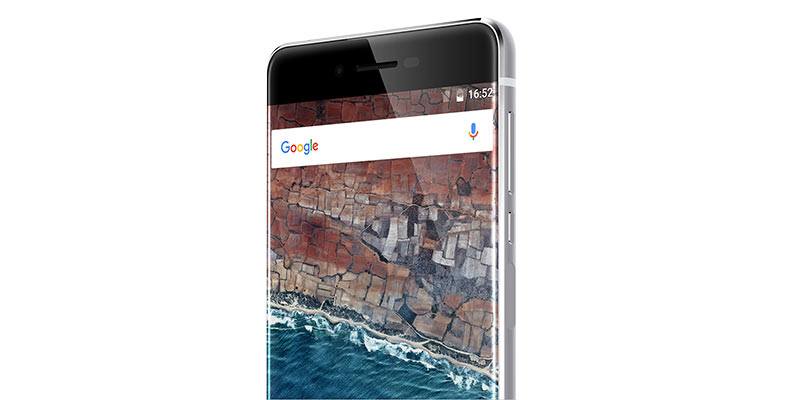 Ulefone Future
No one can deny that the Ulefone Future has borrowed it looks from the all mighty iPhone but it's taken a step further by offering us a bezel-less screen which makes this phone look nothing short of cutting edge-less. Add to this, some impressive hardware specifications and a side-placed fingerprint reader and you're definitely going to get a unique futuristic experience with the Ulefone Future.
View our first impressions of the Ulefone Future.
Tech Specs: 5.5″ 1920×1080, Gorilla Glass 3, Helio P10 CPU, 4GB RAM, 32GB Storage, Quick-charge 3000mAh, USB Type-C, 185 grams, Android 6 with Full UK network support.
ZTE Nubia – My Prague Elite
It's great to see Nubia back again with another bezel-free offering after they massively impressed us with the edge-less Nubia Z9 (below). Nubia's latest offering, the 'My Prague' smartphone has a full HD AMOLED screen measuring in with a whopping 424 PPI. The screen doesn't quite curve all the way around the phone but it's pretty close and makes the My Prague stunning to look at.
If you're looking for an Android iPhone alternative then the My Prague is definitely worth checking out. The elite version comes with 32GB storage but both versions have an SD card slot allowing up to an extra 128GB memory card.
Tech Specs: AMOLED 5.2″ 1920×1080, 424 PPI, Snapdragon 615 CPU, 3GB RAM, 32GB Storage, Battery 2200mAh, Dual SIM, 140 grams, Android 5 partial UK network support (missing 800MHz – Band 20).
Elephone S3
Elephone have stormed onto the market in the last year and now have 2 bezel-free smartphone offerings. The latest, the Elephone S3 features full UK 4G support and packs a truly edge-less full HD screen that curves around the edges of the phone.
Although it's not packing the latest MediaTek CPU, for day to day use, the Octo-core CPU handles most tasks easily giving you fluid overall experience. What's great is that this phone is geared up toward to budget friendly mobile user who doesn't want to compromise on style.
Tech Specs: 5.2″ IPS 1920×1080, MediaTek MTK6753 Octa-Core CPU, 3GB RAM, 16GB Storage, Quick-charge 2100mAh, 167 grams, Android 6 with Full UK network support.
Elephone S7
The S7 (soon to be released) is the upcoming flagship model from Elephone which also features a bezel-free display similar to the S3. The specifications available so far are quite limited but we do know that Elephone have said it will feature the top of the range MediaTek Helio X20 CPU that can compete against current flagship phones.
On a personal note I'm very happy to see that the Elephone S7 will be released with a front-facing fingerprint sensor. For someone who's phone spends most of the day flat on a desk, rear fingerprint sensors aren't very practical.
According to our source, Elephone will be releasing two versions of the S7: a light & a Pro version. The light version is expected to drop some of the high-end specs and come in at a lower the price. I'll update this with more details on the Elephone S7 soon.
Tech Specs: 5.5″ 1920×1080, Helio X20 CPU, 3GB RAM, 32GB Storage, Most likely Android 6 with Full UK network support.

Elephone P9000 Edge (Bezel-less)
Not to be confused with the P9000 or P9000 lite which are both available with narrow bezels, the P9000 edge uses curved glass and displays no visible borders when viewed face on. Elephone have been keeping details of the P9000 Edge under wraps so far with only a few pictures and videos leaked of the device.
I have a hunch that Elephone are either; capitalising on sales of the P9000, with its thin bezels, before releasing the bezel-less 'edge' version or that their development team still have software issues to overcome before being able to release the P9000 Edge.
A third option that we have to consider is that the P9000 edge is just a marketing ploy by Elephone to increase brand awareness although a sources say that the completely bezel-less P900 does exist.
It's likely to have similar hardware to the P9000, so I've listed the current specifications below although these may change before launch.
P9000 Tech Specs: 5.5″ 1920×1080, MediaTek Helio P10 CPU, 4GB RAM, 32GB Storage, Quick-charging & wireless charging 3000mAh battery, Sony IMX258 21MP + 8MP selfie, USB-Type C, Side placed fingerprint reader, 145 grams, Android 6 with full UK network support.

ZTE Nubia Z9
The Nubia Z9's curved glass edges and almost borderless display combine to make one sexy looking smartphone. The beautifully vivid IPS display and glass sandwich design gives the Z9 a premium look and feels suited to a flagship smartphone.
Add to this some impressive photography capabilities and that glowing halo home button and the Nubia Z9 becomes even more impressive.
Although the Z9 was released in 2015, it's still a great bezel-less option for 2016 if you can manage to get your hands on one. I've not had much luck finding online retailers that still have stock available. Currently, Nubia are focussing more on the Z9 Max 5.5″ version and the Z9 mini, but neither have the finesse or bezel-less edges of their older trend-setting brother the Nubia Z9.
Hopefully, Nubia will make a return to the bezel-less arena soon with another flagship model.
Tech Specs: 5.2″ 1920×1080, Snapdragon 810 CPU, 3/4GB RAM, 32/64GB Storage, 2900mAh, Sony IMX234, 4K video, 192 grams, Android 5 with partial UK 4G network support (full 3G support).

Oppo Bezel-free phone
A while back now, there was a video leaked of a new Oppo smartphone that appears to have a bezel-less design. The phone in question uses a wrap around front glass effect so we can't be entirely certain whether this is a trick of the eye. You can see the Oppo Bezel-less video here. We haven't had confirmation from Oppo whether they will release any phones with this technology this year but with the competition hotting up I think it's likely we will towards the end of the year.
We haven't had confirmation from Oppo whether they are going to release any bezel-less phones this year but with the competition hotting up I think it's we will see the mysterious Oppo phone resurface towards the end of the year.
The Oppo Find 7 Plus at first glance gives the illusion of an entirely bezel-less phone but this illusion ends as soon as the screen is active where you can clearly see black borders.
I'll update this with more information when we find out more on whether Oppo plans to release a genuinely bezel-less smartphone.

The technology behind Bezel-free phones
You might be wondering why it's taken manufacturers so long to catch up with Samsung and produce budget variants of the bezel-less screen? Let's break it down into two reasons.
Reason number 1 is the cost & research needed to produce bezel-less technology.
A company such as Samsung has the money, resources & research to be able to create new types of technology such as an entirely border-less wrap-around screen. Smaller mobile manufacturers tend to outsource their parts which means they have to wait for 3rd party suppliers to innovate before catching up with the market leaders.
Reason number 2 is that manufacturers have had to create their own bezel-less software.
If you remove a smartphone screen bezel entirely, you then create another set of problems to overcome. When holding a phone, your hands will be gripping the edges of the screen slightly. On a phone with bezels, this is not a problem as you have an area on no-touch at the sides of the mobile screen. On a bezel-less phone, the screen will be registering these extra touches. To combat this, mobile manufacturers need to develop software that will recognise the difference between your hand gripping the phone and your hand trying to use the phone.
Thanks for reading & hit me up with any questions you have in the comments below : )